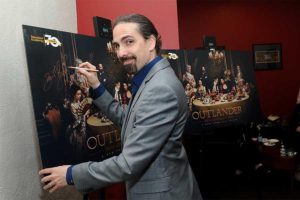 HOW DID I NOT REALIZE BEAR MCCREARY WAS MARRIED TO RAYA YARBROUGH?
And with that, here's a word from Bear McCreary himself!
"For the series' fourth season, our heroes explored America, laying down the foundation for a new home, so I introduced to the score the twangy banjos and dulcimers of the Appalachian Mountains. Where that season explored new frontiers, Season Five plants roots, digging into themes of building community, forming civilization, expanding families, and forming allegiances. For the first time in the history of Outlander, my score for Season Five had no need to introduce bold new instruments or styles.
Like the drama itself, the music for Outlander Season Five stopped expanding outward into new territories, and instead planted roots."

Outlander season five is over, but the soundtrack is now available for purchase. McCreary's music continued to enhance the series from Brianna and Roger's wedding to the bittersweet yet hopeful Skye Boat song acapella solo at the end of the season finale. Even the choral arrangement of the opening theme took an immense amount of work.
"Listening now, fans might think this is the simplest of the Main Titles, because it lacks the complexity of multiple instruments. Ironically, the behind-the-scenes reality was quite the opposite. Season Five's Main Title was the result of months of effort, more than a dozen drafts, and weeks of tweaks in post-production! The process was not easy, but the payoff was discovering a Main Title that really stands out from the rest with a bold statement."
I love how McCreary actually posts his notable music motifs in sheet music snippets on his website.


The Fraser's Ridge theme in a tranquil 6/8 time sounds like home. It hearkens to the moment where Roger and Brianna are about to be married in the first episode. (Remember how peaceful things were then? Remember?) It's interesting how the Fraser's Ridge theme, Roger and Brianna's theme, and Jamie and Claire's theme are all in C major.

Roger and Brianna's theme is sweet, and I loved the variations that McCreary played with throughout the season. Their relationship was certainly tested, but like their melody, their marriage stays steadfast.



Jamie and Claire's theme will ALWAYS be my favorite melody from Outlander hands down. It's just so good. Doesn't your heart race when you hear it?
The composer's insight on the triumphant theme at the end of episode one is insightful.
"The music of Season Five returns to its Scottish past, most notably at the dramatic climax of "The Fiery Cross," in which Jamie adorns his kilt and dirk for the first time in decades and lights the cross for the oath-taking ceremony. For this cinematic sequence, I brought back the powerful Gaelic vocals of my friend Griogair Labhruidh singing "Moch Sa Mhadainn." Originally introduced to Outlander in Season Two's "Je Suis Prest," this song represented the rousing energy of the Jacobite army as they trained to confront the British army. The song is special because it is a historically accurate war song for the Jacobite rebellion, brought to our attention by renowned Scottish musicologist John Purser, with whom we collaborated. Unlike most famous songs whose lyrics look back wistfully on the Jacobite uprising after its defeat (such as "The Skye Boat Song"), "Moch Sa Mhadainn" dates back to the rebellion itself, so it is brimming with optimism and pride."
Bear McCreary's music never disappoints me! Check out his entire post on season five here. The season five soundtrack is now available.
https://www.bearmccreary.com/#blog/blog/outlander-season-5/
(P.S, if you need an extra violinist for season six, I'm available.)