[This is not a spoiler-free review of the episode. If you have not seen the episode yet, read it at your own spoiler risk.]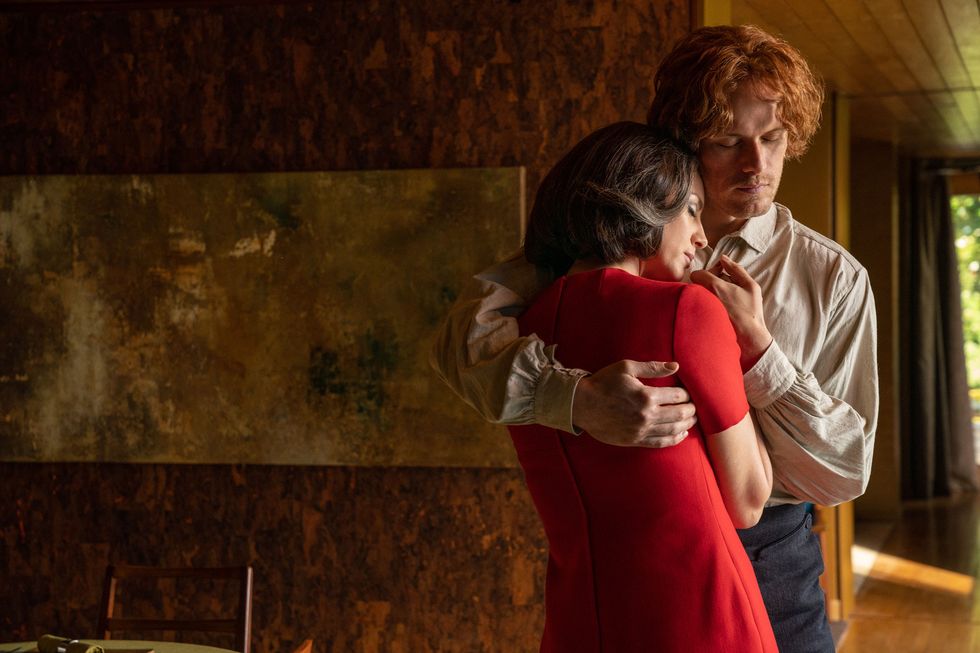 Episode 512: "Never My Love"
Written By Matthew B. Roberts and Toni Graphia, Directed by Jamie Payne
The final episode of season five of Outlander adds more turmoil and complications to the life and memory of Claire Fraser (Caitriona Balfe). Yet, it also strengthens relationships within the Fraser family and its "clan."  Any amenable ties with the Browns are permanently severed, and that is undoubtedly going to rear its ugly head again.
This season has seen more stylized episodes than any season before it.  In the many interviews prior to and during the season, there were often quotes of taking risks and not doing what was expected of the show or the story.  I believe that this season is the first with writer and executive producer Matthew B. Roberts stepping into the showrunner position for the show.  With him as showrunner, this season can set itself apart from all four before it, just in terms of storytelling, the overall look, and pushing past the season's book to the next.  The finale takes a risk in that it is once again broaching the subject of rape and using an interesting dream sequence as a coping mechanism for Claire.
The "previously on Outlander" scenes are our first tip-off to something being done differently for the finale.  There is no speaking in these scenes, and I initially thought the screener's audio was messed up.  The episode diverges immediately from what was expected as we see a woman with red nail polish putting a record on the player.  The Association's "Never My Love" begins playing, and we see a modern, sixties home.  It's Claire back in the 1960s in a perfectly-coiffed bob, staring at a painting of the Big House on Fraser's Ridge.  This whole dream sequence or hallucination is a coping mechanism as Claire has already been through a lot in the hands of Lionel Brown (Ned Dennehy).  Along with the dream sequence, we also see her flashbacks of what has already happened to her since she was kidnapped from her home.
As she lies there bruised and battered, Claire takes herself back to her time, someplace where she feels safe and protected.  While the life she imagines never happened, it does have elements from her past, things she would keep with her and reimagining her family in this time.  There is so much symbolism in the dream, and I am sure some of it is going over my head.  Fans of the show, regardless of if you have read the books or not, will recognize pieces of the past decorating the home as well as previous quotes from the characters.  The vase from the premiere episode of Outlander decorates the home; Claire is imagining that she got the life she wanted after buying that vase she passed by in the shop.  There is also recognizable wallpaper in the home; it feels out of place in the modern home but harkens back to Lallybroch or their Paris apartment.
While Claire has Marsali (Lauren Lyle), Fergus (César Domboy), Jocasta (Maria Doyle Kennedy), the now-deceased Murtagh (Duncan Lacroix), and Fergus and Marsali's children in modern hairstyles, she has only partially outfitted Jamie (Sam Heughan) in contemporary garb.  Jamie has the same hairstyle as season one, and with a past shirt on, he screams episode 101 and 102 Jamie.  Claire was in trouble when she first arrived in the past, and while she was not accepting of it then, Jamie was her savior, keeping her safe.  As she stares out the window into the rainy night in the dream, Jamie approaches and wraps a blanket around her and holds her close.  Lionel approaches the window from the outside, threatening her safe place.  Jamie eventually says, "You're shaking so hard, you are making my teeth rattle."  The blanket eventually turns into a kilt, affirming the remembrance of when she first met Jamie.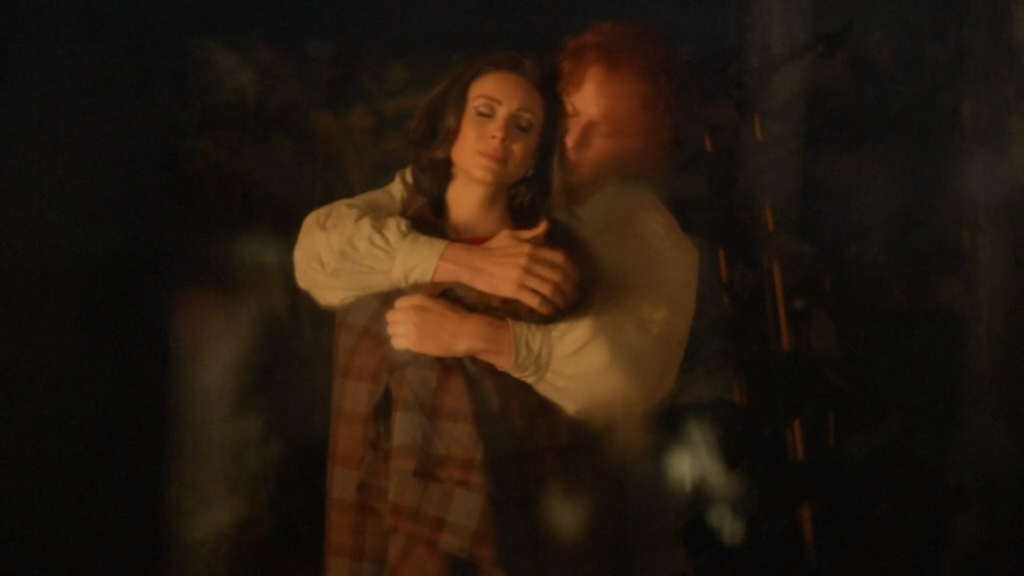 It was only on my second viewing of this episode that I realized Claire is silent and not altogether present in the dream.  While Thanksgiving is when you are surrounded by family, it is not until they are at the dinner table that Claire sees the two empty chairs and appears puzzled.  Roger (Richard Rankin) and Brianna (Sophie Skelton) are not there.  There is a leaking roof, another reappearance of Lionel; they are all cracks in her dream, the reality of her situation breaking into her safe place.  Claire doesn't speak until the police arrive.  One of them is Lionel and another member of his group, although they have been modernized, and Claire doesn't recognize them.  Brianna, Roger, and Jemmy were killed in a car accident.  Her only words are those spoken in reaction to the news.
There are many brief flashes of a dragonfly figurine, held by Germaine.  While this would immediately bring to mind a dragonfly in amber, it is only a dragonfly.  Doing a Google search for its meaning leads to words like change, transformation, self-realization, power, poise, and a defeat of self-created illusions.  The audience can pick and choose from the many meanings and apply it; however, they think it would fit into Claire's story.  There is also the appearance of a rabbit, both in the dream and in her reality.  This rabbit recalls episode 301 when Jamie sees a rabbit while he lies dying on the field of Culloden.  An orange appears at the beginning of the dream, and then Claire picks it up at the end of it.  Its meaning or relevance escapes me, though.
The rescue of Claire is swift and unforgiving, as it rightly should be.  With it being set in the dark, the firelight and guns going off lit the scene, giving everything and orangey, yellow tone, offsetting the violence and bloodshed taking place.  We see it from the men's perspective and well as Claire's blurry, distant realization that something is happening.  By this point, she has been raped multiple times and is going in and out of consciousness as she has also been beaten more.  When Jamie first sees Claire, your heart breaks.  He does not immediately bend down and rescue her; he is tentative with his touch and his words.  We would expect an angry and vengeful Jamie in this situation, but he dials it back for Claire.  He simply reassures her, "You are alive.  You are whole."  Her family takes on her revenge, as her doctor's oath prevents her from doing so, killing them all, save for one.  Lionel is still alive, and rather than kill him then, they take him back to Fraser's Ridge to question him about his motives.
"How many?"
"I don't know."
"Kill them all."
On Claire and Jamie's journey back home, they stop by a river.  With her back turned, wrapped in a kilt, and her hair down, this scene is an echo of the season one riverside scene after Claire is rescued from Black Jack.  Jamie and Claire fighting and thrusting angry insults and accusations at each other are now replaced with Jamie standing back and letting Claire rest and process her ordeal.
While there is a lot to unpack just from Claire's dream, there are other storylines in this episode that require mentioning.  The chief one is Brianna, Roger, and Jemmy's traveling through the stones as the audience was left wondering where they ended up from the previous episode.  Unfortunately, this whole scenario is an incredible letdown for both readers and show-only fans.  They ended up going nowhere, realizing later when they were thinking of home, it was where they are now, not in the future.  While this realization is all well and good, the show spent the previous episode with the characters saying goodbye to each other for, well, nothing.  The show built up a cliffhanger that went absolutely nowhere and took up precious time.  I really did love the goodbye scenes, especially the one between Lizzie (Caitlin O'Ryan) and Brianna, but now there is no payoff for this storyline.  For those of us who have read the books, we know that the family will travel back to the future to save a member of their family.  Are they going to do the goodbyes all over again?  Or perhaps if the series does not go past season six (we still don't have a pickup for season seven), will their time travel be eliminated altogether?
Wendigo Donner (Brennan Martin) appeared in the background of the previous episode when Lionel's gang arrived at the Big House.  He was listed in the credits, but he didn't have much of a purpose.  In the finale, his story echoes that of Geillis Duncan.  He references the "man in the moon" while tending to Claire and then approaches her later that night and asks her if she knows who Ringo Starr is.  He had previously heard her go-to curse words, Jesus H. Roosevelt Christ, as well as previously finding out she was Dr. Rawlings.  As he states, no man or woman from this time would have that knowledge, and that was his first inkling that she might be from the future.  It turns out he is part of Otter Tooth's group that traveled back in time to try to save the Native Americans from their fate.  Wendigo learns of Otter Tooth's or Bob's death from Claire.  Even though he is like Claire and is excited to meet another time traveler, he will not help her as he is scared of Lionel.  Wendigo was not around when Jamie and his friends arrive at Lionel's camp, so he is still around, but Claire now carries a particular opinion about him that won't help him if they meet in the future.
Back at the Ridge, Lionel is kept bound in the surgery, beat up by the men.  He begs for food and care from Marsali, and then Claire as she has regained enough strength and composure to be in the same room as this man.  Or at least she tries to be strong.  Claire reaches for a scalpel, wanting to exercise some revenge of her own, but she drops it back into its place and leaves.  She is still traumatized, and although some of her exterior wounds are starting to heal, those on the inside are still fresh.
On the other hand, there is Marsali, the spitfire.  She states to Lionel that she has taken no oath and takes action to make sure that he never is able to harm her family again.  A resurrected syringe full of liquid from steeped water hemlock root is pushed into Lionel's neck, killing him in moments.  It is only in the aftermath of his death that we see Marsali's regret and vulnerability as she sits on the surgery floor, syringe in hand, hoping that Lionel will not haunt her and she will not go to hell.  Jamie tries to reassure her, a bit letdown that any plan he had in motion for Lionel is now for naught.
Bringing up Marsali makes me want to state the obvious.  I loved how the writers have grown her character and brought her out from the books to be a force within the Fraser family.  On the other hand, I hate that the writers have relegated Fergus to be a minor, supporting character with no real storylines this season, save for the conversation between him and Ian about amputation.  Fergus is a beloved character by book readers and has been in the show for four seasons now.  The older Fergus has so much more to offer, and César Domboy's talent is worth developing Fergus into more of a main character like Marsali.  I sincerely hope that he will be included more in season six, as he is the son of Jamie Fraser and a valued member of the Ridge.
The episode and the season end with some hopeful scenes.  Brianna and Roger don't regret traveling to the past or that the stones didn't work.  They are happy to be where they are.  Claire, still recovering, looks upon the house's yard and the people in it, while a storm approaches in the distance.  Jamie approaches, and she finds fault with a leaning post but tells him its repair can wait until tomorrow.  "Let us just enjoy this ordinary day.  Who knows how much longer we will have this peace, knowing what is coming," Claire says. There are not many ordinary days for Claire and Jamie, ever.  While we enjoy seeing these two characters be together and have quiet moments, there is only so much joy and calm that can be had before the Revolution, as those time travelers know what is coming.
While we have a moment of foreshadowing, we also can rejoice in the final sentences spoken by Jamie and Claire this season, ones of everlasting love and feeling safe in each other's arms.  With them naked, entwined together, bearing all of Claire's fading injuries on her body, Jamie is still amazed by her resilience and strength, "Christ, you're a brave, wee thing."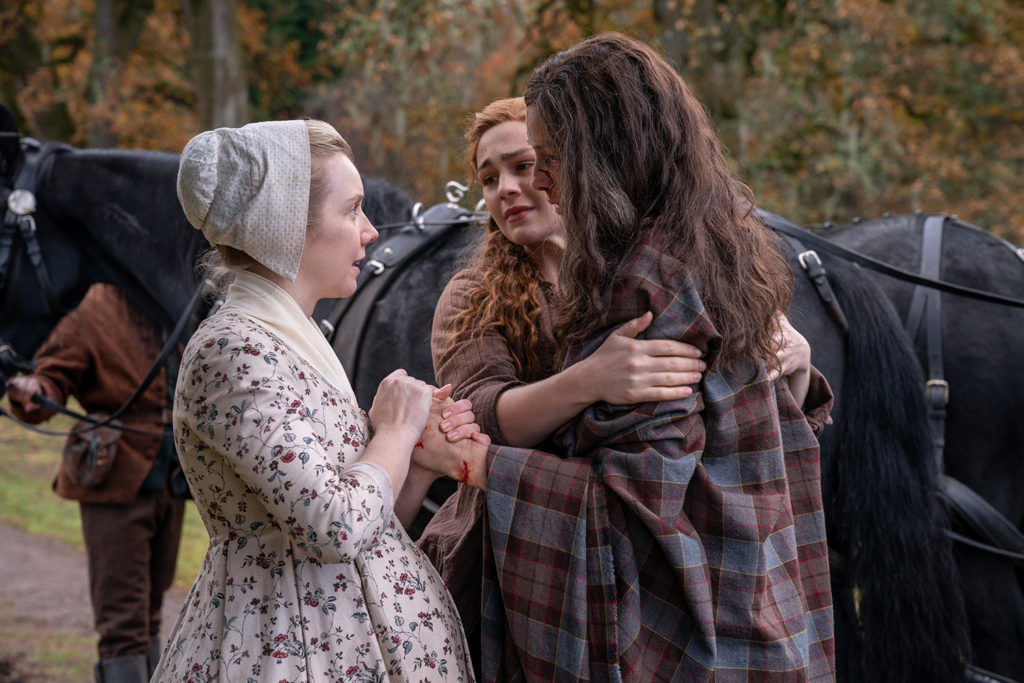 Photos courtesy of Starz.