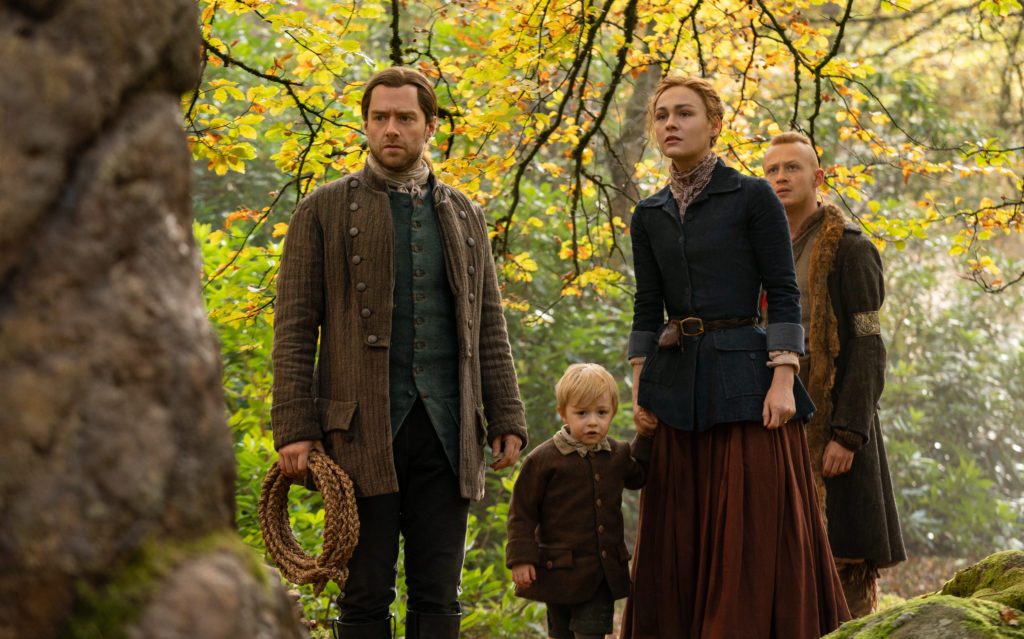 This week's post-episode round-up is only interviews with Diana Gabaldon. Only excerpts are below, so please click on the links for each article to read them in their entirety.  As always, be aware of spoilers for this episode and upcoming episodes.
Town & Country: Outlander's Diana Gabaldon on the Scene in Episode 511 She Watched "A Dozen Times, at Least"
Tell me how you ended up writing an episode this season.

It was more logistics than anything else. I was talking with [Outlander showrunner]Matt Roberts, and we were discussing whether I would like to write an episode for the season. And I said, "I'd love to write an episode—can we make it one of the later episodes of the season, though?" because I had hopes of actually finishing Bees before we got to that point.

That's why I took episode 11. It was the last one that was not the finale, which of course they wanted to write themselves.

The back half of season five is delving into book six, A Breath of Snow and Ashes. What do you think of the shifting timeline of the show?

Given what they're dealing with in terms of constraints and space, I think it makes all kinds of sense because I have storylines that can stretch out for three or four books. It's a coherent storyline, so I don't see any problem really in lifting pieces of the storyline from one book and condensing them with the earlier pieces from another book in order to make a contiguous line.

Like Stephen Bonnet's story, for instance, which has now concluded. That actually has a lot more impact in television terms, because you're seeing him pop up fairly frequently, and you don't have time to forget him. Whereas in the books, one of the reasons they're so long is because you need a certain amount of memory reinforcement for people who have not read the latest book for a couple of years.

When writing for TV, do you hint at the more in-depth stories in the book? With episode 511, I'm thinking of Ian's depression, which hasn't fully been explained on the show, but obviously book readers will know more about that situation.

Script-writing for television is a great collective enterprise. So while the script writer has a lot of power and can certainly put his or her own personal stamp and a sense of emotion into an episode, you are working from a blueprint, so to speak. [The executive producers] give you this list and say, "We need to do all of this."

And they have it planned—we need these elements coming out of the previous episodes that you have to work with and we need you to end this episode with these elements that can be used in the next episode. And as they go along, people take things out. People pull them back in.

So with regard to Ian, the first discussion was that they wanted Ian's past to be hinted at, and said, "We want some sort of concrete hint as to what has happened to him without actually telling the story."

So I had written a brief scene in which Ian is coming home to the Ridge. And he stops at a distance and is just sitting there, looking at the light from the windows, and obviously feeling outside and lonely. I had written in a brief flashback at that point, where we see him with the Mohawk. He was in a wood and looking out through the leaves at something. And we just see a close up of a woman's hands folding back a deer hide from the face of a dead baby, and then folding it back over and putting it in a tree limb. They thought that was too explicit, so they took it out. The line: "It's something between a man and his wife" is as close as they wanted to go.
Parade:  Writer Diana Gabaldon's Behind the Scenes Look the Latest Outlander Episode: 'It's Time for Decision and Action' 
"The motivations and timing and actions aren't as they are in the book, so I wrote assorted scenes that handled things in the context of the show: the discovery that Jemmy can hear the stones–this was delightful to watch in the daily takes; John Bell [Young Ian] was charming the little boy playing Jemmy into doing what he was supposed to by singing and miming 'Baby Shark'–and then the MacKenzies' emotional preparations for leaving," Gabaldon continues.

"There was a lot of wonderful acting involved in this part of the story, especially during Brianna's farewell scene with Lizzie (Caitlin O'Ryan). I didn't write that one, but Sophie and Caitlin were wonderful," Gabaldon says. "And in my favorite scene of the episode: Jamie (Sam Heughan) telling Bree about her brother. It's a very simple, quiet scene, but so honest and full of emotion. Sam and Sophie just nailed it–really wonderful." Gabaldon did write that scene, "and nobody messed with it, which was great," she says.

"What you might call the Visual Action component of this episode, though, is–once again–the Browns of Brownsville," Gabaldon points out. "I adore the Brown brothers, fabulously and repellently acted by Chris Larkin and Ned Dennehy. Besides providing the intermittent jolt of adrenaline and outside threat whenever they show up, this starts the payoff to the Brown storyline. We light the fuse that will blow everything apart…next week."
All sources linked in their respective parts of this post.