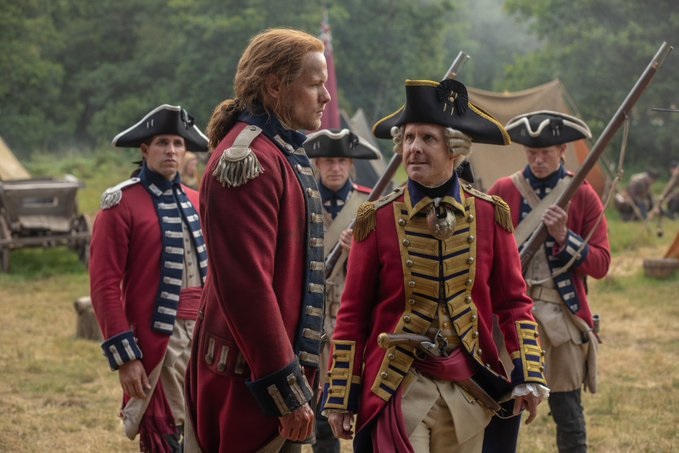 Outlander Season 5, Episode 7 Reflection: Nobody Knows   
Starring Sam Heughan, Caitriona Balfe, Sophie Skelton, Richard Rankin, Duncan Lacroix, Graham McTavish, Kyle Rees, Caitlin O'Ryan, Tim Downie
"Through the darkness to the dawn
And when I looked back you were gone
Heard your voice leading me on
Through the darkness to the dawn
Love is deep as the road is long
And moves my feet to carry on
It beats my heart when you are gone
Love is deep as the road is long"
– The Lumineers, "Nobody Knows" (2016)
Throughout this season, but most definitely in this episode, Colonel James Fraser's internal conflict as leader of the colonial militia steadily increases in stress, frustration, and fear on par with the horror at Culloden decades before. Now that the vehemence of the Regulators has reached fever pitch and diplomacy between them and the British officers has crumbled, he again sees no choice of the path set before him. I was reminded of the scene in The Lord of the Rings: The Return of the King (2003) where Pippin and Gandalf are standing on a Gondorean balcony awaiting the arrival of Sauron's dark forces; "I don't want to be in the battle," Pippin confesses, "but waiting on the edge of one I can't escape is even worse." For Jamie, the dread of the inevitable is nothing new, but more is at stake than ever before and having a birthday while at base camp only makes the peal of time more vivid.
"The Ballad of Roger Mac" is an ironic and fitting title about how easily historical events like battles have been romanticized through story and song, and how real people can be characterized as legendary or infamous depending on whose version of history gets codified. When writing a ballad, consideration is given to the audience's enjoyment, so details get embellished, actions given more grandeur, personalities more panache. They are the folk-art equivalent to the comic book, so the foundational truth is adorned with a heavy dollop of whipped-cream style. Throughout the episode, we see how the events surrounding the Battle of Alamance are shaped by those on both sides, and how the eventual victors choose to frame the precursors and outcome to suit their position and advantage.
Both Jamie and Claire are well-experienced on the battlefield, which helps in preparation but only worsens anticipation. Roger and Brianna only know of war from books and television and movies – stories in mixed media that may provide a visual and/or audial context. Still, they can't immerse the audience in the sensory experiences of smell and touch. By the late 1960s, there was a wave of antiheroes and grit in war films and historical epics contrary to the predecessors in the big-studio era, so Brianna and Roger would have watched films made amidst civil unrest and the Vietnam War. Combined with their knowledge of history, they are not naive to the subjectivity of the field but have yet to experience the battlefield viscerally.
Murtagh (Duncan Lacroix) has emerged as the George C. Scott of the fifth season, able to rally the troops with his passion for the Regulator cause, but he ultimately cuts a tragic figure as a man out of this time, trying to structure offensives in the New World using Old World tactics. He is a hero of the Studio Era, never failing to protect his beloved godson and uphold his ideals. Jamie is from a later period in Hollywood when heroes showed more flaws and scars and conflict. Never is this more evident than the way he reacts to Murtagh's death, as Sam Heughan expertly displays Jamie's shock and fear and momentary denial. He calls for aid, begs Claire to save his godfather, and finally lashes out to Governor Tryon (Tim Downie) before physically breaking down beside a campfire. Rather than view these behaviors as weaknesses, we instead behold a more three-dimensional leader who reacts to death and violence as a human being, not some superhero in a cape. Showing pain and tears and desperation only lends more credence to his inward and outward strength. His reliance on Claire and trust in John Quincy Myers (Kyle Rees) and finally, Roger (Richard Rankin, who keeps getting better and better) increase his relatability.
In his response to Tryon's call for celebration after "winning" the battle, Jamie acknowledges that the entire sequence of events will probably be swallowed up and regurgitated to suit history's fancy and that the "losers" will be dealt with by the pen as well as the sword. It is an existential moment at the end of an already somber episode, and the final scene where he finds Roger hung from a tree is almost numbing after the sadness of Murtagh's death. It leaves us wondering if the ballad will also be an elegy.
by Brooke Corso