**This is not a spoiler-free review of this episode. This review is also from a non-reader, and any comments revealing spoilers from the books will be deleted.**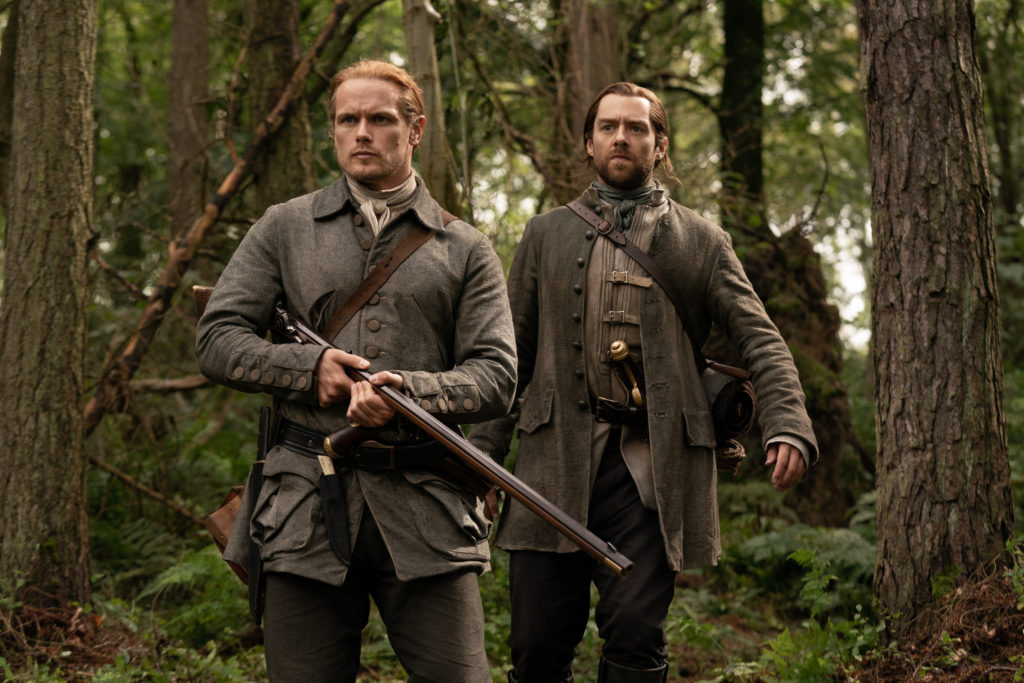 Episode 509:  "Monsters and Heroes"
Written by Shania Fewell, Directed by Annie Griffin

WHAT DO YOU MEAN THERE'S ONLY THREE EPISODES LEFT? 
Claire (Caitriona Balfe) gives Marsali (Lauren Lyle) a checkup and says her baby is in the perfect position. Awww! Marsali is happy Claire will be present at the birth, not as her physician, but as her ma.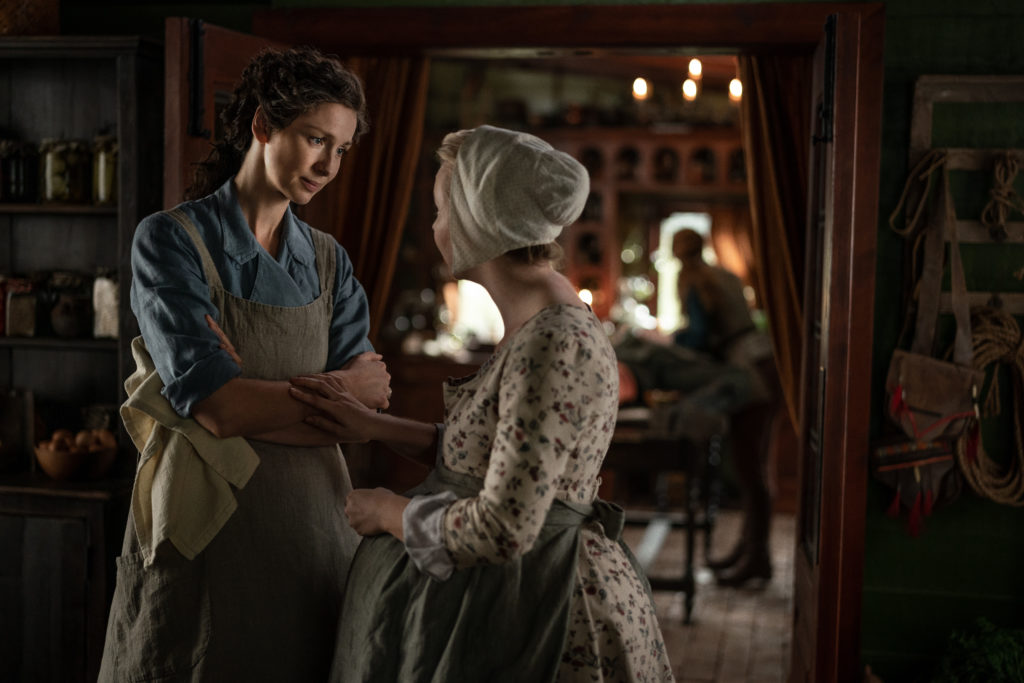 I'm not crying. You are. 
Roger (Richard Rankin) is totally up for some red-haired ginger princess hanky panky and keeps getting hilariously interrupted by Jem and then HIS OWN FATHER IN LAW. 
The look on Jamie's (Sam Heughan) face when he sees Brianna (Sophie Skelton) and Roger looking relatively indecent is hilarious. Jamie says there's game to be hunted. It's obvious he was referring to Brianna as an able-bodied marksman, but Brianna volunteers Roger. (His voice is back to normal??) 
Roger continues to be hilarious and relatable when stepping in poop. That's no cow excrement, Jamie says! 
It's a bison. 
(Don't lie. You hummed, "Oh give me a home, where the buffalo roam," in your head, DIDNT you?") 
Jamie shoots, and A SNAKE BITES HIM.
OMG, JAMIE NO. 
HOW CUTE WAS IT WHEN JAMIE WAS LIKE, "WAIT, LET ME DISINFECT THAT KNIFE JUST AS MY HOT SMART WIFE DOES" 
Roger sucks the poison out, and I don't think this was the father in law bonding he was hoping for.
And then Lizzie (Caitlin O'Ryan) says, "It's a good day for dying," and I can just hear the writers laughing at their use of dramatic irony.
I appreciate the scene where Brianna seeks advice from Claire about her career. She's right; it's hard to find a way to call yourself a female engineer in the 18th century. I do wish they would've spent a bit more time developing this career aspiration of Brianna's. It's been a lot of telling us she's an engineer but not showing her skills in action somehow!
Roger fires his guns in frustration, trying to signal to anyone nearby that he and Jamie are there. 
The rest of the men return sans Roger and Jamie. 
HOW IS JAMIE STILL ABLE TO SPEAK?? HOW LONG HAS IT BEEN SINCE HE WAS BIT? WHERE IS ROGER'S SENSE OF URGENCY???
Jamie told Roger to kill Stephen Bonnet if he can't. Roger isn't sure he can kill a man. Jamie recaps the entirety of season four to Roger to prove that the human bacteria deserves to die. He wonders if the snake bite was retribution for his failure to kill Bonnet.
Jamie notes that Bonnet can claim Jemmy as his. Roger still hesitates. Jamie says he's glad Roger is there. Young Ian (John Bell) senses something isn't right. Is that Jamie's horse that came back without him or Roger's?
If I go to hell, I'm glad you're coming with me. 
As dire as the situation is, delirious Jamie is rather funny. 
He tells Roger if he dies, Claire should go back with them to the future.
"Don't let this man die. Lord have mercy." 
Ian to the rescue!! Ah. So Roger can speak normally, but he can't yell.

He thumps a tree instead. 
Claire surveys Jamie's leg and says he looks like he's been roasted over a spit. Jamie retorts that she needs to work on her bedside manner. Claire isn't sure if Jamie will survive. Marsali proves to be the calming presence Claire needs.
"I've had enough of your needles for one lifetime."
I MISSED snarky Jamie!! He senses that Claire fears that he's dying because she's been far too nice to him. He later grabs the saw Claire left out, determined not to lose his leg. 
Brianna is perfectly convinced Jamie will be fine. Roger relays the plan to Brianna about killing Bonnet. He notes that people could feasibly think that Jemmy is Bonnets. 
HOLY CRAP. A BUFFALO ROAMED RIGHT INTO FRASERS RIDGE! BRIANNA AND CLAIRE TAKE IT DOWN LIKE THE QUEENS THEY ARE. Jamie drags himself out of bed in desperation to help. 
DEAD MAGGOTS EATING JAMIE'S FLESH IS SOMETHING I NEVER WANT TO SEE AGAIN. 
I love how Jamie keeps leaning on Roger Mac for help. Claire fears about breaking her promise to Jamie not to cut his leg off. Ian rightfully asks Jamie if he ever thought his father or Fergus was less useful after losing a limb. 
Ian gives Jamie a piece of his mind. 
"I'd never thought I'd see the day I'd be ashamed of you, Uncle!" 
Doctor Claire is like, "why the hell did you move my patient, you USELESS MAGGOTS" Aw. Jamie didn't want Claire sleeping on the floor of the surgery.
FERGUSSSSSS!! He wants to be there for Jamie, just like Jamie was there for him when he lost his hand. 
Jamie asks Claire to sleep by his side. Claire silently weeps. 
"Dinna leave me." 
Claire nearly loses it when it looks like Jamie's pulse is weakening. She rouses him back to life. I've never felt so relieved by a single breath.
The next morning Jamie says Claire can take his leg off when the time comes. 
OH DANG MARSALI'S BABY IS COMING. MAYBE MARSALI WILL HAVE TO DELIVER IT AFTER ALL??
IS CLAIRE REALLY GOING TO CHOP JAMIE'S LEG OFF??? BRIANNA MADE A  SNAKE TOOTH SYRINGE??? THERE ARE HER ENGINEERING SKILLS!!!
JAMIES LEG MAKES IT TO ANOTHER EPISODE!
MARSALI'S THIRD BABY IS OKAY???
"Well, I would like to point out that you are, in fact, alive." 
Roger's sass when delivering that kind was INCREDIBLE. He tells Jamie he wants to go with him to Wylie's Landing. Jamie tells Claire he had a near-death experience.
"And you were the one thing to bring me back."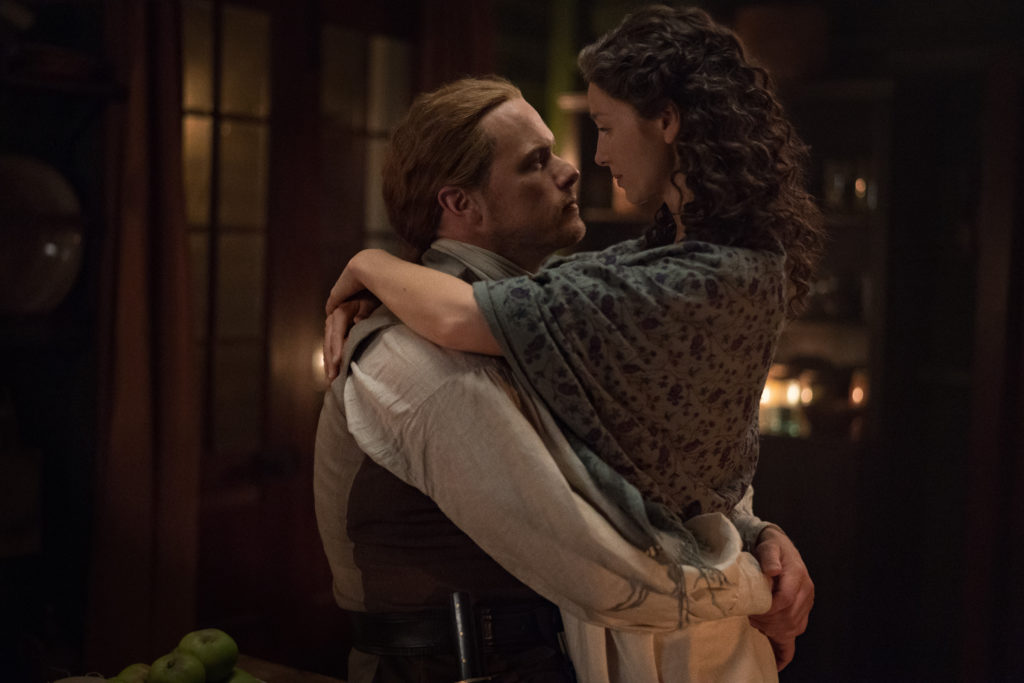 On a real-life note, what is UP with people bullying Sam? (I say people because they don't deserve to be called fans.) To me, Outlander has always been a fun escape I look forward to every week. I have fun writing these recaps because the show is supposed to be fun. I don't think there's anything wrong with fans dissecting the differences between the books and the show as long as it's done respectfully and with a dram of Sam's whisky for bonus excitement.
The whole getting invested in the actors' personal lives and attacking them for it? Just writing that sentence exhausted me. What's the point? I realize anyone reading this probably hasn't participated in these idiotic actions because OutlanderTV News fans are the best y'all.
Bullying actors is stupid, horrible, and completely detracts from how fun this show is.
Stephen Bonnet is a bully.
Don't be like Stephen Bonnet.
And with that….Until next time!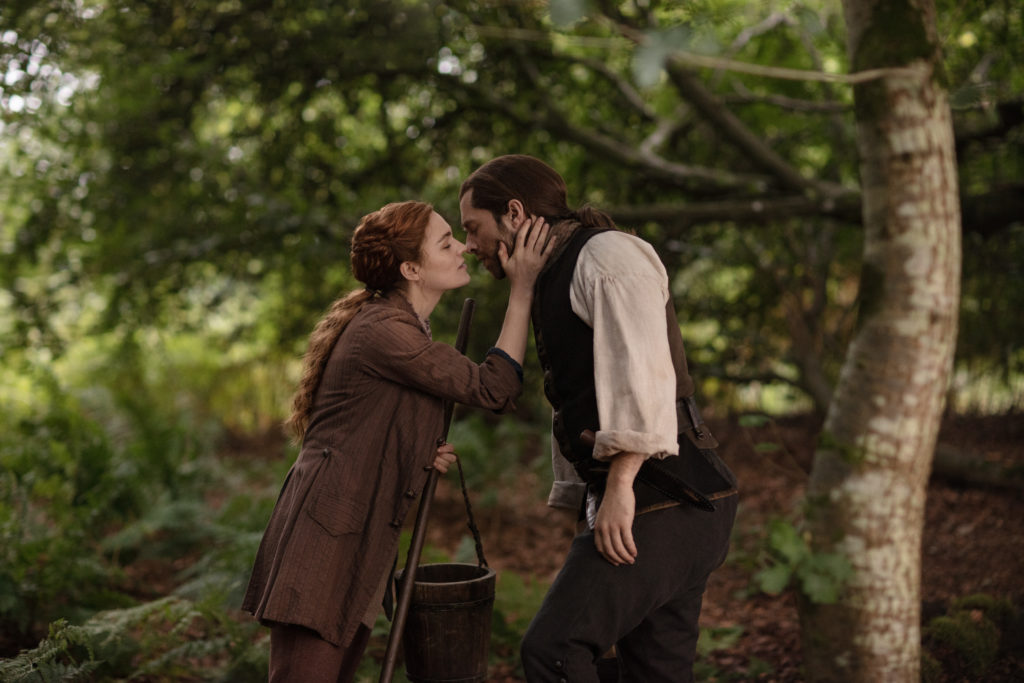 NEXT WEEK, SUNDAY, APRIL 26th AT 8 PM ET: EPISODE 510: "MERCY SHALL FOLLOW ME"
Photos and clips courtesy of Starz.