[This is not a spoiler-free review of the episode. If you have not seen the episode yet, read it at your own spoiler risk.]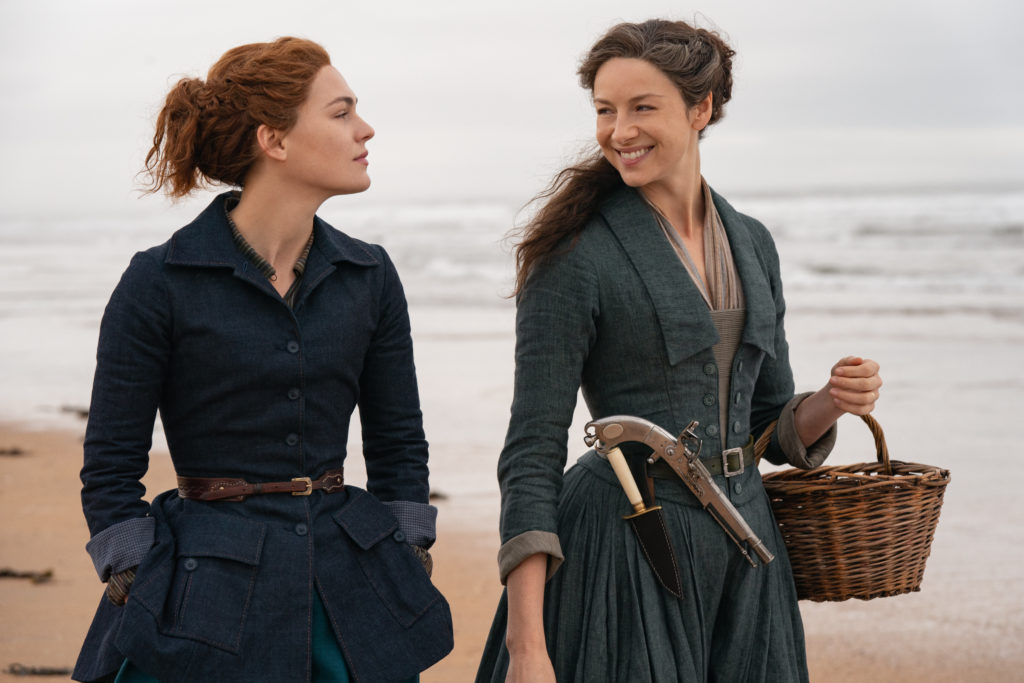 Episode 510: "Mercy Shall Follow Me"
Written by Megan Ferrell Burke, Directed by Annie Griffin
Last week on Outlander, we were emersed in The Ridge. We were able to live life with the Fraser family and get those connections that many were longing for. Most of the time, with Outlander, that warm and fuzzy feeling can not or does not last that long. It is a dramatic, wild series that reminds us that, like the Frasers, you can never settle into comfort.
I do like whoever compiles the "Previously on Outlander" clips each week, especially when many emotional moments happen between weeks, and there has been a week with no episode. They are always great reminders of, "Oh yeah, that's right, Mr. Forbes is still a character," and who Mr. Forbes (Billy Boyd) is. I almost always like the vignettes during the title card; it is a nice little snippet of what is to come.
This week jumps right into what exactly Stephen Bonnet (Ed Speleers) has been up to while our Frasers have been in the Ridge. The tavern chat between Bonnet and Forbes was sweet and to the point of what both of them are up to, and how they are using each other, as well as the entire Fraser family, to achieve their end goal.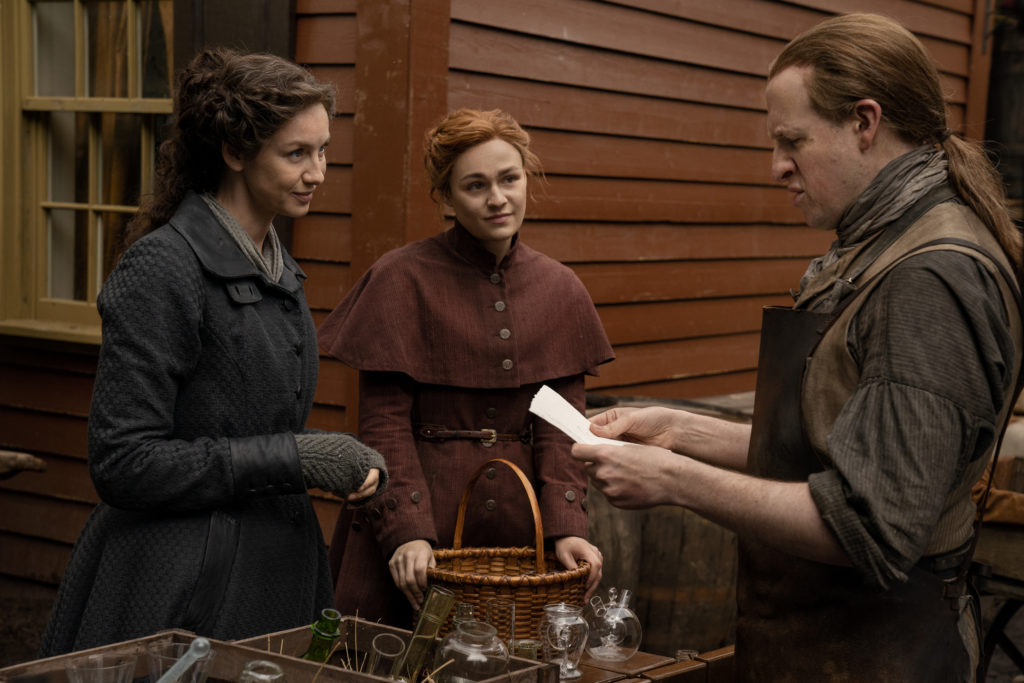 In another Wilmington tavern, it moves to more scheming as we finally see the Frasers and Mackenzies working together in the hopes of taking out Bonnet for good. How uncomfortable Young Ian (John Bell) is in his new clothing lends to that uncomfy feeling we had when listening to Forbes and Bonnet just a few minutes ago. We get a nice respite with some old school Jamie (Sam Heughan) and Claire (Caitriona Balfe) love; those looks and comments between them that remind us of their connection that is forever. We also have time with Claire and Bree (Sophie Skelton) again this week. I was still holding out for Jamie and Bree time. While Claire and Bree are shopping for their supplies to make a new needle, they are viewed by a pair of eyes that are going to determine the outcome of this episode.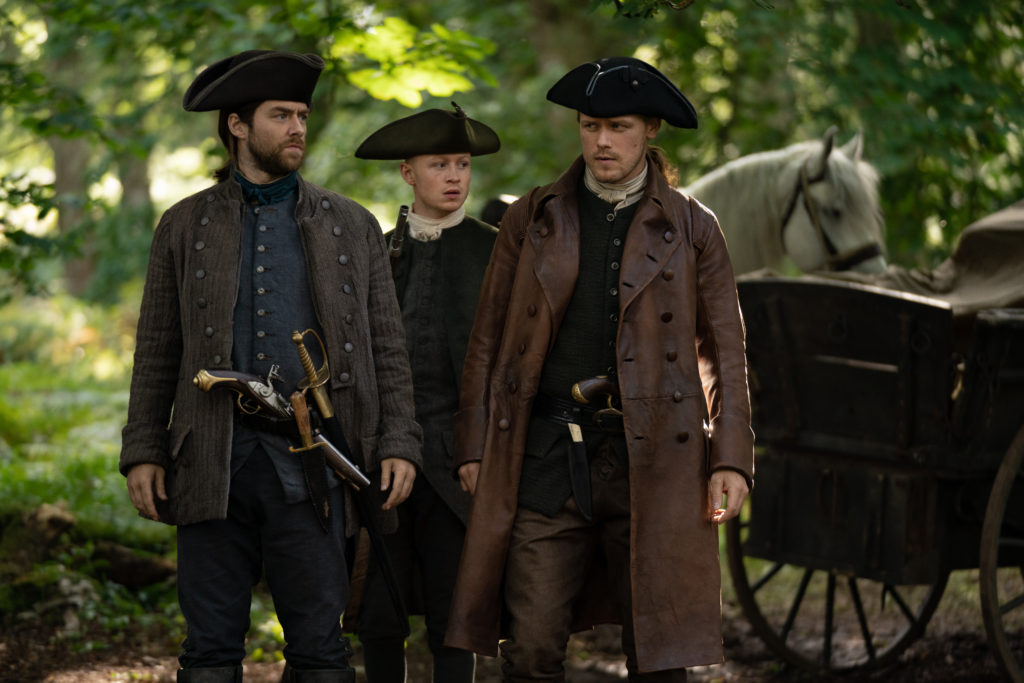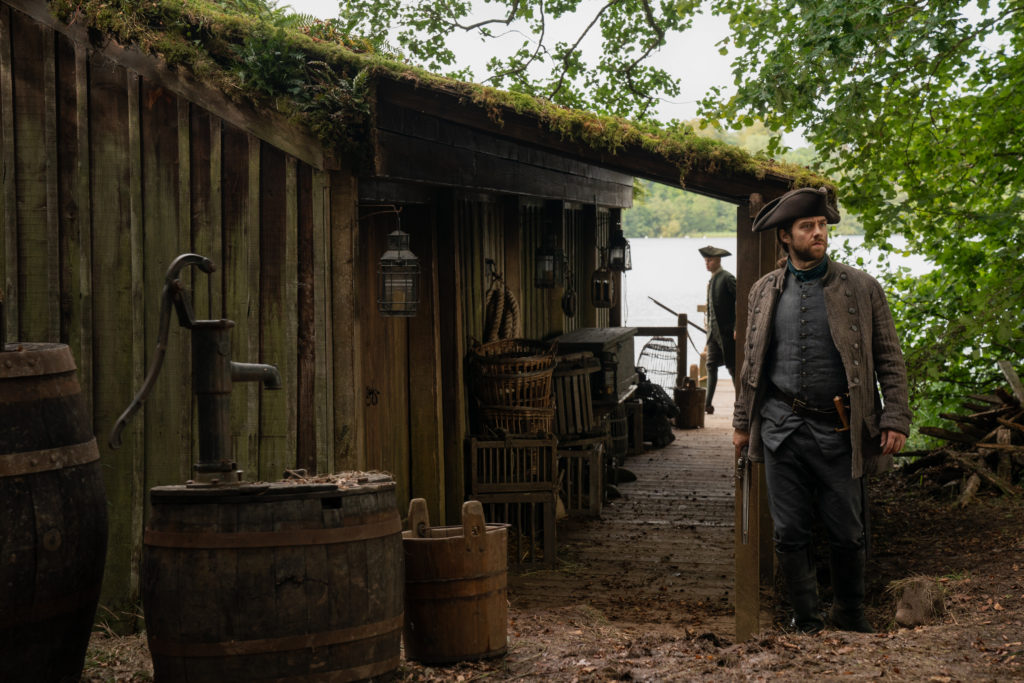 Jamie, Young Ian, and Roger (Richard Rankin) have moved on to Wylie's Landing, waiting on Bonnet. While the men are at the Landing, Claire and Bree have moved on to the beach to look for shells among the waves. As I have personally been to and lived around the Wilmington and North Carolina coasts, visually, they are spot on. The location scout in Scotland did a fantastic job in finding a stand-in that looks identical to the beaches of the Outer Banks. If we weren't told it was filmed in Scotland, I would genuinely think the beach scenes are shot in a more remote part of the Outer Banks North Carolina, so thumbs up on this location matching PERFECTLY. The only issue is that it would have taken Claire and Bree a good bit of time to walk from the bustling streets of Wilmington to one of the closest beaches that have waves and dunes as to those where they were collecting shells. Wilmington is up the river a bit and not an easy, quick walk to the beaches with dunes and waves. Sometimes it's the little things, but anyone from the area would wonder just how long have they been walking?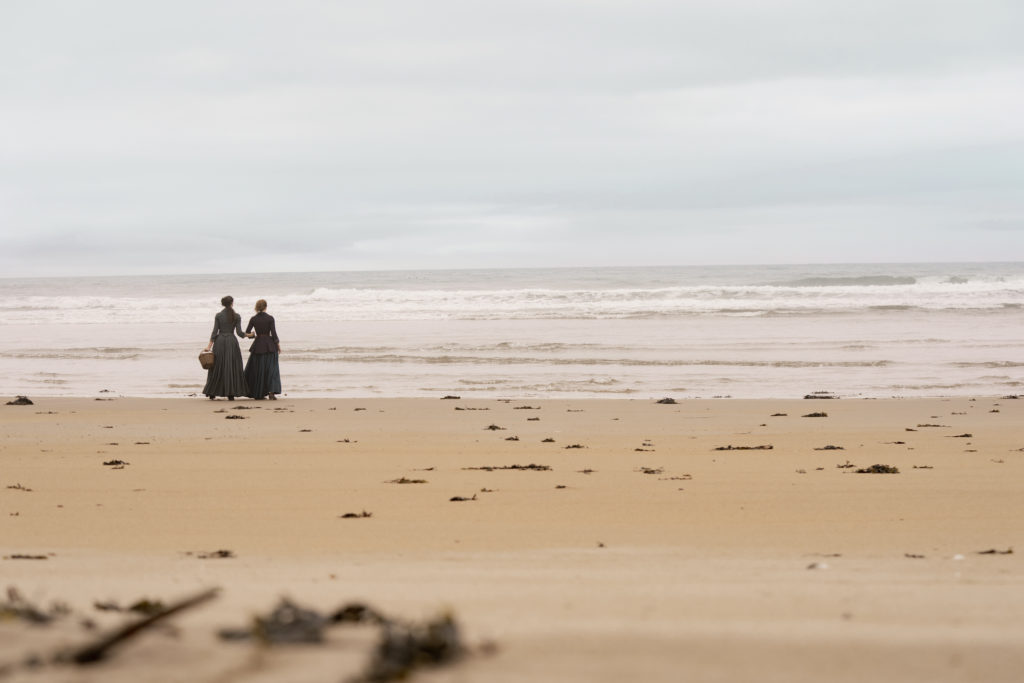 I have always been a fan of Bear McCreary throughout the series, but I think Bear upped his musical game in this episode. He started building the tension in the tavern with Bonnet and Forbes and has turned a lovely walk on the beach into something ominous. Sometimes it is the little things, but when the drums carry over to the men at Wylie's Landing, we know just who it is that is watching the ladies on the beach, and he is NOT where he is supposed to be. I ask everyone to go back and watch this episode again, really paying attention to the musical overtones to everything, while the whales are breaching and especially the time Bree is in Bonnet's house. It will make you understand just why you are feeling what you are feeling during some of these seemingly mundane moments.
I love that the men have come together and are working as a team, with Jamie still in control while giving Roger his moments. I can't imagine a better Bonnet than Ed Speleers at this point, he has pulled off this confident, handsome, yet chilling character. He has a magnetic energy that you can see how he has pulled off the antics he has over the years. Making women and men do his bidding with that Irish charm and a twinkle of his eye.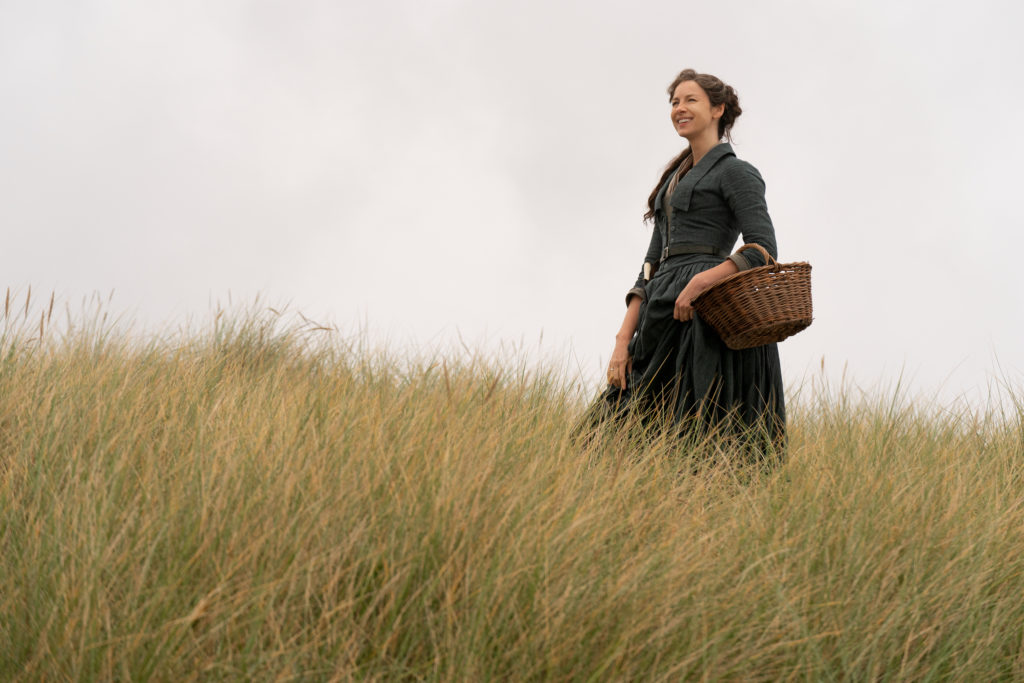 Another moment we are going to have to discuss is that the island of Ocracoke is literally a four-hour distance from any beaches around Wilmington. It made all of the action seem impossible to line up with Claire finding the Fraser men on the path, and the ladies of Ms. Sylvie's house being familiar with where Bonnet lives. This sequence would have been one change from the books that would have been okay, so it worked. I would love to hear what others from the North Carolina area think of this possibility and part of the storyline. I know in the books this is where he lived, but with the condensed timeline of the show, it would have worked better to find somewhere just a bit closer.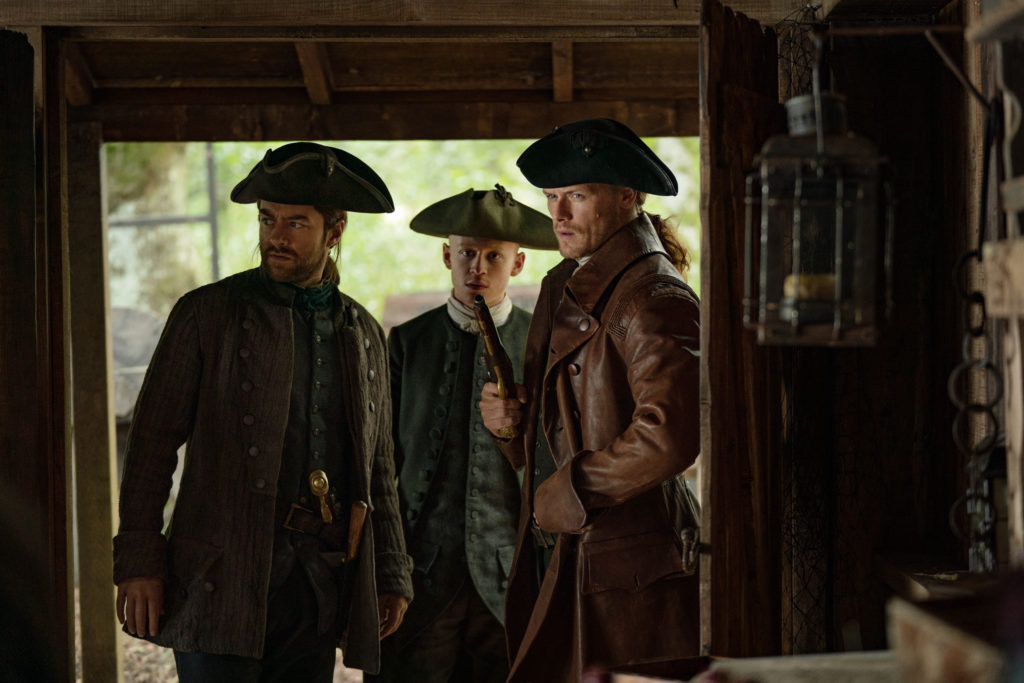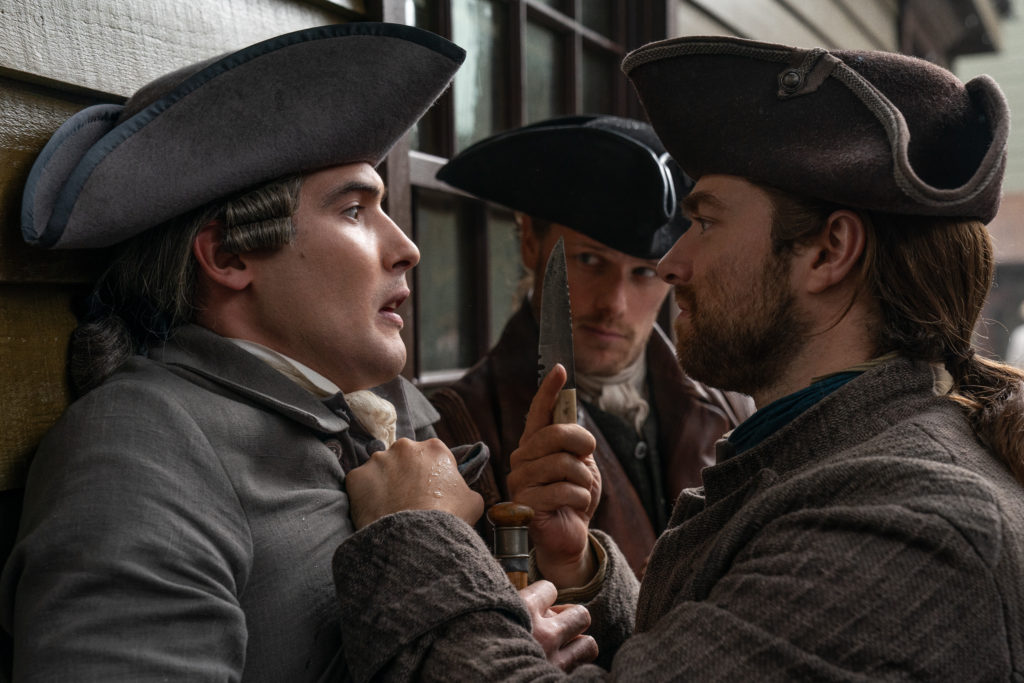 The time in Bonnet's house with Bree and Bonnet shows us just how psychotic Bonnet is. Bree can see it and seems to have her parents' wit enough to deal with this man that many others in the position would crumble under such stress. If we think back to the moments that Jamie has been in similar situations with Black Jack, and that Claire has had with many, it is a skill that all three share. Bonnet's house is another time I noticed McCreary's music or lack of it. It is poignant when there is silence, absolute silence in the background while Bree and Bonnet are interacting. It makes the moments the strings come back in all that more chilling with Bonnet at the back of Bree's neck. We feel her shiver, that uncomfortable breath of someone we know, who is extremely unstable and dangerous. This cat and mouse game goes back and forth until the following day. Never knowing who is the cat and who is the mouse, Bonnet's skill against hers.
Certain episodes this season have had jumpy transitional moments, and I feel this week was smooth as silk in comparison. I love how the episode transitions into Jocasta (Maria Doyle Kennedy) and Gerald Forbes, as well as the Frasers gathering information on Bree's whereabouts from the brothel. It breaks up the moments to give each their own tensions by pulling from the previous moment, that Bonnet and his reach are truly interwoven with everyone within the family. Mr. Forbes' actions with Jocasta reinforce just how much of a skill it is that Bonnet has to be able to cloak others as he has done for so long. Speaking of skills, Claire uses her medical observational skills to gain the whereabouts of her daughter (and pulling back to the images of the title card scene and just how those shoes being cobbled to two different heights plays such a significant role in the outcome of the family).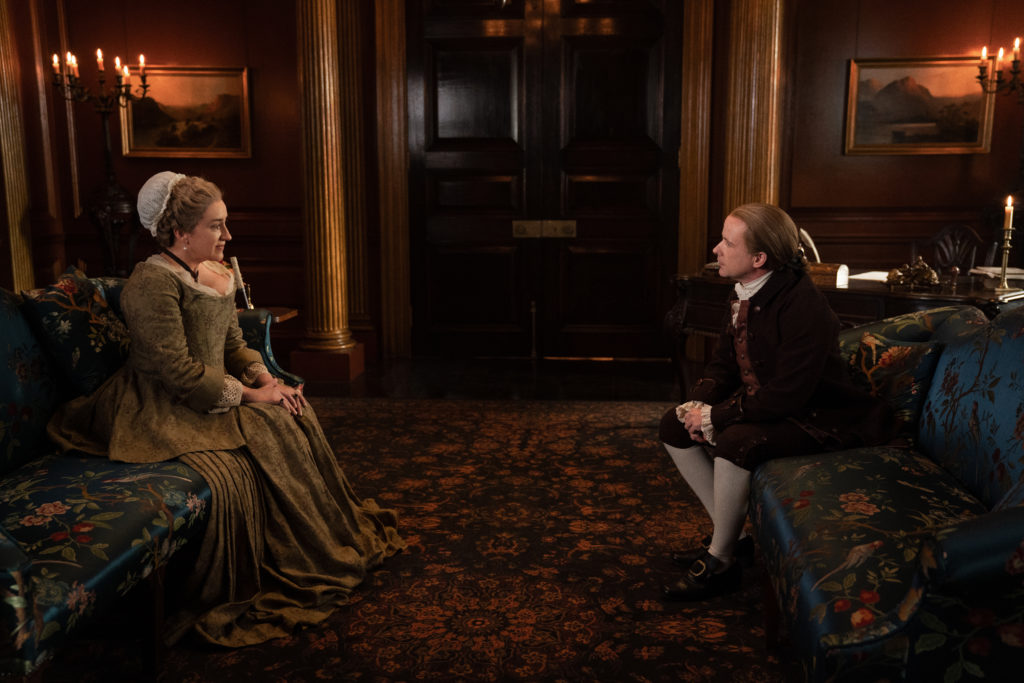 I do love how the writers keep you guessing on Bree's fate throughout the "selling" of her in Bonnet's house. Is Bonnet still playing a game? Is he going to kill the man? Is he going to keep Bree, and this is her new role? This scene was an excellently written and acted. Once Bree is sold, we are back on the same beach that the ladies were collecting shells on.  The family arrives just in time to save Bree from the fate of becoming indentured property. Jamie finally fully accepts Roger in his own James Fraser way, that look of acceptance. Again, this was a strong episode of more bonding between Roger and Jamie. I feel there has been more bonding between Bree and Bonnet, and they have more of a connection that Jamie and Bree at this point. We only got the one moment of Jamie asking Bree if she was okay on the beach after shooting Manny. It is Claire that comforts Bree after Bree requests Bonnet is taken to trial in Wilmington. We still have a few more episodes, so maybe that Bree/ Jamie connection is coming.
Acting on the information that Bonnet is genuinely terrified of drowning, Bree kills him right before he is. It leaves us all asking what Roger asks? Was it mercy indeed following Bree to make sure he was dead or was it showing that she finally held the upper hand in their game that has been plaguing her since her arrival in this time period? What do you think?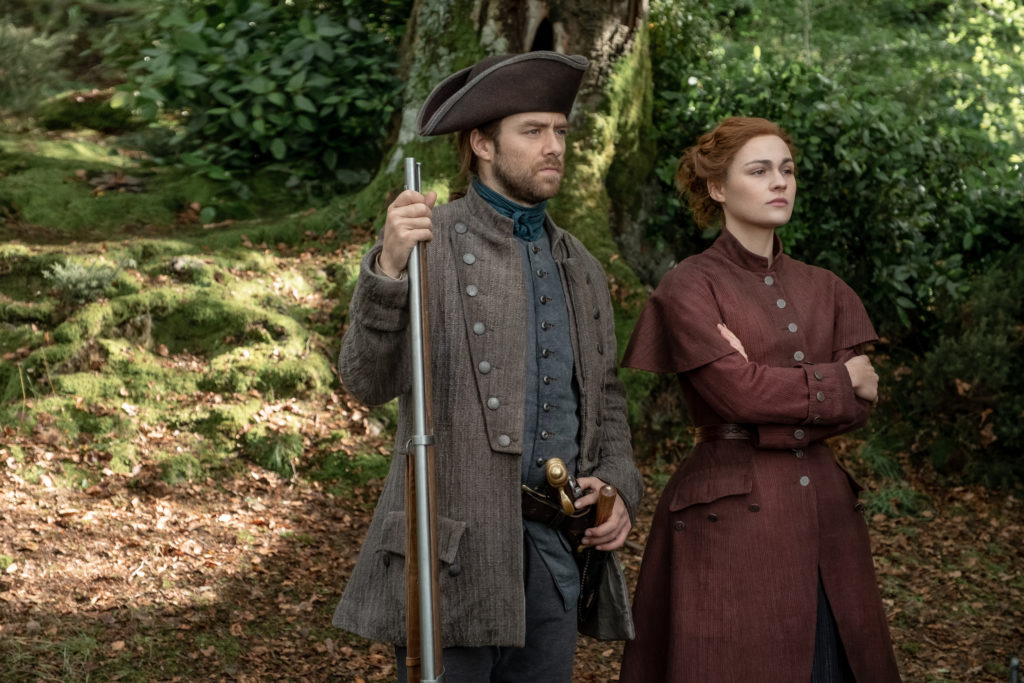 NEXT WEEK, SUNDAY, MAY 3RD AT 8 PM ET: EPISODE 510: "JOURNEYCAKE"
Unofficial Synopsis: "Roger and Brianna need to decide if they want to stay or return to the future; Jamie discovers a new power that started from an unrest in the backcountry."
Photos and clips courtesy of Starz.