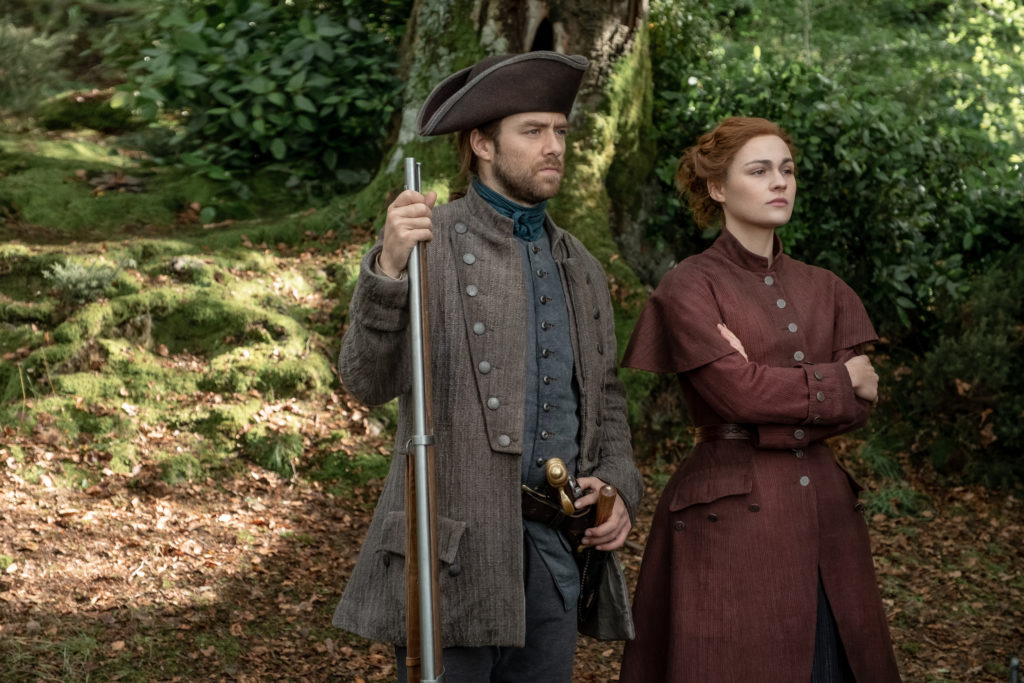 This week's post-episode round-up includes interviews with Sophie Skelton, Ed Speleers, and Diana Gabaldon. Only excerpts are below, so please click on the links for each article to read them in their entirety.  As always, be aware of spoilers for this episode and upcoming episodes.
Parade:  Brianna Kills Stephen Bonnet on Outlander–Here's Why Diana Gabaldon Says It Was an Act of 'Mercy' Not Vengeance 
"Brianna understands (whether consciously or not) that one important reason for the existence of government is that it assumes an impersonal collective identity for the administration of justice," Gabaldon says. "So, justice can be done, but without the damage, distress or sense of guilt that might result from a single person's being obliged to mete it out. Government in the Colonies is beginning to fall apart, but there's plenty of local courts left to condemn Stephen Bonnet out of hand–for piracy."

"Over the course of the last two seasons, Stephen Bonnet has told both Claire and then Brianna that he's mortally afraid of drowning, and has always had a presentiment that he'd die that way. Now his fears have all come true," Gabaldon points out.

"Brianna isn't a vindictive woman, though, and she listened to her father when he told her that the only way she could find peace with what had been done to her was to find a way to forgive," Gabaldon adds. "She meant to do that, going to the jail to tell him about the baby, but it didn't work quite as she'd expected. Now she goes to the river with a rifle in her hands, knowing she's the only person in the world for whom this death isn't vengeance, but mercy."
TV Line:  Outlander Recap: Mercy Me — Plus, [Spoiler] Breaks Down His Last Ep
TVLINE | This week is Bonnet's last hurrah. We get depths of him that we haven't seen before. When did you know this would be the end for him?
I was pretty pissed off, Kim, I'm not going to lie. [Laughs] I was on holiday with my family, with my young children. I was on a beach in Mallorca and I took a phone call saying, "We need to get you in for certain tests and things, makeup tests." I was like, "What's this about?" "You have a bullet wound to your head." I said, "What bullet wound to my head? Am I surviving this?" I then got a script, and I obviously wasn't.

Look, a villain such as Stephen Bonnet, he doesn't make it in the books, and there's no way he's going to make it in the TV series. Deep down, I knew it was going to come at some point. From a creative standpoint, on the page, it was all the things you look for when you take on a role like this. I've been very fortunate with the material that's been on offer I've had some very well fleshed-out writing that has allowed me to really try and get behind the character… This episode — I haven't seen it, I don't know how it looks — left the chance to really do that… With a character like that, you need to find the humanity so people can related to him or so you can relate to him, me myself… I'm glad the writers nodded to that and tried to get inside what he may be thinking on a more humane level, I suppose.

TVLINE | Outlander is a very feminist show, and you play a character that raped one of the main female characters. That's a hard place to start from. How much did you know, going in, that the show eventually would explore what comes up in this episode, such as the things we learn about his past?
Interesting. I read Drums of Autumn, which is the first book Bonnet appears in. It was evident to me that there was a man, as you say, who had a very dark and treacherous past that could've gone another way for him with a little bit of love and nurturing along the way… When I read that book originally, you could see there was an overriding ambition to be — whether it was to be a gentleman, the idea hadn't been pinpointed at that time — but there was definitely an overriding notion that he was striving for something. It was almost like a me-against-the-world attitude, I suppose. And a desire to prove that he could defy people who'd pushed him down previously.

…Coming back to taking on the role in the first place: It's one of those odd situations as an actor where you know you're going to have to take on some very controversial, very harrowing themes that are difficult to handle, to discuss. They're difficult to approach any which way… It's always a really, really tense subject to even tackle. Sometimes when I meet people who have been affected by it but also people who are fans of the books and the show comment on those scenes and say about the power of them, I find that a difficult thing to listen to because it's a very, it's just an incredibly sensitive subject to talk about.
Elle:  Outlander's Sophie Skelton On Finally Finding Closure For Brianna
How did this storyline come to be? There are some noticeable changes from the books.

It's actually based on a true story. There was a girl who was kidnapped by her rapist and she did read to him, mainly to placate him, but also to try and pass the time. The one thing I talked to the director about was that I didn't like that Brianna went towards the bedroom. I really pushed against that. It's the last place [she'd go]—she would be hiding near the door if anything. That's why that next line comes in: "Oh, my friends can join if you want." That pulls Brianna away from the main door on instinct. You know when you say no to someone and your instinct is to go toward them as if to stop them? That's the way I wanted to bring Brianna toward the bedroom—without her initiating moving there.

There is that underlying fear that Bonnet can strike again anytime. It's so disconcerting for Bree that he's being so nice. She knows he can do a complete 180 with no warning. She's trying to keep him calm and placate him, and as soon as he advances toward the bedroom, she thinks, I can't escape right now, but what can I do to hold this off as long as possible? You don't really see this shot, but Brianna sees the books and that gives her the idea. She knows she could've angered Bonnet when he makes a face like he can't read, so she says, "I'll sit and read to you." It calms Brianna in a way and makes her feel like she's with Jemmy. She's really missing him. She's never had this much time away from him before, and leaving a child for the first time is always a very tricky thing for a new mother. She's definitely hoping Bonnet will fall asleep, but when he wants to know the ending, she starts to panic because she can tell he's probably getting bored.

Are you and Ed able to keep things light between takes?

It depends on the day. These are really tricky scenes because we film them over continuous days, which means you don't get a lunch break—you literally stay on set all day, like 11 or 12 hours. It's pretty intense. You always have the moments where you try to bring a little bit of lightness in, and Ed and I get on really well and we're always happy to have a laugh. But the thing I love about working with him is that he is so intense. Ed is very method. He really does stay in character. In season 4 there was [a woman on set] who was like, "I just can't look at Bonnet. He's creeping me out. I'm scared of him." And she meant it in a good way. He's so Bonnet and you really feel that vibe on set. He's gives a hundred percent on his takes. I'm gonna miss working with him.

Although he absolutely battered me to shit on the beach scenes. I was in bare feet and oh my goodness, he stood on my feet about 20 times. Someone came up to me and they're like, "Is that real blood on your ankles?" I was like, yep! When you're dragged down a hill in a corset, let me tell you, your spine does not work for you. My neck was buggered. [Laughs]

Let's talk about the final scene, with Brianna shooting Bonnet after he's sentenced to death. What did you think of that?

I love that Roger asks Brianna why she did it, and I love that Brianna didn't answer. I don't really want anyone to know her feelings, and in all honesty, I can find many reasons why she did it. She could've done it for revenge. She could've done it purely to make sure he's dead—he has a very good habit of slithering his way out of any problem. For me, there's almost an element of mercy in that. It's like she did in the jail scene—I'm going to show you one tiny bit of goodness in this world. But I do like the mystery on Bree's face. You don't know if she doesn't know herself or if she's just not telling you.
TV Guide:  Outlander's Sophie Skelton Breaks Down Brianna's Final Show Down with Bonnet
Were you more excited or nervous to tackle this episode and Brianna's final face-off with Stephen Bonnet?
Sophie Skelton: Obviously, the storyline is tremendously difficult to do in terms of [being] taxing, emotionally, and the place that you have to go to headspace-wise — but I love working with Ed, so I was excited in that respect. I think it's such a great [episode] and it's such an interesting storyline. I was definitely a little a little nervous going into it because it's such delicate material and you always want to make sure that you're handling it well, and you're doing justice to the people who have been through something like this. Interestingly, it is based on a true story — a woman who was captured by her rapist and she read to him to try and placate him and to buy herself time. I think it's a great thing that [Brianna] is doing the same.

Did she shoot Bonnet for mercy or to know he was dead?
Skelton: We'll never know why she did it. I don't even know if Brianna 100 percent knows why she did it. She could do it because she wants to make sure that's Bonnet is really dead. He has a tendency to seep himself back into society and survive things… And if she sees [his death], then she can be sure and she can rest at home with her son and know that her son is safe, and her family is safe and she's safe. Part of it, I think, could just be revenge. Maybe, purely, simply, she just wants to heal in that way to get her revenge. The third bit of it, which is more like the jail scene in Season 4, there is a tiny bit of mercy in there. It's almost messy because she can see that he's in pain, but also there's this tiny last moment of saying, "You know what, I'm going to put you out of your misery because I want you to recognize good in the world. Even though you've done all these horrific things to me, I'm going to be the one to make this quick for you. And I'm going to show you one tiny, tiny, little speckle of humanity and goodness purity in this world and I saw the evil that you tried to bring into it." So there are a few things going on.

What does moving forward look like for Bree and Roger now?
Skelton: They've been a very good team this season. I think they've grown together a lot more. There's more depth in their arguments and battles together instead of just running away from each other. I think [the fights] actually brings them closer and makes them stronger and they build on it. Now that Bonnet is gone as well, that will just add to that… I mean, it's Outlander, so there's probably somebody else who wants to cause trouble. I'm sure the Frasers on aren't completely out of trouble yet, but in terms of the family life, I think everything will feel a little bit more settled for a while.
EW:  Ed Speleers on living out Stephen Bonnet's 'biggest fear' on Outlander
Collider:  'Outlander': Ed Speleers on Stephen Bonnet's Storyline Twist
I'm curious how much you went into the psychology of this character because we do get backstory in this episode. We learn about his mother – that he didn't have – his father – that he didn't have – the [story from his past about] the cellar comes out in this episode. That's paired with, I think with kind of an interesting reveal or tell from your character where he talks about Brianna visiting him in the jail and not wanting anything from him and he's never really experienced anything like that before. There's a lot going on. … How much do you dig into that psychology of that character?

SPELEERS: I aim to dig into all of. For me, it's like I don't want to leave a stone unturned, so I think you have to – especially with a character like this, there's an element of treading carefully because there are certain things he says and does that he doesn't necessarily mean because he does not respond the way you or I may respond. He's not on a normal level. So, there are sociopathic qualities. He will say and do things in order to better himself. But I do think this script certainly allowed the chance to maybe show a more honest version of him in flashes and it's interesting because the answer to your sort of first question, I think, because he's showing flashes of it before flipping back into the Bonnet we've sort of come to recognize, but that psychology, for me, I have to try and explore all of it to try and understand it and to try and give it any weight at all. My interpretation may be completely off from Diana's point of view and the writer's point of view, but I had to try and get some handle on it. How do I relate to him in some way in order to do that?

I think I can fit in one last question [and I wanted to ask you] what your Outlander experience was like, because I do think that joining a show like this – I mean, Downton obviously had a kind of similar experience, Outlander is in that vein as well. You get embraced quickly and brought into the fold. That doesn't happen on every job you do.

SPELEERS: You're right. I think when shows work and shows are good then you tend to walk into environments that are pretty upbeat. It's like anything, isn't it? … I feel there's a really wonderful camaraderie on both sides of this camera on this show. And, yeah, I feel very lucky to generally hold some good friends as a result of this job. And I don't say this in some sort of flippant, negative way, but I don't say that about every job because you're not always going to connect with lots of people. But this is – it's genuinely a lovely place to work, it's a lovely country to work [in] up in Scotland, with these people. … I was very fortunate to be a part of that and I'm sad to leave it, but hopefully my paths will cross with many of them at some point.
All sources linked in their respective parts of this post.