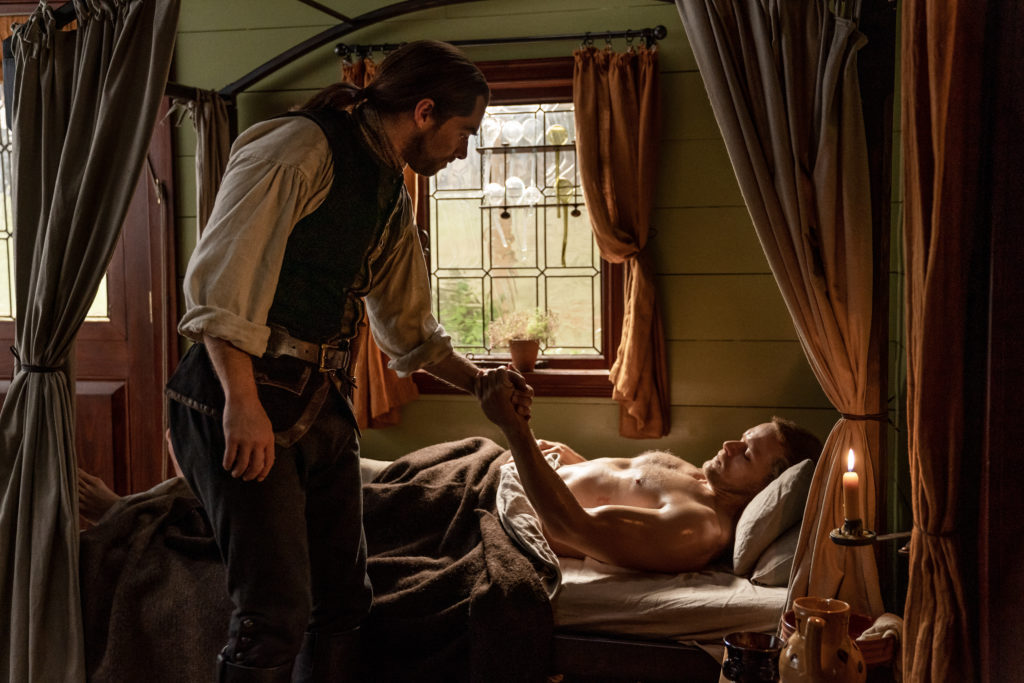 This week's post-episode round-up includes interviews with Sam Heughan and Diana Gabaldon. Only excerpts are below, so please click on the links for each article to read them in their entirety.  As always, be aware of spoilers for this episode and upcoming episodes.
Glamour:  Sam Heughan Explains Jamie and Claire's 'Most Intimate' Outlander Moment Yet
But the new threat to Jamie's life "really comes out of nowhere," Heughan says. "Jamie's always put his body on the line and is very aware of his strength and his fortitude. So when he's first bitten by the snake, he really isn't too concerned, but then it escalates very quickly, and Jamie is faced with his own mortality."

"What we wanted to do was show that through her touch—I think that she has this ability, I wouldn't say it's magical, but maybe it is," he says. "She has this healing ability in her hands and in her body. I think it's her love and her presence that certainly brings him back from the edge."

"For me, that's probably the most intimate moment we've had for quite a long time," he says. "But it's not them having sex, it's something deeper than that. It's hard to find a new way of showing that and expressing that, and that's certainly what Caitriona [Balfe, who plays Claire] and I pushed for in those scenes."

What about the semi-supernatural implications of Claire's healing abilities and Jamie's brush with the afterlife? "To be honest, I think there's still stuff to be revealed. I sort of secretly know what it is, but [it'll be] revealed by Diana [Gabaldon, the series creator] with these next few books and the next few seasons," Heughan says. "For the time being, Jamie has chosen to remain here on this planet with Claire and they need each other."
TV Line:  Outlander's Sam Heughan Talks Jamie's Big Post-Viper Revelation
"He wants the best for his daughter. He's very protective, Jamie is. God, what an intimidating father-in-law he would be!" Heughan says, chuckling. He likens Rog's evolving role to Claire's in earlier seasons: aka knocking a certain kind of sense into the hardheaded Scot.

"It's similar to what Claire did to Jamie in that Jamie has an idea about how things should be in his time, and this modern character teaches him there's another way," he says. So the relationship between the two men "doesn't start well, but by the end, I think they find a real respect for each other."
Parade:  Jamie Faces Death in This Week's Outlander—Diana Gabaldon Discusses the Episode's Symbolic Role Reversals 
"This episode is one of my favorites from this season. Not just because it uses a lot of the scenes and dialogue from the book, but that always helps…," the bestselling author jokes with Parade.com.

"This section of the story hinges on roles," Gabaldon says. "The roles we play, the roles we're born to fill, what happens when roles reverse and what happens when roles are reconfirmed," she continues. "Jamie's always been the head of his family, in the most traditional 18th century ways: he protects them, feeds them, leads them and loves them. He knows that's his job; it always has been. But half a second of being in the wrong place at the wrong time, and suddenly he's out of action. And in the same instant, his son-in-law Roger is suddenly required to take over. Fate seldom gives fair warning."

"While this conversation defines their own roles and desires (and explicates the theme of the episode), it's essentially a Greek chorus to the more urgent roles that Jamie and Roger are playing out in a dark forest nearby," Gabaldon adds.

"Finally, Brianna's nascent role as an engineer buds into life, when her invention saves her father's life–and by extension, preserves the lives of all the people who need and depend on him," Gabaldon says. "It's a neat circle, that leaves everyone (mostly) intact, emotionally and physically, and has lifted Roger into a new role within the family."
Sources: All sources are linked in their respective parts of this post.