**This is not a spoiler-free review of this episode. This review is also from a non-reader, and any comments revealing spoilers from the books will be deleted.**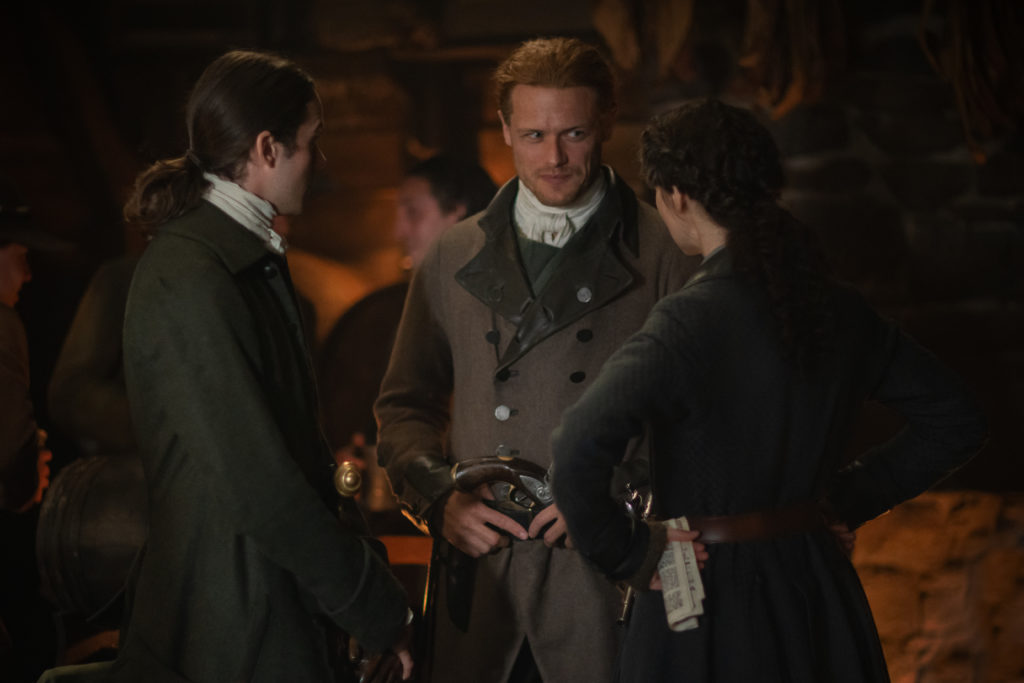 The Things We Do for Love
Episode 504:  "The Company We Keep"
Written by Barbara Stepansky, Directed by Jamie Payne

Sam's whisky is finally available for purchase in Texas! I happen to be of legal drinking age! What a time to be alive y'all. 
Anyway, here's episode FOUR.
Paul Gorman is killing it as the Beardsley twins! Eat your heart out, Mary-Kate and Ashley!
Meanwhile, Roger (Richard Rankin) has made enemies of an entire town, and we're not even five minutes into the episode! A woman comes out and begs Isaiah's (Jon Tarcy) forgiveness (apparently he's the one the townsfolk hate). We'll be seeing a lot of that lady this episode.
Roger surrenders after only being shot at by the townsfolk of Brownsville for a few minutes. I can just imagine Jamie (Sam Heughan) thinking, "What a wee wuss."
HOLY WACK WHISKEY BONNET GAVE JEM A COIN AND HOW DARE MRS. BUG NOT BE CLAIRVOYANT AND NOT KNOW BRIANNA'S (Sophie Skelton) BONNET BACTERIA BACKSTORY 
I digress. 
BRIANNA MY SWEET GINGER PRINCESS YOU ARE DOING YOUR BEST. This encounter understandably leaves her shaken. 
Roger (Richard Rankin) endears himself to the locals with a full proof method: free alcohol!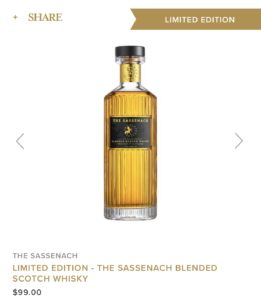 Roger's men were not pleased that Roger just gave this liquid gold away for free!
Oh, so Morton slept with the weeping girl AKA Alicia (Anna Burnett), and her papa is PISSED because he brokered a marriage deal with some other dude who won't marry a harlot.
How dare his daughter sleep with a man she loved! It reminded me when poor Mary was raped in season two, and she couldn't report it because she would've been seen as soiled goods.
18th-century morals amirite? The pissed-off papa tells Roger that they can leave tomorrow, but Isaiah is a dead man.
Man, I am HERE for Jamie and Claire (Caitriona Balfe) being doting grandparents! The way Jamie looks at Claire while she holds Fannie's daughter is tres magnifique. 
Roger's men lost respect for him with the choice he made with the Brownsville men. So what does he decide to do? Sing, of course. 
I swear Roger would go on American Idol, and he wouldn't make it past the Hollywood round, and he'd be like, "Well, my wife likes my singing!"
And Brianna would just be in the audience. 
Laughing.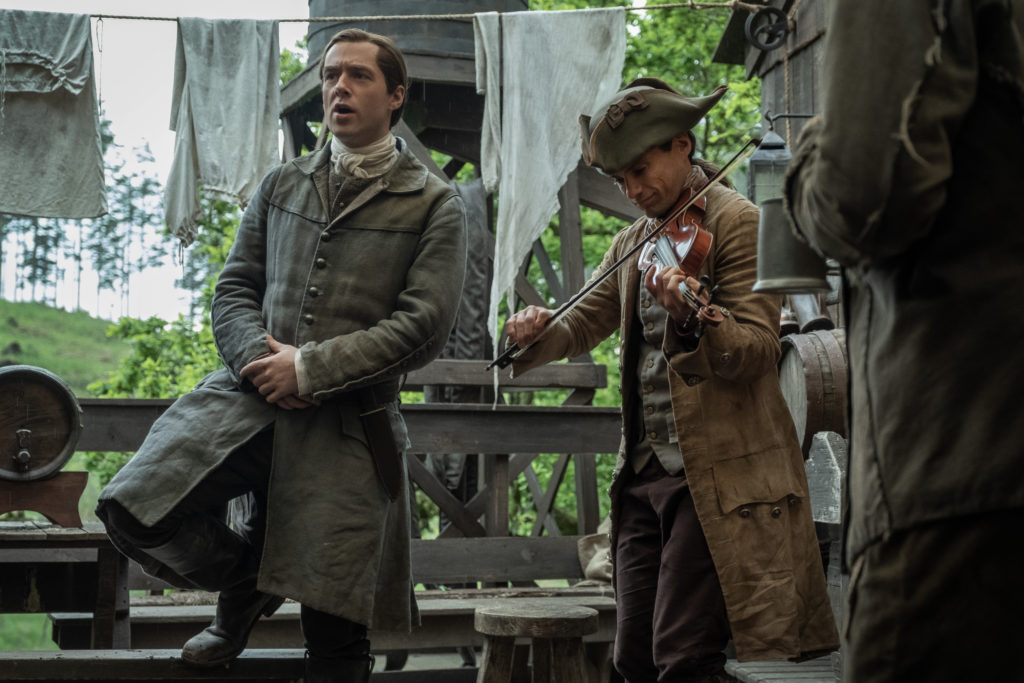 Vote for me. 
I love the "Oh shit!!" look Roger gets when he sees his in-laws. Claire and Jamie tell Josiah that he's free. Josiah wants to join the militia, but protective papa Jamie tells him he's too young. 
Congratulations! You work fast, Milord!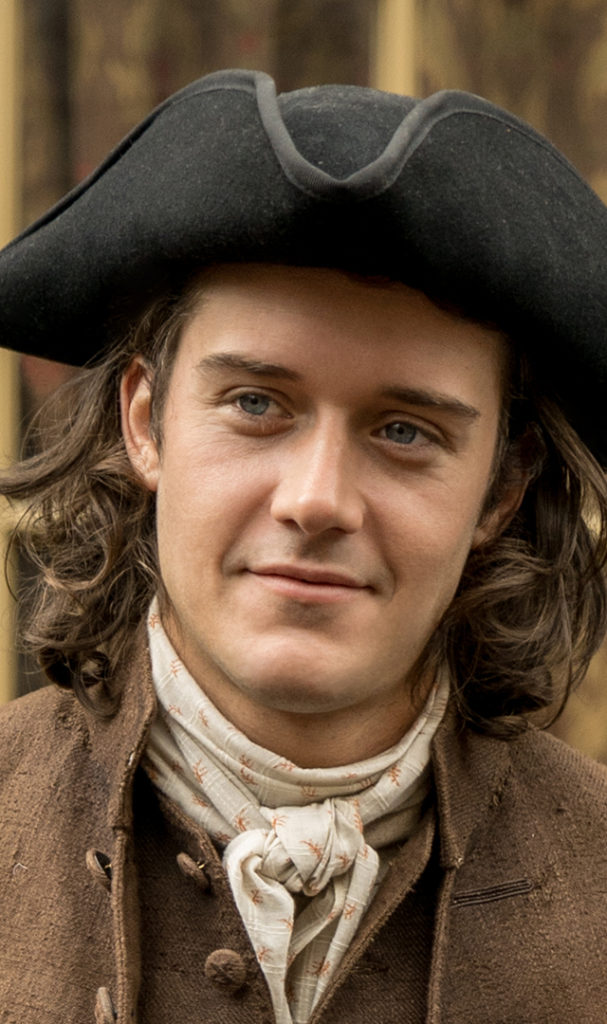 I HAVE NEVER LOVED FERGUS FRASER (César Domboy) SO MUCH. 
Oh, okay! So the men were pissed at Roger because not only was he giving away their precious whisky for free, but he tied up Isaiah too! 
Roger, you kind of suck at the whole leadership thing. 
Hahaha, of course, Isaiah can't marry the girl! He already has a wife!
I do feel for him, though. It would suck to be in an arranged marriage!
Meanwhile, the older women are incredibly passive-aggressive to the young lady who fell in love with a lad, and….had sex!  How dare she.
Claire discovers that her medical teachings have spread past Fraser's Ridge. She's lowkey become the tawdry columnist in the local paper that everyone secretly loves to read!
And it's all Fergus's fault, and it's hilarious, although also dangerous if someone discovers who Dr. Rawlings is.
Fergus is still my fave Lil but not so Lil Frenchman.  
The town discovers Isaiah is long gone. 
You keep strange company, Colonel Fraser. 
That's the understatement of the century. 
Brownsville man agrees to let the men of the town join Jamie's militia. (I apologize I am doing so wrong with names this season!! That's Richard Brown aka Chris Larkin -Sarah)
And he didn't even have to bribe them with whisky, Roger. 
Brianna has an entirely understandable panic attack, thinking Bonnet kidnapped Jem. Marsali has just the cure!
It broke my heart to see Isaiah's lady say she wished she were dead because she was unwed and pregnant. 
So are ye gonna tell me what devil ye conjured? 
Marsali isn't putting up with Brianna's brave face, and that's the kind of friend we all NEED. I love her story about how she killed her father because she kept thinking about it. Her parallel to Brianna's mindset is clear. I am here for supportive female friends DRINKING whisky and being THERE for each other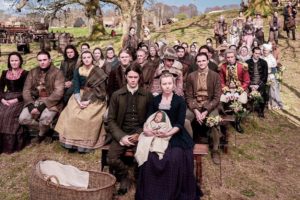 Queen Marsali reigning on her throne of awesome,
I want to have a girl's night with Marsali. 
Kezzie's tonsils are as infected as Josiah's. Claire goes into care mode, and Jamie tells her she should return to Fraser's Ridge so she can operate safely. 
He just entrusted you with the one thing he loves most. 
Damn Roger. Claire GOT you there! 
The kind lady who nursed Fannie's baby offers to take her in. 
JAMIE DANCING IS EVERYTHING I WANTED AND MORE 
Yeah, ye have seen me naked, but have ye seen me DANCE?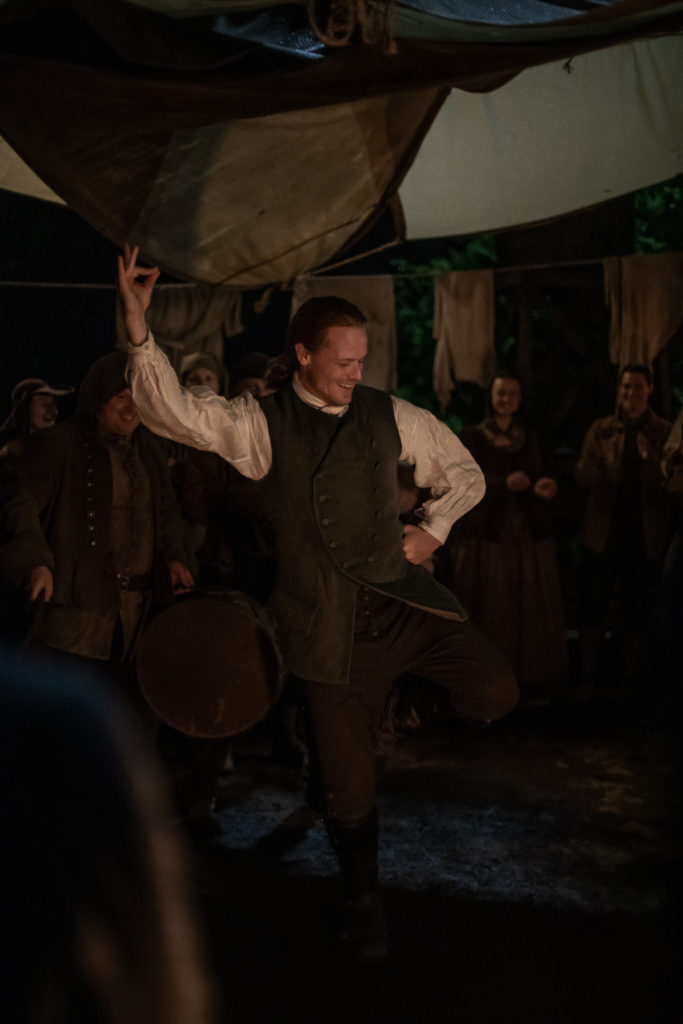 Jamie asks drunk Claire if she wants to keep the baby.
Claire says no. 
Their love theme playing in the background is so lovely and such a beautiful arrangement. Someone STAB me in the soul it will HURT LESS than Jamie and Claire's ETERNAL LOVE. 
Alicia was trying to kill herself!! She's shot herself in the arm. Poor girl. Knowing how suicide was seen as a cardinal sin with a capital "C," the fact that she felt lost enough to shoot herself was sad. Isaiah threatens to shoot Jamie if he can't see his girl. When he reunites with his lady love, he rightfully calls Roger and Jamie out, asking if they wouldn't do the same for Brianna and Claire.
Our favorite grandparents and Captain "Can't Keep His Men Happy" Roger help the lovebirds escape. All is right in the world….Until next week's episode.
I enjoyed this episode! Again everything is a slow build, but I know the payoff will be worth it. Also, I'm going to start a tally.
Nobody's killed Bonnet yet: Four episodes
Until next time Outlander clan!
NEXT WEEK, SUNDAY, MARCH 15TH AT 8 PM ET: EPISODE 505: "PERPETUAL ADORATION"
"Jamie and his militia arrive at Hillsborough to learn that Governor Tryon has proposed a rather unorthodox solution to deal with the threat posed by the Regulators and to resolve the growing political crisis.  Jamie is forced to take drastic action when his relationship to Murtagh is at risk of coming to light.  Busy with present-day life at the Ridge, Roger and Brianna must nevertheless come to terms with their past when Roger learns new information about Stephen Bonnet.  Claire recalls an episode from her past that led her back to Jamie."
Photos and clips are courtesy of Starz.