[This is not a spoiler-free review of the episode. If you have not seen the episode yet, read it at your own spoiler risk.]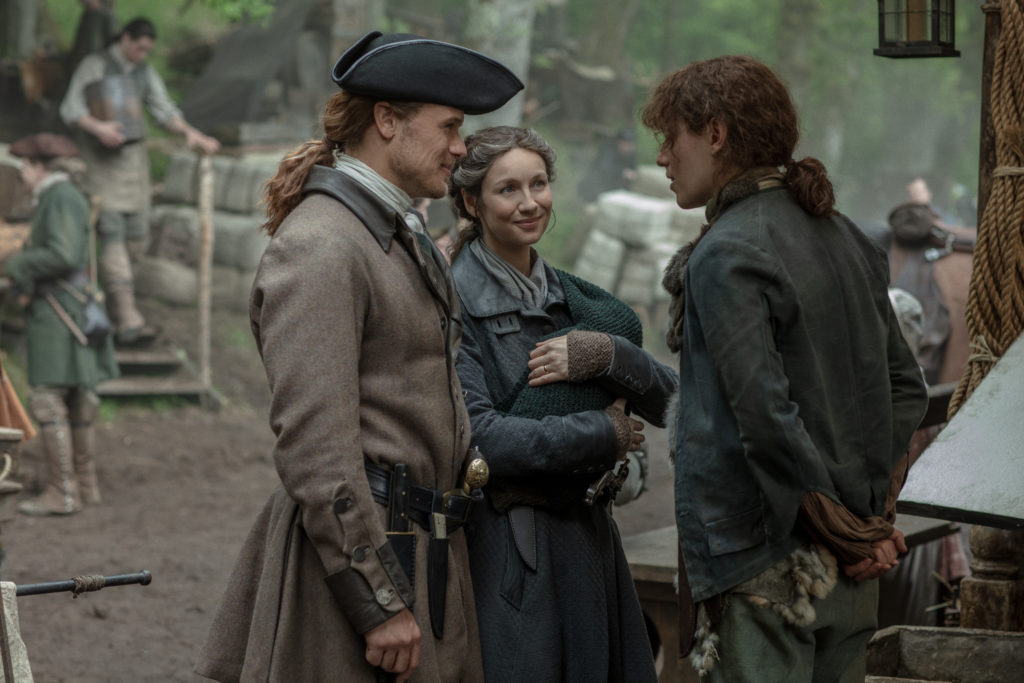 Episode 504:  "The Company We Keep"
Written by Barbara Stepansky, Directed by Jamie Payne
In the beginning, "The Company We Keep" follows three different narratives, and by the end of the episode, there are two.  The title of the episode reflects the many notable quotes that boil down the notion that you are only as good as those friends that you choose with which to surround yourself.  Sometimes, you do not get that choice.
Brianna's (Sophie Skelton) narrative in this episode is to remind the audience that the threat of Stephen Bonnet (Ed Speleers) is real.  The title sequence shows him fiddling with a coin in the fashion of Two-Faced from the Batman comics and films.  While Brianna's thought that Bonnet gave Jemmy the coin while they were in town may boil down to PTSD and a rampant imagination, the audience knows it was him.  Brianna is alone in her thoughts and has no one to confide in, increasing her paranoia, as her parents and Roger are away.  She is the "woman of the house," which adds an additional burden to her already troubled mind.  Marsali (Lauren Lyle) recognizes the need for a talk and drink, and it is with conversations like this that Marsali is becoming a favorite character this season.
The introduction of Brownsville into this season brings with it a cast of crazy characters, including ones that will continue on from this episode.  We are reminded of how poorly prepared Roger (Richard Rankin) is for the rank of Captain as rifles surround him and the militia on their entry to Brownsville.  Roger has no clue what to do in these situations, and it's not his fault.  Rather than end up in a firefight and risk losing lives, he surrenders.  Thankfully, the Browns of Brownsville are only after one man in this militia, and it is Isaiah Morton (Jon Tarcy) who has taken the virtue of Alicia Brown (Anna Burnett), daughter of one of the leaders of Brownsville, Lionel Brown (Ned Dennehy).  It's an understatement to say that Dad's a little upset.  Later in the episode, we are introduced to Richard Brown (Chris Larkin), Lionel's more level-headed brother, who ends up cooperating with Jamie and his efforts to recruit for the militia.
This episode is ripe with Jamie (Sam Heughan) and Claire (Caitriona Balfe) moments, which makes me guess that it will be on the favorite episodes of the season.  The addition of Bonnie into the story has brought out some longing in Jamie to be able to see Claire as a parent with a small child.  They never saw each other raise small children.  Now, they only have little grandchildren about their feet.  From what he has seen of Claire with Bonnie has made him rethink his priorities and what he wants for their lives.  When he offers to keep Bonnie and raise her with Claire, Claire is taken aback by his kind gesture.  It is a reminder of what they missed together when they spent all those years apart.  Claire, ever the pragmatist, says that she loves their life together as it is, and there is the issue of the obituary that brought Brianna back in time to warn them.  It is evident when Claire turns down the proposal to keep Bonnie that Jamie is let down, probably already imagining what it would be like with her.  If Bonnie had not found a suitable home, I do not doubt that Jamie and Claire would have proceeded in their journey together.
Living in this day and time that Outlander takes place, you would think placing a mixed-race baby would be difficult, but the good shows through in the women of Brownsville.  I don't know what I was expecting, but Lucinda (Muireann Brown) and her husband have immense love in their heart for an orphan.  Having just lost their baby, Lucinda still has milk, and the sadness is still there waiting to be healed by the new baby.  As mentioned later, during Jamie and Claire's conversation in the forest, the baby comes with the Beardsley property.  None of this is brought up with Lucinda or her mother-in-law.  It appears so far that the Brownsville women are way better than the men in terms of fairness and hospitability.  I loved it when the new father was given the baby to hold as Claire joined Jamie for some dancing.  His face said terrified and then melted into being smitten with the baby in his arms.
Let's talk about Roger, who is getting the short end of the stick when it comes to Jamie all the time.  The relationship between these two is coming off as tolerable, but definitely not in a trusting, we-are-family type of way.  While Jamie entrusted Roger to take the militia to Brownsville, I don't know if he really would have done that if Jamie knew he would be gone longer than expected.  Disappointment, thy name is Jamie.  There isn't much that Roger has done right in Jamie's eyes, and it is not improving.  The last straw is Jamie sending him back to the Ridge with Claire and the Beardsley twins (Paul Gorman) (both suffering from tonsillitis), although Claire puts a positive spin on the task.
The turmoil in Brownsville is due to one thing: Isaiah and Alicia's affair.  The term affair is appropriate since Isaiah is married, but Alicia knows nothing about it.  She appears awfully young in this episode, but I am sure things like this happened regularly in this time with little else to do.  With her being so young, she thinks she is pregnant, and then it proceeds to Claire declaring that she is pregnant without really knowing for sure.  Too bad Dr. Rawlings' advice didn't make it to Alicia sooner.  After a befuddled attempt at suicide, Alicia is brought back to Claire and Jamie's room.  Minutes later, Isaiah shows up after being told to run and never come back again by Jamie.  It seems he is in love with her, despite an arranged marriage.  Declaring his love and disobeying orders to leave (and doing great at arguing his point to Roger and Jamie), Jamie finds a way for them to run off together.  What follows is one of the dumbest sequences for such a smart man as Jamie to try and "sneak" Isaiah and Alicia out of Brownsville.  This dumbfounding attempt ends with horses running amok and our first narration by Claire this season.
"The Company We Keep" will remain a highlight of the season as it packed new characters and new storylines into an already crowded story.  Despite this, the episode does not seem rushed, nor too complicated, and gives enough space to each narrative.  Unfortunately for the Frasers, they are not done with Bonnet or the Browns.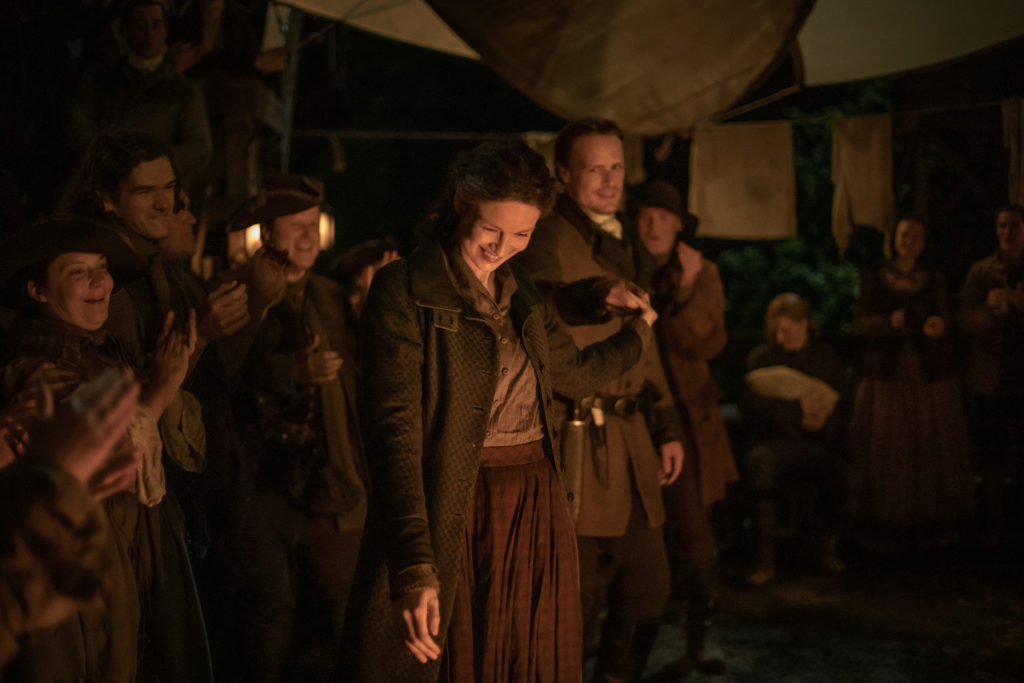 NEXT WEEK, SUNDAY, MARCH 15TH AT 8 PM ET: EPISODE 505: "PERPETUAL ADORATION"
"Jamie and his militia arrive at Hillsborough to learn that Governor Tryon has proposed a rather unorthodox solution to deal with the threat posed by the Regulators and to resolve the growing political crisis.  Jamie is forced to take drastic action when his relationship to Murtagh is at risk of coming to light.  Busy with present-day life at the Ridge, Roger and Brianna must nevertheless come to terms with their past when Roger learns new information about Stephen Bonnet.  Claire recalls an episode from her past that led her back to Jamie."
Photos and clips are courtesy of Starz.