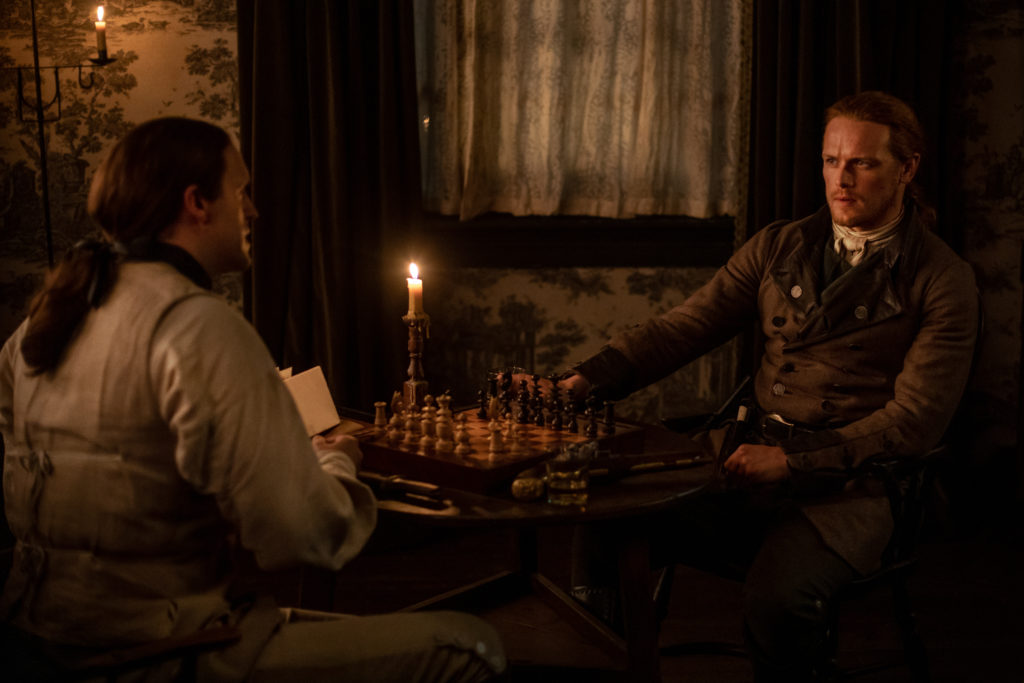 This week's post-episode round-up includes interviews with Diana Gabaldon and Matthew B. Roberts. Only excerpts are below, so please click on the links for each article to read them in their entirety.  As always, be aware of spoilers for "Perpetual Adoration" and upcoming episodes.
Collider:  'Outlander' EP Breaks Down Jamie's Life-Changing Decision
Obviously, there is interest in how Marsali's apprenticeship will affect another storyline that happens with a character from the next book named Malva. Did you have anything to say about that?

ROBERTS: I will say this, Marsali is not Malva just like Murtagh is not Duncan Innes. … That character does things and is a person that isn't Marsali, so how could you just take Marsali and go, 'OK, now we're going to give her all the characteristics and character traits of this other person?' It's impossible to do. So, we've never once thought of doing that.

So, it'd be fair to say that Claire could possibly have future apprentices as the story continues?

ROBERTS: It would be extremely fair and balanced to say that.

You had talked about this season being about how far people will go to protect their loved ones. Jamie's willing to commit murder of what is essentially an honorable guy (Lt. Knox). And I think what's important to ask you about that is what sort of repercussions are in store? I imagine that that has to weigh heavily on Jamie and could obviously create other sorts of problems.

ROBERTS: I think for Jamie, it weighs heavily on his conscience in the sense that one of the lines he says is, 'I wish I could have given you a soldier's death.' He knows he's not and he is protecting his family; he's protecting the Ridge; he's protecting Murtagh; he's protecting everything dear to him. It was a tough decision for us to make. There's a moment – and where this kind of came from – … in Outlander, the book, where Claire has to make the very same decision. What we did here is we flipped it and we gave it to Jamie. … Claire kills someone – murders someone, in a sense – to protect Jamie because if this guy sounds the alarm then Jamie's going to go back to prison and their life together would be over. And she has to make this gut-wrenching decision in that moment. [We never played] that moment and to me, it was always just such a strong moment in Outlander – just an amazing moment for the characters. … And so, that's why [Lt. Knox] – he wasn't an adversary of Jamie's and in any other world they could have been friends. … What Knox says is, 'We both can't be righteous.' And he's right. They both can't walk out of that room. … The same decision Claire had to make to save him, he's making to save his family, because he knows if he goes, if he's hanged for treason, Fraser's Ridge could fall apart. And I will say this – and book readers will know – Jamie feels like he is the protector. There's no doubt that if something happens to him, he wants Claire to go back. He needs to know that they're safe and he is the safety valve. Without him, all of Fraser's Ridge falls apart. … Who knows what could happen and what would happen to Claire and Roger and Bree and Jemmy and Jermaine and Marsali and Fergus. There's so much weight on him in that moment, I think it was, 'I need to protect.' And I don't even really think he was protecting himself. He was protecting everybody he loved.
EW:  Outlander producer explains why he sent Claire forward in time
Knox is a new character. Did you have to create him because of the ongoing story with Murtagh? 

There was a character in the book, Lt. Hayes, that comes to the Ridge to put pressure on Jamie regarding the Regulator uprisings. So, in keeping with that, we had Tryon put the pressure on Jamie by leaving Lt. Knox and his platoon to hunt down Murtagh. But instead of having Knox be an adversary, we flipped it. Knox and Jamie actually begin to bond. Knox becomes enamored of the life Jamie has carved out of the wilderness, and under different circumstances, perhaps Jamie and Knox could have been close friends.
Parade: Jamie Just Killed Another Man on Outlander–Author Diana Gabaldon Explains Why That Was 'Matter of Necessity' 
"Jamie is having a pretty straightforward adventure with the King's militia, trying to walk the narrow line between not being declared a traitor and losing his land and not letting his godfather hang–but when push comes to shove, he's in no doubt who to shove (and in cold blood, at that point)," Outlander author Diana Gabaldon tells Parade.com. "It could be argued that he doesn't have a choice, because as soon as Knox reads that prison roll, the jig is up."

"It's a nice contrast to episode 503, in which Jamie also killed a man face to face (i.e, not in battle)," Gabaldon continues. "In that instance, though, he does have a choice, and so does the man he kills. Jamie has no personal stake in Aaron Beardsley's death at all; he chooses to offer Beardsley a quick, clean death as a matter of disinterested mercy, despite the fact that it will cause Jamie himself acute distress to do it."

This time is slightly different. "Here, though, he has a vital personal stake in Knox's death–two, in fact," Gabaldon points out. "Because the minute Knox reads that roll of prisoners, the two fires Jamie's been walking between suddenly merge and billow up in a single blinding pillar of flame. He's revealed as a traitor (with all that means in terms of his land and his family's welfare–and [strictly as an afterthought] his own life and freedom), and his godfather is suddenly in exigent danger."
Sources linked in the post