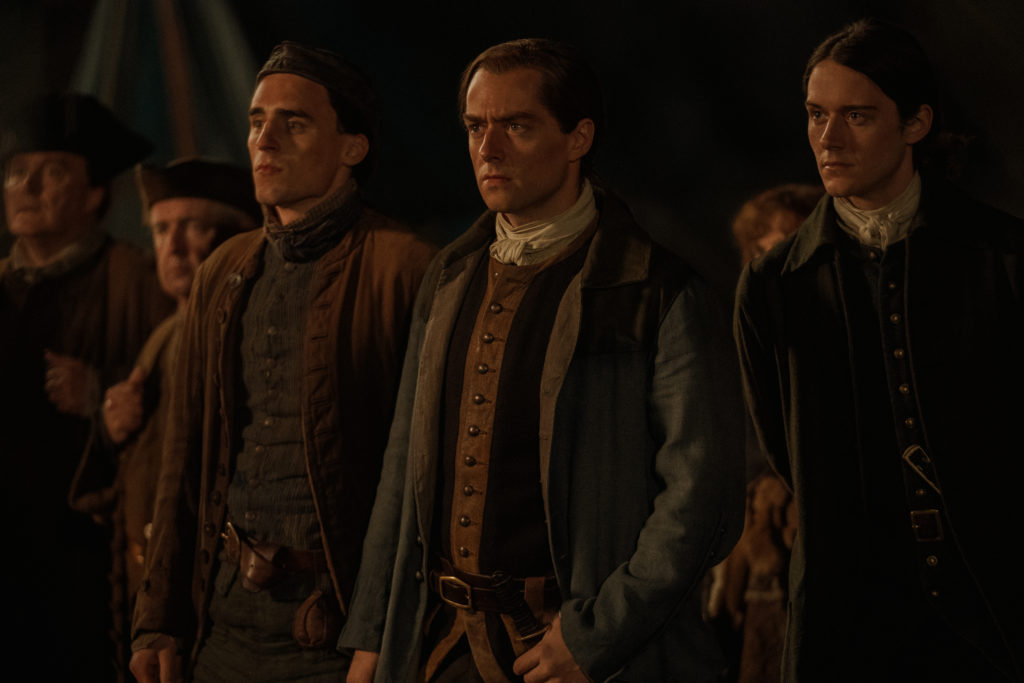 This week's post-episode round-up includes interviews with Sam Heughan, Caitriona Balfe, Sophie Skelton, and Richard Rankin. Only excerpts are below, so please click on the links for each article to read them in their entirety.  As always, be aware of spoilers for "The Fiery Cross" and upcoming episodes.
SyFy Wire:  Outlander Cast Breaks Down Their Favorite Season 5 Episode 1 Moments | SYFY WIRE
ET Online: 'Outlander' Season 5 Premiere: Cast Reacts to Bree and Roger's Wedding and That Romance Montage!
(You will have to click on the link to see the video because their site doesn't show embed codes.)
Parade: Outlander's Sophie Skelton on Brianna's Love for Roger and her Fear of Stephen Bonnet 
"I don't think she regrets [having visited him in prison and telling him that the baby was his], but I think it's definitely resonating in terms of, as soon as Bonnet gave her the black diamond, she knew that he had some strange vested interest, certainly, in Jemmy, and that really put a chill through her,"

"Now that he is alive, the main thing for Bree is fear. Obviously, she's still suffering tremendous trauma from [the rape], but her priority is Jemmy, and now, because of that diamond and because of that day, in the present, she is aware that Bonnet might be coming around."

Jamie's having a hard time accepting Roger completely. Roger did take a minute before he decided to come back. He wanted to think about whether he was going to be able to accept Jemmy as his own, and whether he could get past what Jamie did to him. But Roger isn't a man who's built for the 1770s. He's not a hunter; he's not a farmer. He doesn't have the skills, and even the history that he knows isn't American history. We do see, though, that Jamie is making this effort to accept Roger as the man for his daughter.

Jamie is just trying to be protective of Bree. He just wants to make sure that she gets the relationship that he and Claire have, that wonderful, timeless relationship that is going to last forever and they're always going to support each other. Jamie just wants the best for his daughter. But he also can be quite stubborn in the same way that Bree can. She was mad at Jamie for a while when Roger was mistaken as her rapist and beaten up and sold to the Mohawk.

But deep down, Bree knew that that wasn't Jamie's fault, that it was sometimes easier to blame the people that you love and that you're closest to. And Jamie's almost doing the same. He's just stubborn and he's almost punishing Roger to make sure that he is strong enough and good enough for his daughter. It's just a very paternal thing.
Town & Country: Outlander's Sophie Skelton Opens Up About Brianna and Roger's Wedding Day
BRIANNA'S WEDDING IS A JOYFUL DAY—BUT THERE ARE ALSO DARK MOMENTS IN THIS EPISODE. WAS THAT IMPORTANT TO YOU GOING INTO IT?

I wanted to make sure that while Brianna might have Roger back, and it might be this wonderful day, there is still that looming PTSD that Bree is going through. I wanted to make sure that we are still seeing flashes of Brianna putting on a brave face for her family. That's one thing that's great about season five. The fans know Brianna better, so now we can distinguish between what's a facade and what's Bree.

A lot of the time, she's very good at putting on a smile and a brave face, and this picture of strength. But inside, there is still a lot of turmoil going on. We get a little flash of that at the wedding, which I think is really important. I hope that the fans like that too—it's keeping true to the character, and true to people who have suffered sexual abuse.

THERE IS A MOMENT IN THIS EPISODE WHEN BRIANNA OVERHEARS THAT STEPHEN BONNET MIGHT STILL BE ALIVE. TELL ME ABOUT HER REACTION.

One thing that I've played throughout the season, especially when Roger goes away, is that Brianna is almost afraid of sleep. Jemmy doesn't really sleep much, so Bree doesn't get much sleep, but when she does, that is when her demons really do seep in.

During the day, she has enough distractions, and she has a new priority now: she has Jemmy. She puts all of her energy and all of her love into protecting him, so protecting herself gets put on the back burner. And when Bree falls asleep, that's when the dreams come back.

She's not clear of her trauma in any way, shape or form, but she's trying to be for Roger's sake. She's trying to really enjoy her wedding and the wedding night and everything else. But she knows in the back of her mind that Bonnet may or may not be dead.

So when she gets that news at the wedding, it's just a ton of bricks that just completely hits. She gets the flashbacks, and I've played it that her body sort of starts to shake again; her body's living the moment again. And when we see her reach for Jemmy, it just shows that Jemmy is her distraction. Jemmy is where she can put her love instead of her hatred. She just needs to protect this child.
THR:  'Outlander' Stars Dive Into That Season 5 Wedding and Fiery Cross Scene
"He knows what's going to come and he's really become, I think, for me, a lot like Colum [MacKenzie] from season one — his uncle," Heughan told THR. "He is a great leader of men, Jamie, but he's never wanted to be that. It comes naturally to him, but I think he really comes into his own this season and he really has become this great general…he is almost like the clan chief…. I think this season, he's certainly playing two sides — he's playing the British and he's trying to protect his family and everyone that lives on Fraser's Ridge. So for him there's a lot more responsibility."

"Roger goes away a lot this season and Brianna gets left on her own, so there's the emotional fear [and] there is then a practicality there, too, because from their meeting in season four, she knows that Bonnett now has an interest in [baby] Jemmy. So finding out he's alive — it's not just about PTSD now, it's now about danger, too — if he's coming back for her child or to harm the child," Skelton said.
TV Guide: The Outlander Cast Reacts to That Chilling Villainous Return
"[Bonnet] has affected them all individually and as a family. You feel his presence even if you might not see it," Heughan added.

"It's a huge revelation and I think it affects everybody very deeply, in very different ways," Caitriona Balfe explained. "Obviously for Claire, Jamie has known, or knows very early on. [It is] the responsibility of wanting to protect your daughter and make sure that she doesn't suffer from this… For Bree, there's the fear that that perpetrator is out there and will he come after her again? For Roger, this is the man who has made his relationship [with Bree], and his relationship with his son just so difficult."
Variety: 'Outlander's' Sophie Skelton on Brianna's PTSD, Motherhood in Season 5
"It's one thing that I really wanted to make sure that we don't lose sight of through the season," Skelton tells Variety of Brianna's struggle with post-traumatic stress after her attack. "Even sometimes when it's not in the writing, I'll make sure that we have flashes of Bree's pain. In Season 4, Bree always put on a very good facade and the audience didn't really know Brianna very well. It was only when we got those quiet moments with Bree on her own that we got to then see what she was feeling. In Season 5, now that the audience knows her a lot better, we know what she's going through the whole time. So it's easier to embed that in the performance, knowing that the audience is feeling Bree's emotions."

"The threat of Bonnet motivates Roger to be better, to be more equipped, and that's something we see unfold as the season goes on," [Richard] explains. "The fact that he's looming in the shadows is enough, it really spurs Roger on to adapt to the time period."
All sources linked in their respective sections.