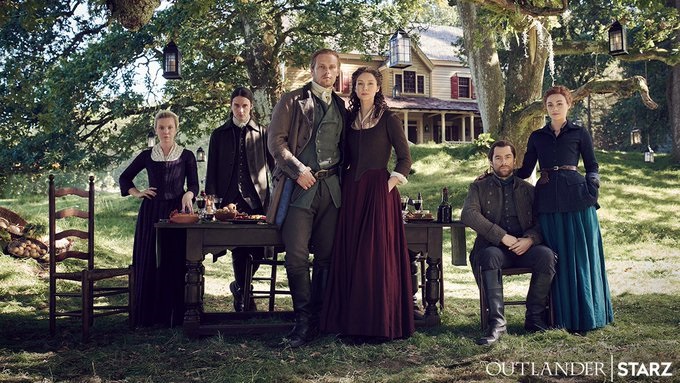 I don't mean to be hyperbolic, but Barnes & Noble is my favorite place in the entire universe. However, there is one primary source of temptation I face every time I peruse the aisle with authors that have last names that start with "G." I swear the Outlander books shine with an alluring light more tempting than a fancy five-course meal paired with the finest whiskey.
"Read me, Kat."
"Don't you want to know what happens to Jamie and Claire in The Fiery Cross before season five premieres?"
"Don't you want to know if Stephen Bonnet dies a fiery death?" 
I have refused to bite the Outlander spoiler apple so far. I can resist. It's less than a month. I can resist. 
What better way to distract me from succumbing to Diana's literary magic than coming up with zany predictions for the new season? *disclaimer-I have been judiciously avoiding any press about the new season. I want to watch episode one with no idea what's going to happen!*
KAT'S ZANY OUTLANDER SEASON PREDICTIONS POST
1. Jamie and Claire will continue to be the hottest colonial couple around. How are they so perfect? Don't question their magic.
2. Stephen Bonnet will die a horribly satisfying death. I know he mentioned that he was terrified of drowning in season four. I think it would be too obvious for him to die by drowning. Maybe burned at the stake? I really don't want Roger or Jamie to be the ones to kill him. Give that satisfaction to Brianna!
3. Jamie will say Sassenach a lot. It will sound sexy every single time.
4. I'm curious to see how they handle Jamie's divided loyalties with his pledge to the Crown and his fealty to dear Murtagh. There's no way he would ever turn Murtagh in, that's for sure. Maybe Lord John will help, in exchange for a favor?
5. Brianna and Roger will fight over something. I feel like there's going to be a conflict with them regarding whether or not they want to raise their child in the past or present? What I love about the series, though is that the stories never veer in an expected direction. I suspect if they did return to the future, it would only be because there was something wrong with their son that would require modern medicine. I do feel like that's going to be a conflict for them going forward. Claire, of course, has made her decision, but she doesn't have a young child to raise like Brianna and Roger.
6. The one quibble I had with the last season was the rather vague timeline. Like we knew nine months at least had to have passed for Brianna to have her baby, but beyond that, it was a bit unclear. Hopefully, season five can fix that. (Of course, this season will be perfect with Caitriona and Sam wearing producer hats.) 
7. Murtagh will sacrifice himself for Jamie. They set up the conflict in the season four finale, and I have a feeling Murtagh will either turn himself into the British soldiers so Jamie, Claire, Roger, and Brianna will be safe. Jocasta will lose it.
8. Brianna will continue to work through her PTSD. Of course, we still don't know who the actual father of her baby is, so I imagine that'll be something that makes Roger seethe internally although he doesn't blame Brianna. He looks at the baby and fears he sees Bonnet in the child's features. Perhaps he'll want to have another baby with Brianna so that way he knows he has a child that's his.
9. Claire will save people in epic medicinal fashion. I feel like she's going to have to save someone important or someone she loathes. Or probably both.

10. Fergus and Marsali will be precious angels that can do no wrong.
Season five is nigh, and I cannot wait. Regardless of what happens, I know we're in for a glorious ride. Buckle up Outlander fans.
Feel free to tell me how ridiculously wrong I am about my predictions in the comments!