Don't worry, no spoilers beyond Diana's time travel theories…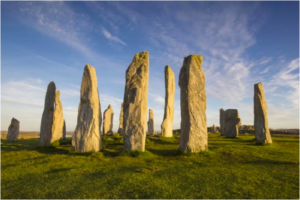 As book readers and show fans (by this point) likely know, Outlander was first published in 1991. Since then, author Diana Gabaldon has spoken often on her theories of time travel, standing stones and the like, as seen here from an interview with National Geographic in 2014, just as the show adaptation debuted on Starz.
 "…prehistoric people noticed that every so often when people crossed that particular patch of grass, they disappeared, it would cause considerable consternation, and they might think it worthwhile marking that spot. So that might be the reason why the stones are there, and why they're set up the way they are…"
Turns out, she may be on to something…
"…it is believed that the single stone was once part of a circle of standing stones, and that a massive star-shaped 'magnetic anomaly' in the centre signified where it had been struck by lightning."
The Scotsman recently posted new findings near a historic site called "Airigh na Beinne Bige" located on the Isle of Lewis. Just beneath a circle of standing stones lies a new discovery, an area and stone with magnetic properties. But similar to the chicken-or-egg paradox, so lies a similar conundrum in Scotland; is the stone magnetic due to multiple lightning strikes? Or, was the stone erected to mark the occurrence of natural events? According to project leader Dr. Richard Bates, of the School of Earth and Environmental Sciences at the University of St Andrews, t'was the latter:
"…this remarkable evidence suggests that the forces of nature could have been intimately linked with everyday life and beliefs of the early farming communities on the island."
As "Herself" foretold, it appears as if this particular grouping of standing stones was erected in order to "warn" the locals: Be ware, lightning strikes here. COOL.
"This is a thrilling discovery that helps us get inside the minds of the people who built the stone circles…" said Dr Alison Sheridan, Director of Urras nan Tursachan, the Calanais based charitable trust that partnered in the research.
Source: TheScotsman.com