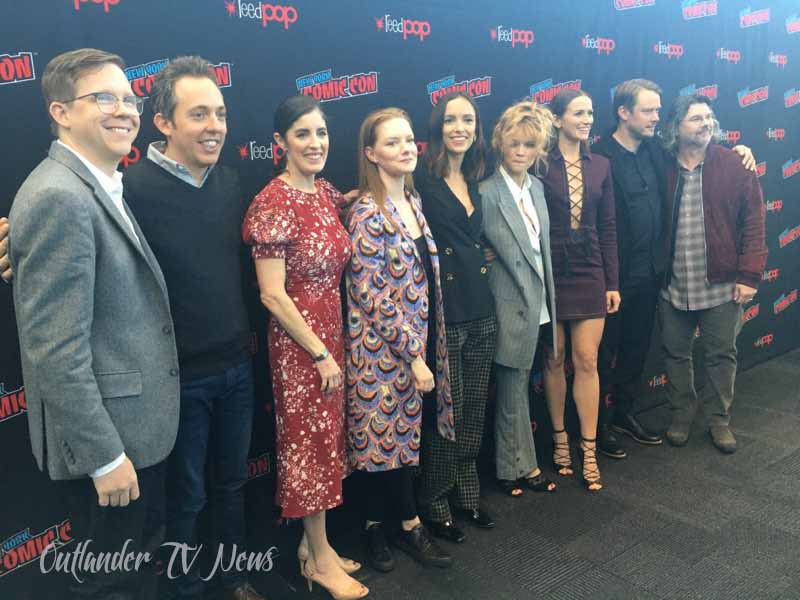 As all Outlander fans know, Droughtlander can be long. Especially over those fall and winter nights when you just want to cozy in with a warm mug, your snuggliest blanket, remote, and get lost in the entertainment world.  It may not be Outlander but showrunner and producers Ronald D. Moore and Maril Davis have put their creative juices back to work in a stunning new show that honestly gives me chills the good ones, For All Mankind for Apple TV+.
I have to be honest, I am not usually a "space person", movies and shows that take you off the ground and into deep space are just not my particular choice when deciding what to watch. But this drama is VERY different, and I will be tuning in November 1st to watch what happens on For All Mankind.  I literally have the date on my calendar because I am so excited for this show based on what I have seen so far.
I had the opportunity to sit down with the cast and creators of this project. It is SO good that many of the cast signed on without seeing a single script. They heard the idea of the show, and the words "Ron D. Moore…space" and knew they had to be a part of the project. Shantel VanSanten even said that she was "hired on Friday and showed up on Monday". Cast members Michael Dorman, Wrenn Schmidt, and Jodi Balfour all had similar experiences where they did not actually see scripts but heard about the story, characters, showrunners, and signed on to this project. One exception was Sarah Jones who did see a script and said she was so excited she couldn't wait to get started. They all had such praise for the creators.
During the NYCC For All Mankind panel, viewers were shown the first 15 minutes of the first episode, and I AM HOOKED, I wanted more immediately. As a viewer, we hear and see Walter Cronkite speaking to the world as families gather around their televisions watching this historic moment of a human setting foot on the moon. We are taken to the control centers of NASA where the staff is watching in disbelief as the astronaut descends the ladder and places his foot on the moon and instead of an American flag we see the hammer and sickle flag of the USSR planted in place. Watching in a bar are the American astronauts that are not too happy that this is how events have played out, and the drama starts.
This Apple Original is "upending reality" of the United States triumphing that first moon landing, and will explore an alternate reality where the Russians get there first. Creating a path for the American space program to remain a priority and driving NASA to take more risks. If Russia can be the first to land on the moon, then maybe the U.S. can be the first to put a woman there…
"Season One of "For All Mankind"  is set in Houston, Texas, home to NASA headquarters and introduces us to the program's innovators, astronauts, administrators, and their families, through the prism of an alternate history timeline. "
For All Mankind is going to explore all of the complexities and drama that comes with families that are deeply invested in the space program. In a world where a woman could only be "married to an astronaut" those realities are changing in a time when that is really pushing envelopes.
For All Mankind is created by Emmy winner Ron D. Moore ("Outlander", "Battlestar Galactica"). Golden Globe and Emmy nominees Ben Nedivi and Matt Wolpert ("Fargo", "American Crime Story:The People V.S. OJ Simpson"). They produce alongside Golden Globe nominee Maril Davis ("Outlander", "Battlestar Galatica"), of Tall Ship Productions. For All Mankind is produced by Sony Pictures Television.
Cast Members include Joel Kinnaman ("Suicide Squad", "Altered Carbon"), Michael Dorman ("Patriot", "Wonderland"), Sarah Jones ("Damnation", "The Sons of Anarchy"), Shantel VanSanten ("The Boys", "The Flash", "One Tree Hill"), Wrenn Schmidt ("The Looming Tower", "Outcast"), and Jodi Balfour ("The Crown", "Bomb Girls")
For All Mankind will be launched November 1st on Apple TV+, and will be available on the Apple TV app on iPhone, iPad, Apple TV, iPod touch, Mac, and tv.apple.com for $4.99 a month (seven-day free trial). A second season has already be ordered and is in the works.
Take a look below at a few interviews (and Karmen with Outlander Anatomy's Interview) with the showrunners as well as the released trailers for FOR ALL MANKIND for Apple TV.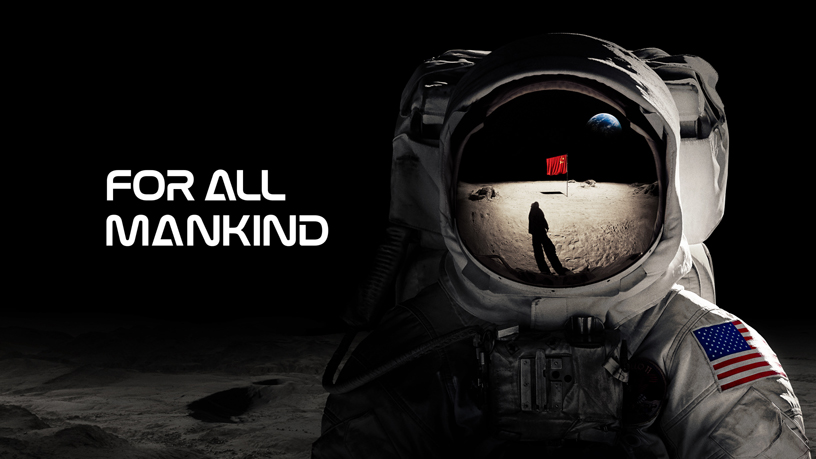 First Question to Ron that I missed recording Showbiz Junkies was ready to go


Sources: Outlander TV News, Apple TV, Showbiz Junkies YouTube, Outlander Anatomy YouTube, SONY Pictures Television