Everyone's favorite neighborhood Outlander producer-showrunner man is back with another interview with Parade.com on season five and the top fan-favorite-completely-non-controversial conversation-provoking topic.
Book to show changes.
"That's really one of the big differences between the book and doing it as a television show. In the book, everybody in every place is available any time. That's not the case with us. Sometimes random things dictate what ends up in the story. As a fan or audience member when you view it, you can go, 'God, why did they make that decision? Diana did it this way in the book.'"
Roberts breaks down how the writers tackled the task of dividing Drums in the writers' room into thirteen episodes.
"So, overall, we break down the chapters, we find the main plot line, and then we find the tentpoles — the big huge moments in the book that are sometimes very clear and then some of them are smaller. We get into different conversations in the room because some people love different moments and there's so many moments in all these books. You have one person in the room loving one thing and someone from the network loves something else, and they're smaller moments. It's not like the Jamie-meets-Brianna moment."
Honestly my main question for the upcoming season (besides Is Stephen Bonnet going to die a horrible death because he obviously didn't die in the explosion last season?) is why did Starz cut season five down to twelve episodes?
Et tu Starz?
Roberts acknowledges that not only do they have to fit nearly a thousand pages of story into twelve episodes, but also a Murtagh.
"What we realized after keeping him alive is it does affect a lot of the story going forward. At the end of four, when he's still alive and he's a regulator and he's being hunted, it shades how we tell the story in season five, and I will say that it definitely is a part of season five.
There's a lot going on in Fiery Cross. There's a lot of really fantastic moments that we're trying to find space for. Once again, when you have a very thick book and Murtaugh's not even in it, when that story takes up space, then obviously other things have to move to the side. But we're committed to it, we can't just go away from it, so we'll do the best we can."
I remember the absolute rage I felt when I watched the last Harry Potter movie and the final climactic showdown between Harry and Voldemort was completely different than what I had read at two in the morning when the final book had been released.
The initial enthralling feeling of watching a book series I had grown up with being translated to the screen quickly melted into anger and disappointment. I walked out with my friends, all of us a bit sullen as other happy fans buzzed past us.
Amidst the cloud of disappointment, I was feeling I had completely forgotten that I had gone to watch the movie to relax. To escape! Watching the movie was supposed to be fun.
The books were there still after all, with my preferred ending. That would never change.
And neither will Goddess Gabaldon's fabulous set of novels.
I know there was a LOT of disappointment with the season finale, especially with Jamie and Claire not being present for the birth of their grandchild. I completely understand book viewers frustration with key changes like that, especially with other non-book events being added in. Outlander is not immune from criticism, and I don't think it's fair that anyone gets classified as a "bad fan" if they critique changes.
My view? I can't wait to read the first four books leading up to The Fiery Cross, and compare them to the show! (I can't read any further than the show has gone or else I'd be Outlander'd from being the Show-only Sassenach!) I think it's fun to have two mediums to compare, and both are supposed to be for our enjoyment!
Sometimes even critiquing how terrible the writing gets for the show can be fun! (I'm looking at you final-season-of-Game-of-Thrones.) At the end of the day, television and books are supposed to provide a source of relief from the woes of the world.
When all is said and done this is Jamie and Claire's world after all. We're just living in it.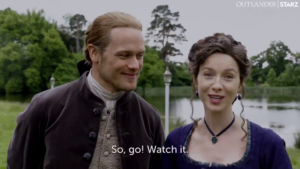 For more of Matt Roberts, check out his interview: https://parade.com/890191/paulettecohn/outlander-ep-matthew-b-roberts-teases-season-5-jamie-is-between-a-rock-and-a-hard-place/