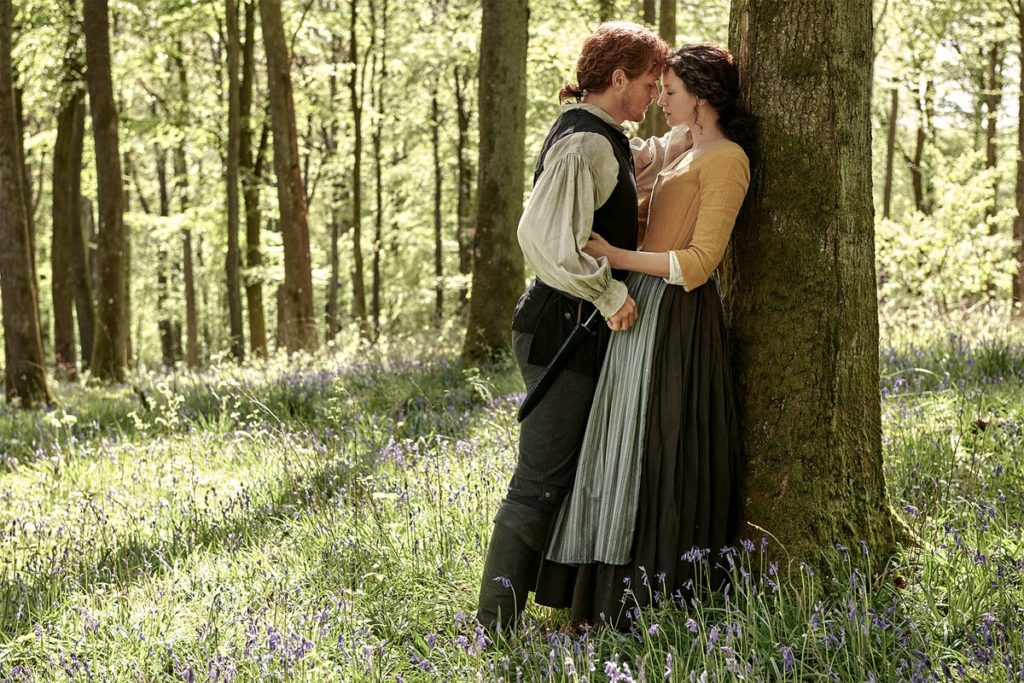 You're sitting in a grand performing arts venue. Front row seats. You see a woman sit down nearby dressed to the nines in a Claire cosplay (her wedding dress obviously.) She's bought the seat next to her, in order to accommodate her voluminous skirts.
The lights dim. You've turned your cell phone off and glance over in annoyance at that one person that takes forever to put away their phone.
Nothing matters anymore. You hear the orchestra begin to play the first notes of the Skye Boat Song.
Outlander Live! Has begun.
Hey, a girl can dream right?
Bear McCreary recently took to his website to talk in depth the method behind his musical magic for Outlander.
"This journey leaps from the modernity of the 1960's to the simmering pre-Revolutionary tension of eighteenth-century America. These settings present a challenge for a composer, because each era, culture, and geographical location offers potential musical influences for the score. My goal was to assimilate all these ideas into a score that helps the audience follow the various narrative threads and still supports the drama. Oh, and I wanted to use banjos now too!"
What I love about the Outlander score is how it travels and changes with the characters and locales. I thought it was interesting that McCreary noted:
"Had I scored this season of Outlander using only historically accurate American music, the audience would have discerned very little difference between this season's score and the music for when our story was rooted in Scotland."
There were three new themes that wove themselves into many scenes this seasons. Fans were treated to Brianna and Roger's theme for the first time when the couple met up at the airport. The lilting mandolin evolved into a full out symphonic variation when Brianna runs to Roger in the finale, reunited with him at last.
"In crafting the Roger and Brianna Theme, my goal was to compose a theme that is distinct, but equal, one that could eventually generate the kind of emotional impact over the course of multiple seasons that I believe the Jamie and Claire Theme has with audiences."
I enjoyed the multitude of variations that we heard of Brianna and Roger's theme throughout the season, but nothing beats Claire and Jamie's theme. (It's in a league of its own! Iconic.)

(A, B, C, G, E, G, A, C, D, E. A E'D,C,D,E,C,D,E,C,A,B,C,G,E,G,A,C,D,E. A,E'D,C,D,E,C,A. IN CASE YOU WERE WONDERING!)
The second new theme that was introduced was on the opposite end of the emotional spectrum.
I like to call the theme Jack Sparrow's Evil Drunkard Irish Cousin's Douchebag's theme.
Otherwise known as that bastard Bonnet's theme. (He totally escaped the explosion didn't he?)

(B flat, G, A, B flat, G, A. B flat. G, A. B flat. D. A. REPEAT!)
I appreciated McCreary's explanation of how he used the theme to lull the audience into a false sense of security when Bonnet was introduced!
"Technically, the Steven Bonnet Theme makes its debut in the premiere episode, occurring subtly when Jamie and Claire decide to help smuggle him to freedom. At this point in the story, his villainous nature is known only to fans who have read the books. I musically introduce him with a major-key version of his theme, hopefully tricking the audience into thinking he is their friend at this point. That friendly major-key Steven Bonnet Theme is short-lived. His theme next recurs throughout "Down the Rabbit Hole," supporting his intimidation of Roger as they cross the Atlantic. His theme is also featured during the tense build up to the horrific rape scene at the end of the "Wilmington," and recurs in a malicious variation in "Providence," for the sequence where Brianna confronts Bonnet in prison."
On a happier note, the third new theme was all about the Fraser family!

(A, E. F SHARP'E, A, G SHARP, E, A, E, F SHARP'E, A, E, G SHARP, A, B, C SHARP'B, A, E, B, A, B, C SHARP, B. A. E. C SHARP)
"The Jamie and Claire Theme has come to represent their tumultuous and passionate adventures.  In this context, however, we all felt the theme's strength was becoming its weakness. It was too familiar a melody to be featured in a scene that was all about new beginnings. In the scene where Jamie and Claire look out from Fraser's Ridge at their new homeland, we should be thinking about the future, and not the past. Ron suggested we introduce a new theme for Fraser's Ridge, and I agreed it was a significant enough moment to merit its own music."
Bear McCreary's score from season to season has always been consistently amazing! I love that he doesn't stick to the same themes, but also understands that there are melodies that the audience loves. Great scores should always enhance the story, not overpower it. As a violin player sometimes I daydream about having the chance to perform the gorgeous themes that follow our characters as they make their way in the world.
(So all we need Starz is more episodes and a live Outlander concert! Not too much to ask right?)
Thanks for the music Bear McCreary! Until next season.
Check out the rest of what our music maestro had to say at http://www.bearmccreary.com/#blog/blog/outlander-season-4/.