**This is not a spoiler-free review of this episode. This is also a review from a non-reader and any comments revealing spoilers from the books will be deleted.**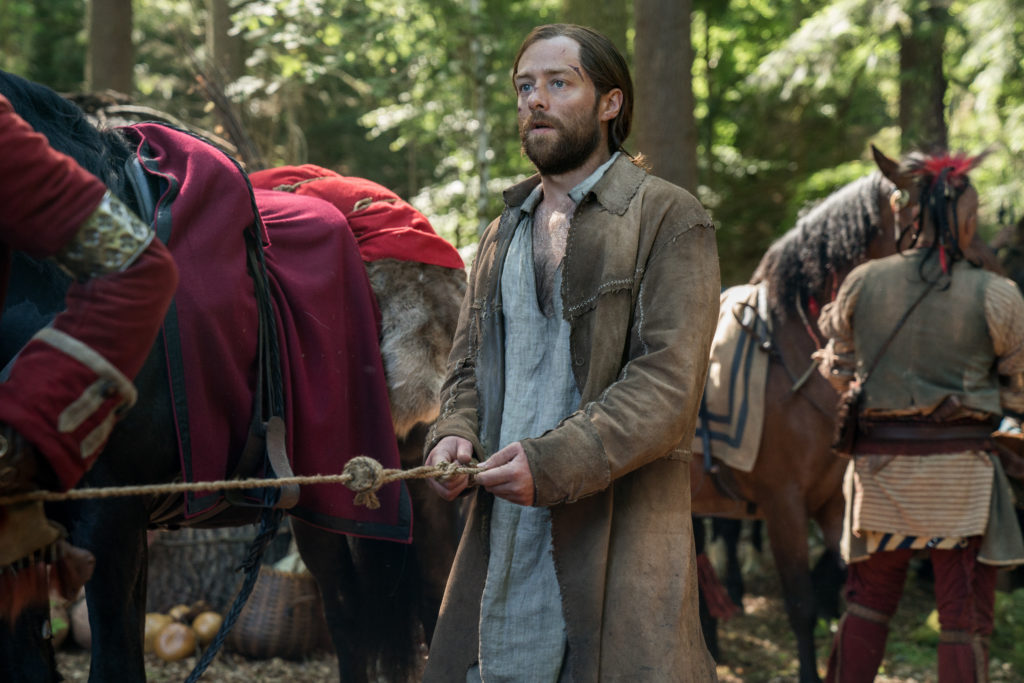 Reader, She May Marry Him?
Episode 411:  "If Not For Hope"
Written by Bronwyn Garrity & Shania Fewell, Directed by Mairzee Almas
(Note: I noticed a lot of fellow Outlander fans posting about how the opening of this episode scared them! I was perplexed. Was Brianna drawing by candlelight truly terrorizing? Was my mind addled by all the blood they took when I was at the hospital a few days ago? As I try very hard not to delve too deep into the Outlander tags on Twitter to avoid spoilers, I couldn't investigate further. 
Thankfully, due to our dear OutlanderTV News editor extraordinaire, I learned that the screener episode was different than the actual episode! Huzzah! My mind isn't addled after all. Vindication never tasted so sweet.)
Episode eleven. A summary.
Brianna: I just want to draw and think of my Roger.
Everyone else: That's cute. Now go say hello to those nice men giving you come hither stares. Roger who?
Lizzie (Caitlin O'Ryan) is convinced Brianna is possessed after viewing her latest sketch. She asks her lady if she can ever forgive her for the trouble she caused.
Brianna isn't upset with Lizzie whatsoever. She does still remain hurt and angry by Jamie's words.
"Sometimes it's hard to separate fact from fiction.
Aye, when you don't have two sides of the story that it is."
Young Ian (John Bell) discovers that Roger (Ricard Rankin) has likely been taken to Shadow Lake thanks to some friendly Cherokee who are willing to guide them towards the right direction. It would take at least two months.
Jamie (Sam Heughan) obviously feels guilty for making Brianna feel the way he did when he was separated from Claire (Caitriona Balfe) for twenty years.
Young Ian and Lizzie both both play the role of remorseful mediators. Ian asks Claire if she is still mad at Jamie.
"No," She replies, obviously still mad at Jamie.
Claire is also worried about how Brianna and Roger must be feeling. Even when they're tense with each other they are on the same page!
Meanwhile Fergus (Cesar Domboy) discovers Bonnet (Ed Speelers) will likely be in Wilmington next week. He spots a broadsheet for Murtagh (Duncan Lacroix) and rips it off the board of Wilmington's Most Wanted. 
Our poor Frenchman has been rather bummed about his job search efforts. Don't fret Fergus, job hunts suck in any century!
Marsali is of course, a bit concerned that they're hiding SILVER FOX, WANTED CRIMINAL in their house. It's not that she doesn't like Murtagh it just makes her feel unsafe.
'You would do the same for me?'
Lauren Lyle's reaction is adorable when Fergus asks her. She doesn't have to say out loud that she would harbor Fergus the wanted criminal without hesitation.
Fergus will obviously tell Murtagh that SIR-NEEDS-TO-GO-DIE-IN-A-FIRE will be in Wilmington next week. Murtagh smiles gleefully when Fergus tells him that he has good news.
Of course Jocasta is planning to throw a party for her pregnant niece.
Phaedre (Natalie Simpson) is surprised that Brianna wouldn't be excited by a new dress and a dinner party.
Phaedre is even more surprised that Brianna finds her beautiful. I loved that Brianna insisted on drawing her. PHAEDRE IS GORGEOUS.
Jocasta tells Brianna how alike she is to her grandmother Ellen and she's like, 'You know what, conversation is good for a worried mind.'
Jocasta being the party queen she is is like, 'Hell yes, now let's go get you some shots and a husband.'
'If I wanted him shot I'd do it myself.'
WHERE IS MARSALI'S CROWN BECAUSE SERIOUSLY, WHAT A QUEEN.
Queen Marsali requests that Murtagh ask Fergus to join his cause when the time comes. Murtagh and I both realize at the same time what Marsali is really asking.
'I'll have a whole man or none at all.'
Brianna's grand entrance is super hilarious to me? She looks so gorgeous and so uncomfortable in Jocasta's old gown. I always assumed it's was Claire's hand gliding down the bannister in the opening credits!
Peregrin Took, I mean, Gerald Forbes (Billy Boyd) is introduced to Brianna. Brianna tells Mr. Forbes's sister that she spends her time drawing and mentions her latest Phaedre piece.
'To think you'd choose that as your subject in a beautiful place such as this?"
Don't you smell the rampant racism in the air? Ulysses's (Colin McFarlane) face is PRICELESS.
Judge Alderdyce (Andrew Steele) is totally down with seeing Brianna's portrait of Phaedre. Of course his mother continues to ruin it with, 'Wouldn't you rather paint a LANDSCAPE or SOMETHING?'
Mr. Forbes asks Brianna's opinion about which of his pretty shiny objects she finds most pleasing. Brianna is like, "Um, didn't your friend Frodo have a ring?" (That's the last joke about that I SWEAR.)
Lord John Grey bursts in, saving the day from more awkwardness. He's like, 'Do any of y'all have your OWN MUSICAL THEME? I didn't think so.'
John informs Brianna he is total besties with her parents. Forbes and Lieutenant Wolff (Lee Boardman) exchange looks. I loved the comedy these two provided in this episode, with all the jostling to best each other in Brianna's eyes. 
Murtagh needs muskets. Fergus is adorable with the wailing Germain. Marsali watches as Murtagh goes along with her request to ask Fergus to join his militia.
He didn't expect Fergus to join. Just the act of asking allowed Fergus to feel like a man.
A plus wifing Queen Marsali. It is sweet to see how much she loves him.
The Gloriana is back in Wilmington. The Gloriana is BACK IN WILMINGTON.
Brianna makes herself really popular at the dinner table by playing psychologist. Mr. Minister loftily says he was walking with Christ and saw a squirrel while playing Brianna's game.
Lord John's face is perfect when Brianna explains to the minister that he is obviously hiding a personal secret. You can practically hear him thinking, 'Oh this girl is definitely their daughter.'
Lord John admits to Brianna that he saw her father with him in the forest. The meaning of his choice goes right over her head. She gets upset when it dawns on her that Jamie sent Lord John to check in on her.
She fakes a fainting spell to get out of a private walk with Mr. Forbes. Lizzie, bless her heart, essentially reveals to Lord John that Brianna is pregnant. (Seriously, wouldn't it hurt to conceal a pregnancy under a corset if you're that far along?) Lord John gives Brianna a letter from Jamie.
May I speak frankly?
Of course, ye been doing so all evening.
Jocasta is being very practical for Brianna's situation. Her niece is unwed and pregnant, so of course she'll find her a good man so she'll be secure for life! Maria Doyle Kennedy's delivery of the line, 'Aye. She did.' was a masterclass in sounding subtly salty.
While I completely understand Brianna's frustration, Jocasta is being perfectly reasonable for the expectations of the time period. Her aunt is trying to ensure that her child is born in wedlock with an untarnished name.
Murtagh and Fergus spot Sir Douchebag of Douchevania. As much as I want them to burn the bastard and scatter his ashes in the harbor with the tea colonists will soon be dumping, I still think Brianna should land the final blow.
Bonnet has always capitalized on the art of surprise. That's why it's so damn satisfying to see Murtagh knock him the HELL OUT.
You could tell it took every inch of Murtagh's willpower not to kill him then and there. I FEEL YOU SILVER FOX.
Brianna discovers a surprise of her own and it's not kicking in her belly.
Brianna discovers exactly why Lord John was imagining her father with him in the forest.
Fergus and Murtagh are caught carrying an unconscious asshole out in the street. Murtagh allows Fergus to escape, allowing the two patrol men to capture him. He identifies Bonnet to them, clearly regretting he didn't just kill him when he had the chance.
Mr. Forbes has come a calling, and intends to propose to Brianna. In another episode of 'Your fave is a problematic,' Brianna threatens to expose Lord John's homosexuality if he doesn't marry her.
Poor Lord John is like, "Are you not from this time or something? You do realize being gay is a crime right? Besides you're totally not the Fraser I secretly wanted to propose to me but whatever."
Brianna eventually apologizes and tells John she never actually intended to spill his secret. Lord John stands by his answer. He cannot in good conscience marry her.
He provides a nice foil to Jocasta by telling Brianna she shouldn't lose hope.
In a genuine act of trust, Brianna reveals her own secret to Lord John. He looks at Jamie's daughter in awe as she declares that she'll do what she must. John has seen the same look of steel in both of her parents.
I think it's nice that Brianna has someone she can confide in outside her family and poor sweet Lizzie.
Poor Mr. Forbes. Jocasta's blessing of his union with her niece goes flying out the window when Lord John declares he shall wed Brianna.
She's not actually going to marry Lord John is she?
Rollo discovers the bones of THE OTHER MAN THAT WAS WITH ROGER.
Of course Roger isn't dead you three! He is being propelled by the power of true love.
Of course we haven't actually seen him yet.
Sometimes people do the wrong thing for the right reasons.
I am all here for Lord John and Brianna being besties. You can see that John has given Brianna the dose of hope she so desperately craved. She finally opens Jamie's letter.
Jamie and Claire finally get everything off their chests, including their clothes.
Claire apologizes for not telling Jamie that Bonnet was Brianna's rapist. Jamie believes he cannot be a father to Brianna.
Even though he is, you know, Brianna's father. Semantics right?
Jamie was also in need of a prescription of hope. Good thing Doctor Claire was there. She reassures him that she loves them both.
She then proceeds to give him some extra good lovin. (I swear I'm an adult.)
Roger gets treated like a pinata full of broken Brianna dreams by the Mohawk. I just want to buy him a glass of whiskey. Will things get better for our favorite historian?
I thought overall this was a good episode. We had some fun sprinkles of comedy that somewhat resolved loose threads from last episode while setting us up for the last two episodes of season four. I was super happy to see Claire and Jamie resolve their situation the way they know best (communication obviously) and to watch as Brianna finally found another friend.
I just want all of these characters to be happy. Is that too much to ask Diana Gabaldon? (Happy Birthday by the way to our dear writing goddess!)
Until next time!
NEXT WEEK, SUNDAY, JANUARY 20TH AT 8 PM ET: EPISODE 412: "PROVIDENCE"
"Brianna confronts a violent figure from her past in an attempt to cope with her trauma. Roger befriends a fellow captive and endeavors to escape the Mohawk Village, while Fergus and Marsali plan a dangerous mission to save an old friend from the noose."
Photos and clips are courtesy of Starz.