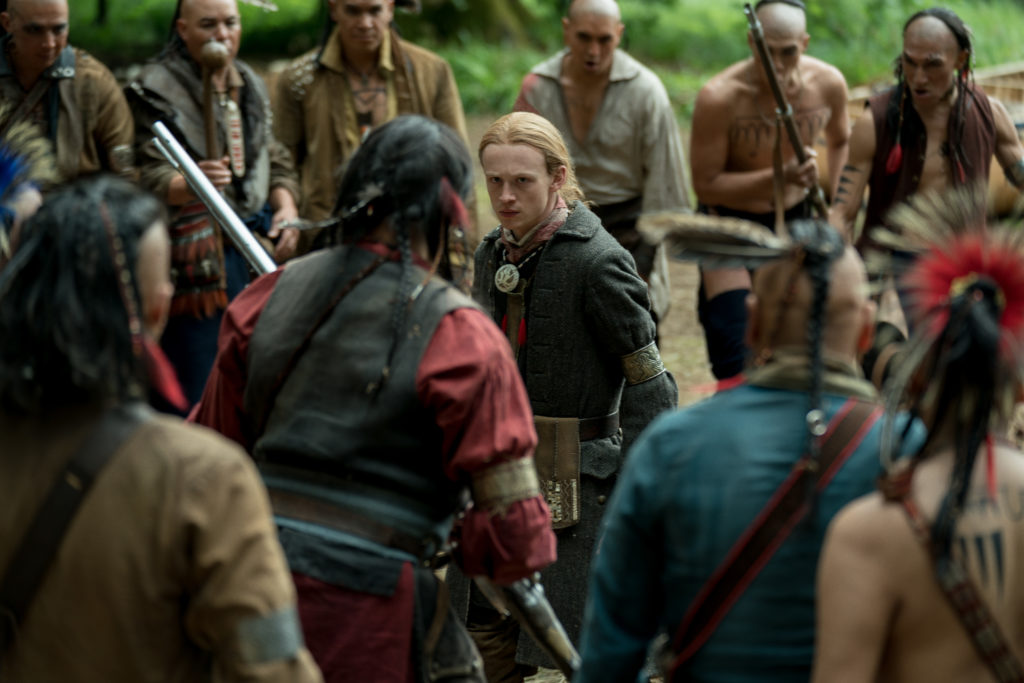 On the eve of the season four finale, Parade released a new interview with John Bell (Ian).  I think we all can agree that John Bell's casting as Young Ian is perfection, and this season Bell was really given material to shine.  Below are excerpts from the interview, but head over to Parade to read it all.
What was the first thing you did when you heard about the role? Did you pick up the books to see who Young Ian was?

I didn't go straight to the book. I'll be honest; I went straight to the Wiki page, because I wanted to find out as much as I possibly could as quickly as possible. I read everything that I could on that, and that's when I got the books. I got my mum to start reading the books, and I got my gran to start reading the books. We'd all get together in a little book club and discuss.

With every new strand of information that I got, I fell more and more in love with him. What an amazing character to have the opportunity to play. As you are a book fan, you know the transformation that he goes through slowly but certainly builds over time into the crescendo of this finale. It was such a gift for an actor. Young Ian is forever a part of me. I hold him dear to my heart.

So, Ian is the Caucasian character that takes most to the Native American culture. He learns to speak the language; he goes hunting with some of the young men. How hard is speaking a foreign language for you?

Like any foreign language, you need to be learning it for years to be able to speak it with confidence. So, that was a part of Ian. I didn't want him to suddenly come across as the greatest linguist of the 18th century, you know? But his passion for the Native American culture is so strong that he takes that challenge on himself and learns it. So, that's exactly what I had to do, you know?

Immediately, I was in touch with the Mohawk language preservation society, which is the biggest course you can do. They have an online course to learn the language. They're using it to fight against the language's extinction, so to be able to have that wealth of resources available to me was great. As well as that, there were elders that came from America, from the New York area, and Canada, to work with me on some of the more specific words and specific intonations that were required.

I just had a great time. I love languages. I'm very passionate about it. The best way to understand someone's culture is to be able to speak their language, so I think it was important to Ian. It was important to me. I'm super pleased with how it came across. I think he does justice to their beautiful language.

This is a specific time in the history of America. With everything that you went through to film this, did you learn something that surprised you or that you really related to?

During my research there was a beauty in the way that Diana, in the books, often compares the Native American warrior to the Scottish highlander of clan times. I found that comparison really intriguing and it sparked in my mind why Ian falls so quickly in love with everything that Native American culture has to offer. I think that was the biggest thing I took away from the books.

With regard to learning something new about American history, as a Brit, you look at what happened and realize that there was a lot of s–t that went down, and getting to actually come face to face with that was tough at times. I think back to the first part of the season when we were at Jocasta's (Maria Doyle Kennedy) and having to deal with slavery and all the consequences that had. I think that was a defining moment for Ian and he saw what was right and wrong.

He's a modern man for being born in the 1700s. I think his line, "Well, the Indians were here first, were they no?," shows you his attitude and how he sees things, and a lot of what he thinks is probably affected by Claire and her modern views on the world. So, I think for being born in the 18th century, he was probably one of the most understanding men of that time.
Source: Parade