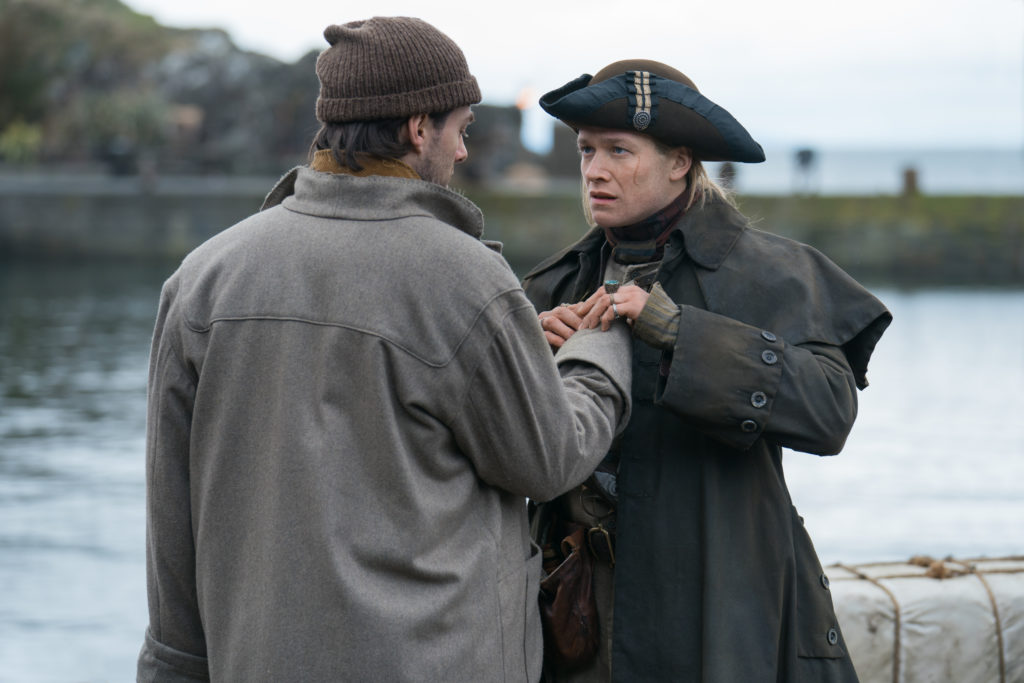 Below are excerpts from new interviews and videos with Maril Davis, Sophie Skelton, and Richard Rankin about Outlander episode 407, "Down the Rabbit Hole."  Be sure to click on the links to read the full interviews. Since these posts/interviews follow the latest episode, beware of spoilers and there may be a discussion about storylines in future episodes.
THR: 'Outlander' Producer on Finally Showing Frank's Side of the Story
"We were like, 'Oh my god, there's a face under there!'" executive producer Maril Davis tells The Hollywood Reporter with a laugh about seeing Rankin clean-shaven for the first time. "But unfortunately the head of our hair and makeup department has told us since she started working with us that beards were not common back in this time. I thought, well John Quincy Myers [Kyle Rees] had a beard! We're always fighting for beards, but she's always telling us that it's not historically accurate. This time, we bowed to pressure."

"We have a lot of fans who hate Frank," Davis says with a laugh. "But when we approached this episode, we talked about what Brianna must be feeling as she goes back. She is feeling complicit because she was brought up by another man for the first 20 years of her life, and that's who she considers her father. She's going to potentially meet her other, real birth father, and the complicit feelings and the loyalty and feeling torn about would Frank approve of her going back to meet him and build a relationship with him is what she's wrestling with.""That's something we put in later, and it was [producer] Matt Roberts' suggestion," Davis says. "We were like, 'Can we even do that?' We reached out to [author] Diana [Gabaldon] to make sure it was OK, and I think she signed off. We were like, 'What if we put that obituary there, what would that say? Is that the reason why Frank finally decides to get a divorce?' If he realized that Claire at some point leaves him to go back to Jamie, did she take Brianna? He has no idea. He just knows she goes back."
TV Insider: 'Outlander's Sophie Skelton on Brianna's Time Traveling, Wearing a Corset & Scenes With Tobias Menzies
You shared this episode with many actors for the first time [Steve McCree, Nell Hudson] – how was that experience?

It was really great. As an actor, I was excited for it because [the audience] has been slowly introduced to Bree. I've only shared scenes with Caitriona [Balfe], Richard [Rankin], and a very short one with Tobias, so it was very exciting to work so many who have been in the show since Season 1.

It really felt like a proper introduction to the show, into that world. I like how many people we interact with this season.

Frank knew that Claire was going to go back in time. That's what that scene in the study was about, right?

Yeah, he learns from that obituary that Claire and Jamie die in a fire. I feel like Frank gets a lot of bad press because he had affairs but I do actually think Frank is getting a bit of justice in that scene. You really see what he's going through; I think Frank kinda felt used. To know that Claire will go back, it was just heartbreaking for him. I hope that scene gives people a newfound sympathy for Frank.

Fans will also see Bree's relationship with the man who raised her. She was a daddy's girl and he was very much the one who was there for her. They did have this special bond and she feels such a guilt about going back in time — like she's betraying Frank. It just adds so many more layers to the story. It's one of my favorite scenes.
EW: Outlander producer explains Jenny's absence and Laoghaire's big return
"In the last minute, Laura Donnelly could not be in this episode and she, unfortunately, had a prior commitment and just wasn't able to commit," admits Davis. "We love Laura, we love the character Jenny and she's such a spark to any season. Obviously, Jenny and Ian aren't in this season as much as some of the other characters but every time they show up, we just love them. They are fan favorites. We had every intention of having a Brianna and Jenny but we waited and we kept dragging our feet, quite honestly, because we thought we could convince her and the schedules would change. We could move our schedule and accommodate her but at the end of the day, it just didn't work out so we scrambled to come up with another story."

"That's why also Laoghaire ends up having the bigger part," Davis admits. "We just love her Nell. I know not everyone loves to hate Laoghaire but she did such an amazing job and we also love the idea of seeing Laoghaire as a normal person, do you know what I mean? Laoghaire is a good mom. She's done some horrible things but it was interesting to see Laoghaire before she becomes crazy Laoghaire, and what kind of person she would be if this did not happen to her. they could have all been friends, who knows? But then of course, the Laoghaire that we know and love comes out."
EW: Outlander: Why Frank returned and why it parallels Laoghaire's pain
"Any chance to work with Tobias is amazing," executive producer Maril Davis tells EW exclusively. "This whole idea of Brianna feeling so excited to go meet Jamie…obviously, there are reasons why she has to go back. But it felt like she had to do mourn her parents, as well. She was raised by someone who's not her birth father. This tear between the man who raised her and the man who is her father but couldn't raise her. The guilt of that. Does she have room in her heart for both of them? Would Frank mind if she loved this other person who is her father? Is she being disrespectful to his memory? We loved the idea of her struggling with that. Obviously, the story took on a little weight because at the last minute, Laura Donnelly, who plays Jenny, could not be in this episode because of a prior commitment. We had to adjust the story and that's why Laoghaire ends up having the bigger part."

It also offered a provocative narrative thread for the episode. "What an incredible parallel there is between Frank and Laoghaire," admits Davis. "Both Frank and Laoghaire loved Jamie and Claire. They lost these people, whether they had them or not. Those people came back into their lives and then left them again. Whether or not you like Frank and Laoghaire, they are really tortured souls. They loved people who never loved them back, not in the way that Jamie and Claire love each other. Those parallels were really apparent."
EW: Outlander: Why Brianna didn't reveal her mom's pearls to Laoghaire
"We actually had them in," Davis says. "There's a deleted scene that you'll see on the Sony DVDs that shows that we did use the pearls. It was a decision in the editing room. Certain people had questions about why she wouldn't use them. She could potentially buy passage if she lost her money. There were those of us who felt like she'd never obviously sell those pearls because they are sacred, but why wouldn't she have brought them out earlier? There was so many questions. Also, we left out the fight between Brianna and Laoghaire because it felt a little over the top. For those reasons, we decided not to include the pearls. I'm not sure if we'll use them later, though obviously she has them with her."
SYFY Wire: WATCH: OUTLANDER'S RICHARD RANKIN GETS EMOTIONAL ABOUT 'DOWN THE RABBIT HOLE'
PopSugar: Outlander: The Tragic Reason Behind Frank's Unexpected Season 4 Cameo
"We decided fairly early on that part of the story would involve Frank because in talking about Brianna's journey and her going back, the fact that she's never met her birth father and was raised by another man for the first 20 years of her life and that's the only father she's ever known . . . how torn she would feel, as a character?" says Davis, adding that Brianna is wrestling with feelings of guilt over her perceived betrayal of the man who raised her.

"'This is my father and the only father I've ever known and now I'm going to go meet my other father, and how will I love them both? And would Frank have approved?' And all the stuff going through her head," Davis explains. "It was such an interesting way to show her journey and her struggle."

"Once he and Claire had that fight and he walked out that door, we don't know what happened to him," says Davis. "We obviously never saw the car crash. But we love the idea of tracing back and finding out that Frank asked Brianna to go to Cambridge with him and that they had a conversation right before he died. For Brianna, that torment of 'if I had only said something different in that car that night, would he still be here?' That guilt she carries with her is so interesting and important."