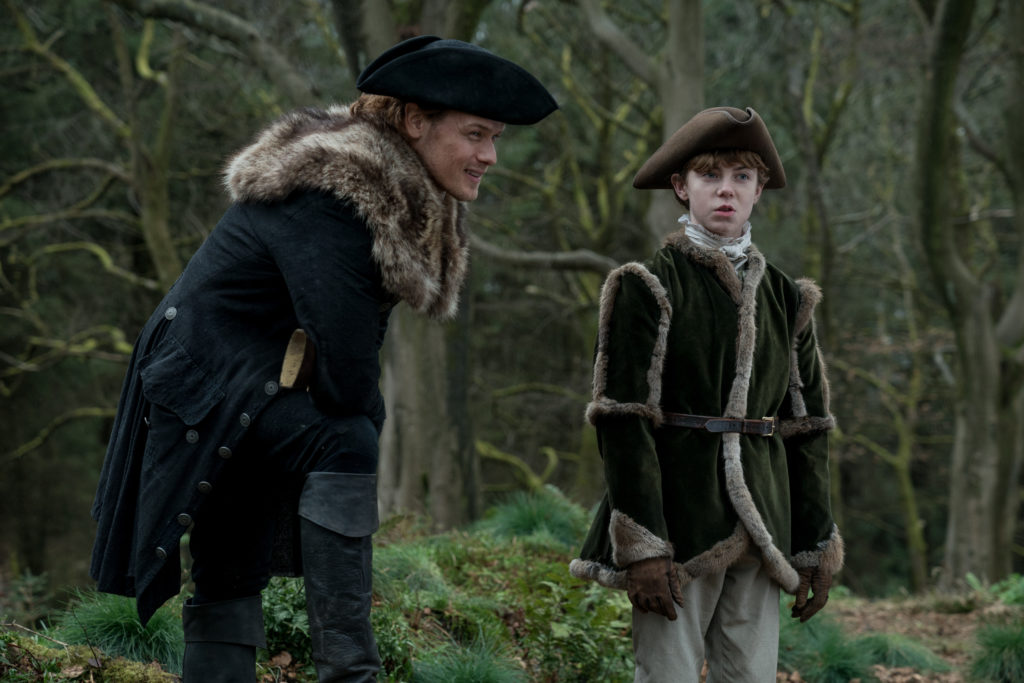 Below are excerpts from new interviews with Diana Gabaldon, Sam Heughan, Caitriona Balfe, David Berry, and Matthew B. Roberts about Outlander episode 406, "Blood of My Blood."  Be sure to click on the links to read the full interviews. Since these posts/interviews follow the latest episode, beware of spoilers and there may be a discussion about storylines in future episodes.
Town & Country: Outlander Author Diana Gabaldon Sees Claire's New Ring as the Show's Way of "Apologizing" to Readers
"Oh I thought it was very clever how they did it. It worked in extremely well with the plot that they had going, how they had worked that particular bit," Gabaldon told T&C during a conversation earlier this year.

"I assumed it to be kind of their way of apologizing to the readers who were upset about the first ring, by giving them a ring that more closely resembled what they might have had in mind."
PopSugar: Outlander: Does William Know Jamie Is His Father? Sam Heughan Weighs In
"The stuff with Willie, for me and for Jamie, was really interesting stuff, to see where that relationship has gone to and developed," says Heughan, adding that there was definitely "an awakening in Willie as to who his father might actually be."

"I was always looking forward to John Grey coming back, [and] I was definitely looking forward to those scenes," he said. "[David Berry and Oliver Finnegan] are great actors as well, so it was a nice side story for Jamie and Claire this season."
THR: 'Outlander' Stages a "Bittersweet" Family Reunion
"For Jamie, it's really bittersweet," Heughan tells The Hollywood Reporter of the character's time with his son. "He has always wanted to be a father, and Willie was very dear to him. He had a really great influence on him at Helwater, but now for Willie to be there in his life and he can't even tell him that he's his father, it's pretty tough for him."

He pauses, then adds, "Thankfully, by the end of the episode, Willie has that realization of who his father is or could be. It's beautiful. It's nice for Jamie to finally interact with his son but also [with] John Grey. He's an important ally and friend."

"As the season goes on, John Grey will play a bigger role as well," Balfe tells THR. "For Claire, those scenes where John Grey is ill and she's tending to him, they were really beautiful scenes and very emotional. It was heartbreaking to see this man live with this unrequited love and the heartbreak that that has caused him. And when he tells Claire about this offer that Jamie made, I don't think there is any part of Claire that is threatened by that."
TV Insider: 'Outlander's David Berry on Lord John's Motives, Raising Jamie's Son & a Spinoff Series
Do you think Lord John told Claire about Jamie's offer to hurt her? Did he use almost dying as an excuse?

No, I really don't think so. Sure, he's jealous of Claire but I don't think he would ever intend to purposefully hurt her. I think he's in a heightened emotional state — he's close to death. It just comes out. Then, he apologizes right away in the next scene.

Do you think Lord John is a good father?

I think he is. He wants nothing but the best for Willie. The only thing I questioned was when he left Willie by the creek [in the first moments of the episode] and then Willie gets some leeches on him. Me, as a parent, was like, 'Oh no, you can never leave your son by the creek by himself!' So, I had a chat with the writers about adding a line about leaving Willie at the stream because I'm sure Lord John is the type of father who would never abandon his own child.

On a more serious note, I don't think Lord John's intentions to come to the cabin were all selfish. I very much believe he came to Fraser's Ridge so that Jamie could see Willie and have a relationship with his son. Lord John is willing to share his son. He's compassionate and would never reveal to Willie that Jamie his real father. That would be devastating.
TV Guide: Outlander's David Berry Admits John Grey May Always Carry a Torch for Jamie
What was John's intention for visiting the Frasers? He admits he still has feelings for Jamie, but does wanting to see Jamie translate into John still holding out hope that there will be a physical relationship there?
David Berry: Oh, no. No, no, no. I don't think so. At the dance, and he said, Lord John's coming with an expectation that Jamie is going to have a relationship with him, but physically absolutely not. I think he does have feelings for him, and he does want to see Jamie and so on and so forth, and that may be a motivator for him being there. But I think that there's also a deeply compassionate reason for him to be there, which is, as he says quite fed up, that it's to allow Jamie to see his son and for [Willie] to see Jamie, even though, unbeknownst to him, Jamie is his real father.

What would does it mean to John to be able to raise Jamie's son? Does that fulfill a little bit of his longing there?
Berry: He knows that he has a piece of Jamie, and he has, in the sense that he's got Jamie's complete trust and confidence, and to raise his son, who is one of the most dear things in his life to him. There can be no greater affirmation of a friendship or of someone's trust than to to be the custodian of the thing that they hold most dear. So, I think Lord John is very gracious of that, and very cognizant that's something that Jamie has entrusted him with, and that means a great deal for his friendship.
TV Line: Outlander EP on Why There'll 'Never' Be a Claire/Jamie/Grey Triangle — Plus: Caitriona Balfe on a Key Script Change
"You feel this heartbreak for John, because he loves Jamie — like so many people who read the books love Jamie — and can never have him," Roberts says. "Why people love [John] so much is because he's damned, in a way."

"It's almost like Jon is trapped, and Claire is his captor," he says, chuckling. "He's on the opposite end from where he usually is. He was a warden in a prison, and the measles kind of trapped him. It's like [he and Claire] are bitter rivals, but they're not."

In that vein, star Caitriona Balfe recalls that the tone of Claire's interaction with John originally was different than what made the final cut. "When we got the first script, it was maybe played a little bit heavier about this jealousy thing," she says. But after conversations with Di Novi and the show's writers, "we found this lovely balance," she explains. "Claire's not threatened like Lord John, but she is a little bit like, 'What are your motivations? Why are you here? Are you here to stir up trouble?'"
Vulture: Outlander's Caitriona Balfe on That Swoon-Worthy Bathtub Scene
"What I love is that Claire's not insecure about her love for Jamie or Jamie's love for her. These other people may come in, and they may, in some way, claim ownership or whatever that might be, but it doesn't make Claire insecure," Balfe told Vulture. "She may feel pain, or it may not be easy to hear, but it never undermines her belief that they're soulmates to each other. At the end of that, for Jamie to give her this ring, it restated the fact that they're in sync with each other and that no one can really ever come between them again."

Sam Heughan found the scene touching as well. "Those are the moments we see Jamie and Claire really still in love and just enjoying each other's company, and we don't always get to show that," he said. "I think it's important. I think the fans will love those moments. And it's also a time for everyone to breathe and just enjoy watching Jamie and Claire together without them being, you know, attacked or trying to fight some wild animals. It's a really beautiful moment."
Vulture: What Lord John Grey's Surprise Outlander Return Means for Claire and Jamie
There are moments in the episode when you, as Lord John, have tears in your eyes, and yet you're almost smiling. Like when Claire theorizes that John really came to Fraser's Ridge to give himself a chance to see Jamie, not to give Jamie a chance to see William, and John calls her a remarkable woman, more "devastatingly straightforward" than anyone he's ever met. He seems to appreciate that she can surprise him even as she's wounding him. 
John is a man of masks. Everyone has secrets in this show, but John has a lot of secrets. A lot of those secrets reveal his vulnerabilities, and he's spent most of his life trying to hide those vulnerabilities behind those masks. The most alarming thing to him about his interaction with Claire is that Claire is just like a laser and can see right through him. Which I think he finds fascinating, but also extremely alarming because he knows she could tear him apart. But, on the same token, John is also a laser himself, and he can unthread people just as well as Claire can. He sees in Claire someone who's his equal.

When Claire tells him it's not by choice that she's this straightforward, she was born that way, John says, "So was I." 
He says it to himself, but he says it out loud because there's a part of him that doesn't just want to whisper it to himself. He wants to say it, he wants to scream it in Claire's face. He wants to grab her by the shirt and say, "So was I." Like, You think that your pain is greater than mine? It's not. But I'm gonna sit here quietly and suffer, and that's what I've been doing for all my life — quietly suffering and then shedding a single tear. That's pretty much my life. If he had the courage and conviction to say it louder to Claire in that moment, he would. But he doesn't. And that is the tragedy.

The conversation heats up when a feverish Lord John tells Claire how Jamie offered himself in exchange for a commitment to care for William as his own son. But John later regrets it. Why?
Lord John is very good at keeping secrets, he's very discreet, he respects Jamie immensely, and I think he also respects Claire immensely. So it's something that he would never intentionally reveal, but in his fever and his heightened emotional state — he thinks he might be on the brink of death — it just slips out. He thinks he has a way of trumping Claire, which is basically that Jamie offered himself. He thinks if he revealed that, that would really wound her and upset her. I think he feels again those feelings of shame because John, for all of his faults, much like Claire, is a very compassionate person. In the next scene immediately after, he apologizes and he feels terrible about it.
Elle: Caitriona Balfe on the Romantic 'Outlander' Moment Fans Have Been Waiting For
In tonight's episode, Lord John Grey tells Claire about the offer from Jamie. Her reaction is a little ambiguous—how do you think she takes the news?

I think she is just feeling so much compassion for the pain she can see Lord John Grey is in. I don't think Claire is ever insecure about Jamie's feelings for her, or about her feelings for Jamie, so I didn't want to play that as her feeling threatened. But even though she's not threatened, it's not nice to hear. She understands how difficult it must have been for Jamie to make that offer, and the price he was willing to pay for the love of his son.

For me, her heart was breaking at the sadness of it, all the sadness that Jamie would be willing to do that for his son, but also the sadness that this man [Grey] is obviously so in love, and has carried this unrequited love with him for years, and she understands that. She understands what it's like to love this man, and not be able to have him. I think she's just in a place of compassion and sadness at this horrible, horrible situation.

What does Jamie giving Claire the ring from the books mean to you?

It speaks to Jamie reaffirming that their love is solid. Claire has had this incident with John Grey, and even though she knows it and she believes it in her heart, for Jamie to have done this behind her back as this romantic gesture, it's this reaffirming moment of how strong their bond is. It's a really romantic moment, super sweet, and I think the fans have been wanting to see that ring for quite a long time! It's a little moment for them too.
Sources: All are linked in the post