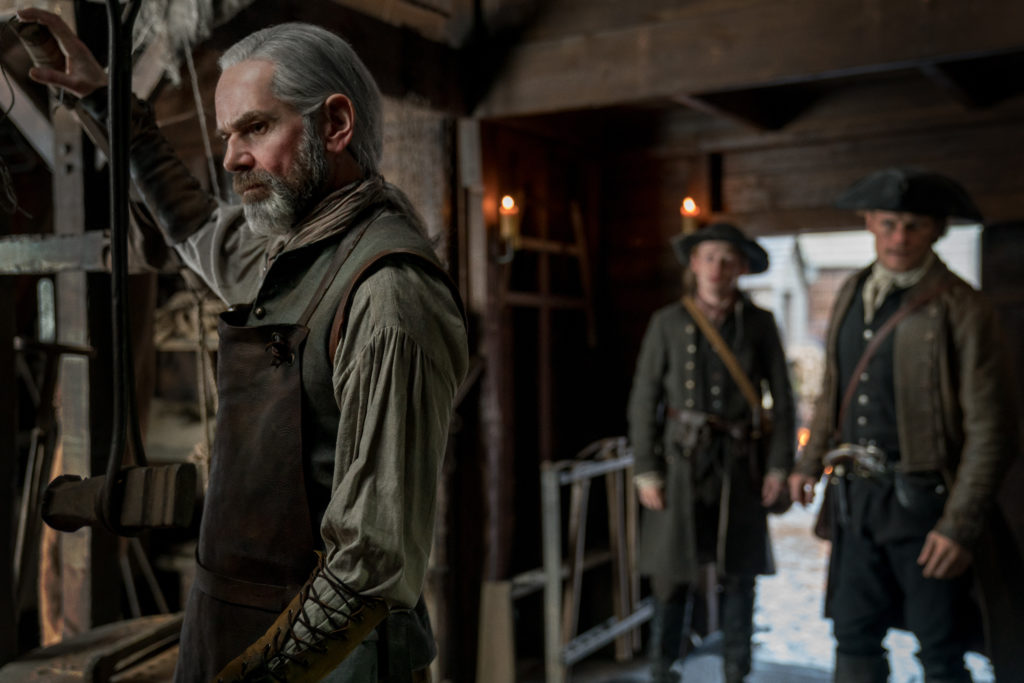 Below are excerpts from new interviews with Duncan Lacroix, Sam Heughan, Matthew B. Roberts, Richard Rankin, Sophie Skelton, and Caitriona Balfe about Outlander episode 405, "Savages."  Be sure to click on the links to read the full interviews. Since these posts/interviews follow the latest episode, beware of spoilers and there may be a discussion about storylines in future episodes.
TV Line: Outlander's Sam Heughan: [Spoiler]'s Unexpected Return Will 'Cause Some Trouble' for the Frasers
 "There's always been a great bond between Jamie and Murtagh. It's kind of been unsaid, but he really is his godfather, his guide. For Jamie, it's just everything to have him back in his life."

"Jamie's grown up, and he's certainly his own man now," the actor explains. "To have this cantankerous old man in his life is also going to cause some trouble. They're on either sides of the Regulators. It really is setting up other seasons now, with the war that's coming."
Town & Country: Duncan Lacroix Talks About Murtagh's Unexpected Return in Outlander Season 4 Episode 5 "Savages"
What did you think about bringing back Murtagh in season four, even though he's long dead in the books?

Well obviously it's a gamble by the writers and the show runners. They obviously felt that the character was important enough to that family unit to survive. I'm a bit worried to see some of the reactions—it's going to be interesting. But by the same token it's not my job to worry about the differences between the book and the show. My job is to act what's in the script.

Did you do any research to get ready for this season?

I read a few historical essays about the regulators in that period. And I did a bit of blacksmith training. I made my own knife. It looks like a lump of blackened charcoal but I'm very pleased with it.

What was it like being reunited with Sam Heughan onscreen?

The whole season we worked a bit more sporadically with each other. This season has more story strands and points of view and separate pieces. I got to work with new people, like John Bell and Sophie Skelton, which was great. But it's great working with Sam, that shared chemistry we've built up over five years now, that's just there. Our characters have a bit of a rough go. There's a whole lot of tension that builds up between them over the course of the season. But of course Jamie and Murtagh are the other great love story of the show.
Vulture: Outlander Fan Favorite on His Long-Awaited Surprise Return
Murtagh's surprise entrance felt like a real event. Just like Jamie, I teared up. What did you want to capture when they came face-to-face?
It was more what I was trying to avoid, really. There are so many of these big moments in the show, and if you think about them as big moments when you're going into them, they become increasingly difficult to act because you're just putting so much pressure on the situation. Am I meant to be crying or whatever? I just tried to focus on the blacksmithing stuff that I'd been taught. [Laughs.]

How would Murtagh have been worked into season three?
It was something like they found him and he'd been a slave or an indentured servant in Jamaica, and he'd managed to escape and he was leading a ragtag band of escaped slaves. It was really very exciting. I think he was, like, hooked on some Jamaican drug. I was very excited. It sounded like Marlon Brando in Apocalypse Now, so I was getting very carried away. It didn't materialize. I think it turned out for the best. [Laughs.]

You're not just pulling my chain here, are you? 
No, I think there was a story line that was proposed. I don't think the studio went for it. I don't think they liked the drug addict Murtagh plotline, unfortunately. Denied me my holiday in South Africa, which I'm very bitter about. [Laughs.]

How did the wig change things for you?
It worked out, almost accidentally. We tried a few wigs on, they weren't working. We tried this on and it just seemed to materialize in the mirror. But also, part of the beard is a wig this season, which was even more frustrating, having bits of things glued to your face. I didn't react well to the wig for the first few episodes. I got in trouble for taking it off myself. I got a good scolding. It was getting quite itchy and I took it off, and all hell broke loose. I now respect the wig.
Variety: 'Outlander' Team Talks 'Delicate Balance' of Bringing Back 'Politicized' Murtagh (SPOILERS)
"Bringing characters back is a delicate issue — how you do it because you don't want them to just pop up randomly," executive producer Matthew B. Roberts tells Variety, adding that it's not as simple as substituting one character for another. "We certainly don't go, 'Well, they'll just take over this role from the book.' I see a lot of speculation on social media about how Murtagh might just take over Duncan Innes or whatever — but Murtagh isn't those people. He has his own backstory, we've seen it. So we know who his character is, so [we needed to consider] what would Murtagh be doing?"

Both Heughan and Balfe say they were really excited about the dynamic that Murtagh would bring to the fourth season, especially because, as Balfe points out, he is "the only other person who knows the truth about who Claire is and where she comes from," so he is "very much the closest person other than Jamie that she has in the 18th century."

"It was so sweet, we had a really lovely reunion," says Balfe. "It was really fun to film that. We adore Duncan and it was really nice to have him back. And he looks so great with a gray wig!"
THR: 'Outlander' Revives Fan-Favorite Character in Complicated Reunion
This episode is only the beginning of what will drive the rest of this season (and series) forward. "Murtagh is on the other side, politically, than Jamie," Heughan says. "It's just the beginning of a major plot, the Revolutionary War that's fast approaching. You can guess what's going to happen and we're going to see that through to the end where they'll be on opposite sides. It's going to create a real dilemma for both of these characters."

But this season might prove to work out differently. "In previous seasons, they tried to change the course of history and they realized that does not work," Balfe tells THR. "Now, they're much wiser and they try to use it to their advantage, this knowledge they have of what's coming down the line. Even though at this point they seem to be putting themselves on the side of the British, which will be the wrong side of this coming war, they also know they're going to be able to maneuver in time to hopefully be able to save themselves and keep them on the right side whenever it happens."

"It was great to bring that to life," she tells THR. "But it's not as simple as it looks. Obviously I can't actually go through the stones, so you have to sort of hide yourself while the cameras do a 360, and then when it gets to one side, you know you're out of shot and you have to come around the other side and the camera reveals Brianna has gone through. Creating that spectacle was quite a choreographed scene that you don't expect it to be. But it was really fun to film and that's one of my favorite locations that we shoot on. It's such a beautiful place."

"Oh, ay! I forgot about that scene," he says with a laugh. "The letter! It was so sad. He's feeling a real sense of betrayal, I think. For whatever reason, Brianna hasn't told him or spoke to him about the fact that she was thinking about doing this. He thought their relationship, even if it's out of place, she would have trusted him in working together to save Jamie and Claire like they did previously in season two and three. He had hoped she would have been able to speak to him about that and not only has she not, but she left him and just left a letter?!"

"I mean, come on," he says. "What does that say about Brianna that she just left him a letter after everything they've been through? After all the love, after all the passion, and that's how she says goodbye to go back and save her mum? She leaves a note with an innkeeper in Inverness? I mean, that's a little low, isn't it? That's a low blow for Roger."
Vanity Fair: Outlander: A Small Detail Betrays the Massive Importance of This Week's Reunion
According to Lacroix, there was an earlier plan to bring Murtagh back to Jamie's side long before this episode: "He was meant to come back in Season 3 in Jamaica, and they would find him up in the hills somewhere with a ragtag band of escaped slaves. That didn't quite work out. I think this is better."

"The print shop, yeah, there's an echo of that. The back is turned. You're aware of that when you're approaching these scenes, that these are supposed to be big moments."

Since the show version of Murtagh has outlived his book counterpart, the opportunities for where he might go next and what he might do feel endless. Book readers have been having a field day trying to guess how Murtagh will fit back into the plot, which Lacroix said has been "a bit weird" for him. He even quit Twitter so as to avoid being asked. One common theory was that Murtagh would double for a book character called Duncan Innes, who has been cut from the series. In the books, Duncan, a compatriot of Jamie's, goes on to marry Jocasta (Maria Doyle Kennedy). Gabaldon has repeatedly insisted this will not be Murtagh's fate.

But the actor did confirm that he'll be closely involved with the Fraser family for the foreseeable future. Without spoiling exactly whom he mentioned, Lacroix expressed his joy at getting to work with a performer who plays a character Murtagh hasn't met yet. "That was invigorating," he said with evident glee, "working with the young 'uns." That energy was clear from the immediate chemistry Lacroix shared with Young Ian actor John Bell.
Source:  All sources linked in the post