[This is not a spoiler-free review of the episode. If you have not seen the episode yet, read it at your own spoiler risk.]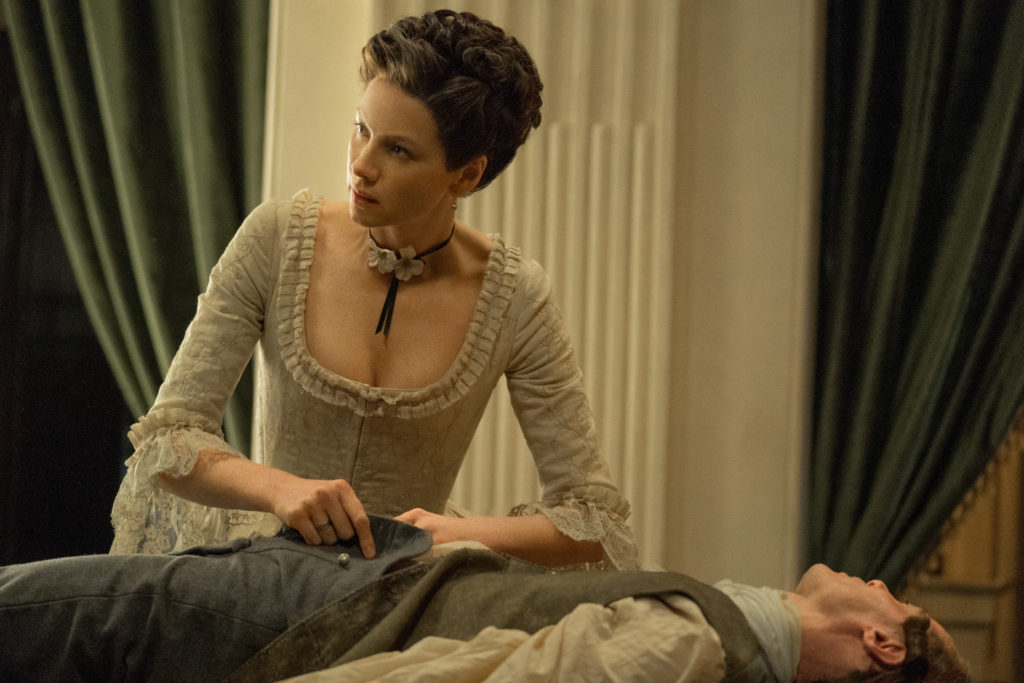 Episode 408:  "Wilmington"
Written by Luke Schelhaas, Directed by Jennifer Getzinger
Disclaimer: Both the recap and review of this episode are going to deal with issues of a graphic and upsetting nature, as one of the characters is forced to engage in sexual acts with another character. If you have been a victim of anything like this, please seek psychological support in healing from this trauma. While I have not personally endured this, I do know others who have and am very sensitive to how upsetting this topic can be. That being said, please understand that any opinions stated here are mine and mine alone, and do NOT reflect any intentions on the part of the show or other writers for this website. I intend to share the story of the episode with those interested and to have a mature, adult conversation about a difficult topic afterward. I would ask that we keep any discussion in the comments (and any messages directly to us) civil and appropriate. Thank you for your understanding.
Recap:
We open the episode with Roger (Richard Rankin), looking more the part of a local than he has before. It has been a long trip for our hero, and his hair is longer now, though his face is still – sadly – beardless. He has reached Wilmington but is having no luck in finding Brianna (Sophie Skelton). This is most likely because she sailed after him, and not before as he supposes. As he searches, showing anyone he can a sketch of Brianna, he encounters Fergus (Cesar Domboy), and this is where our story splits. For the rest of the episode, we bounce between the Brianna/Roger storyline and the Jamie/Claire one, both full of interesting…developments for our characters.
Jamie (Sam Heughan) and Claire (Caitriona Balfe), it turns out, are visiting Fergus and Marsali (Lauren Lyle) in Wilmington, along with their new son, Germain. It is frustrating how close Bri's parents are to her during this episode, especially as the book readers know what is to come for her and Roger during the remainder of this season and beyond. Governor Tryon (Tim Downie) has apparently summoned Jamie and Claire to a play there. He wants to speak further about important matters like the increased trouble with the Regulators (which we know Murtagh is the leader of). As Claire and Marsali bond over the new child, I was struck by how much the actress playing Marsali resembles the actress playing her mother, Laoghaire (Nell Hudson). I could actually believe the blood relation here, though Marsali is much more likable than her borderline insane, Jamie-obsessed mother. As we know from the books, Claire becomes a mother figure for Marsali and her recent introduction to motherhood is the start of a bond between them. I found it especially poignant – and foreshadowing – when Claire comments, "[We] can't protect [our children] from everyone and everything." If only she knew what was coming for poor Brianna that evening; she has no idea how true her statement is.
That evening, Jamie and Claire meet with Governor Tryon and his guests before the play. They meet Fanning, a man who was alluded to previously in the episode as someone encouraging the higher taxes. Since we are on the side of the Scots (and the Americans), we are primed not to like this character, and Jamie and Claire find him similarly unlikeable. Claire's doctoring instincts kick in, as expected when she sees Edmund Fanning (Samuel Collings) grimacing in pain and holding his side. It turns out that when facing off against the Regulators, he hurt himself. His description instantly brings to mind a hernia, and Claire guesses that to be the cause of his pain and discomfort, as well. She is a woman, however, and the men laugh off her advice, agreeing that the man's physician is the expert in this situation. Pride bruised, Claire is rescued by Governor Tryon's wife (Melanie Gray). To her surprise, she learns that Colonel George Washington (Simon Harrison) and his wife (Elizabeth Appleby) are also in attendance, and expresses her excitement to meet them. Governor Tryon's wife obliges. Unfortunately for Claire, she misspeaks in front of the Governor and his guests and has to cover her knowledge of Colonel Washington's childhood quickly. Again, her future life has provided her with the understanding she should not have yet. It tips Jamie off that there is something he should know, however, and so Claire discreetly fills in him on Colonel Washington and how vital he will be to the future of this country.
Seated for the play, at last, Tryon seems excited and, when pressed by Jamie, discloses that he has a spy within the Regulators and that they are going to be arrested that evening trying to rob a cart with his tax collections on it. Jamie is trapped, unable to leave the play to warn his godfather about the danger facing him and his men. It seems to be a matter of time before Murtagh is arrested, though, as Governor Tryon knows him by name and his position as leader of the Regulators. As the play progresses, Fanning appears to be in a great deal of pain. Seated beside him, Jamie sees his opportunity and makes a show of accidentally bumping into Fanning, his pain reaching shrill levels. With everyone distracted by the unfolding drama, Jamie quickly explains the situation to Claire. As she prepares to perform surgery on the man – in a fancy white dress, I might add – Jamie slips out to send word to Murtagh (Duncan Lacroix) about Governor Tryon's plans. Tryon is resistant to Claire's initial preparations, uncomfortable both with the surgery that is coming and with his assumptions of her inexperience. Faced with no other options, he agrees to help her keep Fanning calm and orders his men to assist, as well. Meanwhile, Jamie encounters Colonel Washington and his wife leaving the party and catches a ride with them back into town, claiming to be collecting the tools Claire needs for her surgery.
Just as Claire is beginning to stitch up the repaired herniation, a male surgeon appears, insisting that she has butchered this man while all he needed was some smoke blown up his bum. 18th Century medicine at its best, you guys. There are some things that we do better in the 20th (and 21st) Centuries. Governor Tryon, impressed by Claire's work, orders the surgeon to leave, insisting that she has most likely saved Fanning's life tonight. The audience claps in acknowledgment of her skills. Yes, yes, we know. Claire is pretty awesome at the medical stuff.
Outside the city, Murtagh and his men are just about to attack the coach that is supposed to be carrying the tax money, but which is actually transporting a half dozen or more British soldiers from Governor Tryon. At the most critical moment, Fergus appears and passes on Jamie's warning. He calls back his men, and the coach continues on without incident. Murtagh is aware, now, of the presence of a spy among his ranks, and we will likely hear more about this and how it is handled in a future episode. Word reaches Governor Tryon of the failure of his plan that night, so now he is aware of a spy within his inner circle, as well, as he had only revealed his plan to a small number of individuals. As Jamie has returned from sending Fergus to give the warning, the consensus is that Colonel Washington is the culprit, as he left the party before the surgery. Jamie's absence has, so far, gone unnoticed. As the show and books have not yet shown a situation where their presence and foreknowledge in the past has changed future events, you have to wonder if his suspicions of Colonel Washington adds fuel to the fire that causes Washington to become the leader of the Continental Army, betraying his current alliance to the British military.
Meanwhile nearby, Brianna and Roger face their own evening of excitement and drama. As Roger is drinking away his discouragement in a local inn and pub, he hears a familiar voice asking about purchasing passage towards Cross Creek on her way to her Aunt Jocasta (not knowing where her parents have settled yet at this point). As she turns around, she meets his eyes and recognizes him. At first, she is excited to see him there, a familiar face amid all these strangers but is also frustrated with him that he followed her here. In the show it seems she is disappointed because she was concerned about his safety and her own fierce independence, but we also know from the books that he was supposed to be her anchor to return home through the stones after accomplishing her mission in warning her parents about the fire that the obituary claims will be their deaths.
Uncomfortable with all the eyes upon them, Roger takes her out front so they can speak more freely. Lizzie (Caitlin O'Ryan) comes downstairs and sees the exchange, watching them argue through the window but unable to hear their words. To her, it appears that Roger is bullying Brianna around, which will become for the future of this storyline. The last she sees of Brianna is Roger pulling her away again, but this time away from the pub and down some side streets to a more secluded area. She will not see Brianna again until late that evening.
In reality, the argument that Brianna and Roger are having out front of the inn is not him being aggressive towards her as Lizzie believes she is witnessing. Let the consequences of this misunderstanding in future episodes be a lesson to you all about making assumptions! During their argument, Brianna slips up and states that she loves him. He latches on to that, the tension between them breaking, and he pulls her away to somewhere more private. He finds what appears to be a workshop that is currently closed, so they slip inside. He has spent a long time searching for her, not to mention his arduous trek across the ocean and the exhausting work he has endured, all after her rejection of his proposal. Despite all of this, he still clearly loves her, and the excitement over their reunion quickly turns physical. This time, however, she pulls away, remembering his hesitations to their previous physical intimacies. Reluctantly, he agrees that his feelings have not changed on the matter. Surprising him, she tells him she has changed her mind. The joy on his face at hearing her change of heart towards marrying him is contagious, and I was unable to avoid grinning along with him. They are just too cute not to be together. Roger mentions an old Scottish tradition called 'hand-fasting' (I feel like we have heard of this somewhere recently…hmm…), though he does not remember all the details of it.
It is suddenly night-time (where did the sun go so quickly?!), and they kneel before a fire he has stoked in the workshop to perform the hand-fasting ceremony. They stumble through it in their sweet, awkward way, but eventually succeed in their makeshift marriage. It seems to be a tradition in this family to have quick, informal weddings, with her mother marrying Frank at a courthouse and Jamie out of necessity and the need for security from Jack Randall. Counting, as well, Fergus and Marsali's hand-fasting from season 3 of the show, you begin to wonder if anyone in this family will have a 'normal', uneventful, and drama-free wedding. As their hand-fasting reaches its conclusion, they do what any newly married couple does (except Fergus and Marsali, for some reason) and consummate their marriage. Right there, on a blanket, on the cold workshop floor. Ah, romance.
Roger, as expected, is a very tender lover, and is careful with Brianna through her first time. He is a modern man, though, and has other ways to please his new wife, as well. Not to be outdone, Brianna returns the favor, and we the audience awkwardly get to watch them give and take their wedding night pleasures. It causes one to wonder where the tv-show line ends, and softcore pornography begins… In all seriousness, though, it was probably only awkward for me because my husband was watching it, too, and I was having to explain that it really was a tv show from Starz and not something else I had stumbled upon on the internet. Where is that line, though? A discussion for another day…
As Brianna and Roger are basking in their afterglow, Brianna discusses her plans to warn her parents about the fire. Roger slips up, commenting on having met the printer earlier in the day and wanting to confront him about the smudged date which makes pinpointing exactly when the fire is supposed to happen impossible. Brianna is surprised at this since Roger is not supposed to have had any knowledge of the obituary until their reunion this day. The look on his face when he realizes his mistake and frantically tries to think of a good cover story is priceless. He knows he is busted and has a mess to fix now. As expected, Brianna's temper gets the best of her, and their subsequent argument quickly spins out of control, ending with her sending him away, back to their present time, insisting that this whole evening – their marriage and the events afterward – had all be a mistake. Being Scottish himself, which an equally stubborn nature, he dresses and storms out. Realizing the mess she has made, she collapses in tears. Of course, we know she did not really want him to leave her there like that, but her pride is too strong to admit it yet.
Having had a roller coaster of a day, Brianna's evening is unfortunately not over yet (poor girl). She returns to the pub looking a bit disheveled and clearly downcast. A group of men is there playing cards, their leader being a man we are far too familiar with this season. As she passes their game, Captain Bonnet (Ed Speleers) grabs her wrist to stop her, asking her to give extra luck to the silver ring he is about to bet. She takes the ring from him and immediately recognizes it as her mother's. Being afraid Bonnet has done something to her mother, she presses him for more information. He assures her that her mother was safe and sound when he left her. Comforted, she asks to buy the ring from him. Perhaps Brianna is distracted or just not thinking, having lived a relatively sheltered life in a less dangerous world, but she seems to miss the sinister look on his face as he offers to discuss matters in a more private location. She follows him into another part of the inn where he quickly makes his intentions known. She turns to flee, but he overpowers her. During the struggle, her boots are tossed out into the main area where the men continue to play their cards, and then the double doors separating them are shut.
For several minutes we watch the men as they continue their cards, not helping Captain Bonnet succeed in his efforts, but also not raising a finger to stop it, or even seeming disturbed by its occurrence. Over the din of their game, we can hear Brianna's struggles and then the eventual dying of her screams, followed only by a rhythmic sound which we, as adults, recognize as Bonnet taking what he wants from her. The men eventually tire of their game, and one even takes a moment to set Brianna's boots neatly by the double doors for her as Bonnet continues to assault her behind those same doors. As he tidies himself back up, Brianna is lying on a small table, in shock from what has just happened to her. She slowly sits up and collects her things from the floor. Bonnet stops her, offering her the ring, insisting that he always pays for his pleasures. Without a word, she takes it, and her boots and slowly trudges up the stairs to her room, the silence of the inn after her attack deafening. Brianna has learned the hard way that this world is very different than the one from which she came.
Review:
Firstly, I want to make it clear that we have no idea what the intents of those involved in the show were. This is all purely connections we, the writers of this site, are making and speculations that we have.
I have known all through the first half of the season that Brianna's encounter with Stephen Bonnet was coming. I was curious to see how they were going to handle it, especially since it is not the first time we have dealt with the issue of rape in this show. Overall, I would say that I do appreciate how it was handled, and felt it was both powerful – as a viewer empathizing with the character – and true to the story Diana has told through her novels.
What I did find interesting was the fact that the writer and director for this episode chose NOT to show us the act as they have with previous depictions. It was more than a little horrifying in the first season of the show to see our beloved Jamie being brutalized by Jack Randall, an act which we did not witness in the book since Outlander (or Cross-Stitch) was only from Claire's point of view. We do, however, both see and read about the young girl in France being raped, while Claire narrowly avoids the same. In Voyager, the union of Jamie and William's mother is very different, though I understand why the tv show handled it differently and actually appreciated that (no one really wants to see Jamie as being capable of something that, by today's standards, would have been considered rape). In Drums of Autumn, however, when we read about Brianna's brush with Stephen Bonnet, it is both graphic and horrifying. It is interesting to me, then, with both the history of the show and how Diana wrote this brutal scene, that the writer and director for the episode chose to 'hide' the act off-screen. Yes, we can hear it and know very well what is happening, but it is not as if this show has been shy about this topic before. Did I want to see Bonnet force himself on Brianna in graphic detail? No, of course not. I am merely curious as to what their motivations may have been here.
So, what are some possible reasons? Is it simply a writing choice? Possibly. In the first season, Jack Randall is the big baddie, and his lust for Jamie drives him to extremes, culminating in the brutal rape in prison during the season one finale. In that instance, the rape is an important part of the story arc and is also a tool to show us just how deep the villainy runs for Jack Randall, how deep his obsession with Jamie will take him. For Stephen Bonnet, his rape of Brianna is not premeditated. He is offered an opportunity and takes it. It is the cherry on top for him that, by forcing himself on Brianna, he is also giving the metaphorical finger to her parents once more. Lord knows, murdering their friends and robbing them was not enough payment for the kindness they showed him during the season opener. He is a brutal man with little care for the welfare of others. He wants something, and he takes it, regardless of the consequences.  She is not important to him. I would argue that it is evident this is not new behavior for him when we see his men nonplussed by the encounter. This is nothing they haven't seen a hundred times before. So while Jamie and the act were important to Jack Randall, Brianna and her rape are not at all important to Bonnet. Or did they want to more distinctly separate the detailed, intimate love-making of Brianna and Roger from the later scene between Brianna and Bonnet? It is always possible, as well, that the pair were just less comfortable with the topic than previous writers/directors, though I would hope they would acknowledge that to their bosses and allow someone more comfortable with tackling this difficult topic take over instead. I doubt this last possibility is the true one, though.
My co-writer, Brooke, saw many parallels between Jamie's rape and Brianna's that I felt were very clever (including the framing of our hero/heroine afterward), but I do not wish to steal her material as my own, and I feel that my review/recap has gone on long enough at this point. Suffice it to say, whatever the reasoning behind how this episode was structured, and the final scene framed, I feel it was a very well done episode, and did not let down my expectations at all. I applaud the actors in this show, as I have yet to encounter one that has not impressed me with the embodiment of the characters they portray. Between the acting, the writing, and the directing, I have little to criticize this season so far. This episode, in particular, I rode the emotional roller coaster with Brianna, feeling her highs as she reconnected with  Roger, and crashing to the lows as she fought with her new husband and then experienced the cruelty of some men. Well done, team, as usual. I wait with bated breath every week for the next carefully crafted episode.
NEXT WEEK, SUNDAY, DECEMBER 30TH AT 8 PM ET: EPISODE 409: "THE BIRDS & THE BEES"
"As Brianna struggles to compartmentalize the trauma she's suffered in the wake of the tragedy that befell her in Wilmington, she refocuses on finding her parents and hits a stroke of good luck, discovering that Jamie and Claire are in town as well. The newly reunited family returns to Fraser's Ridge, where Jamie bonds with Brianna, until dark secrets threaten to tear the Frasers apart."
Photos and clips are courtesy of Starz.