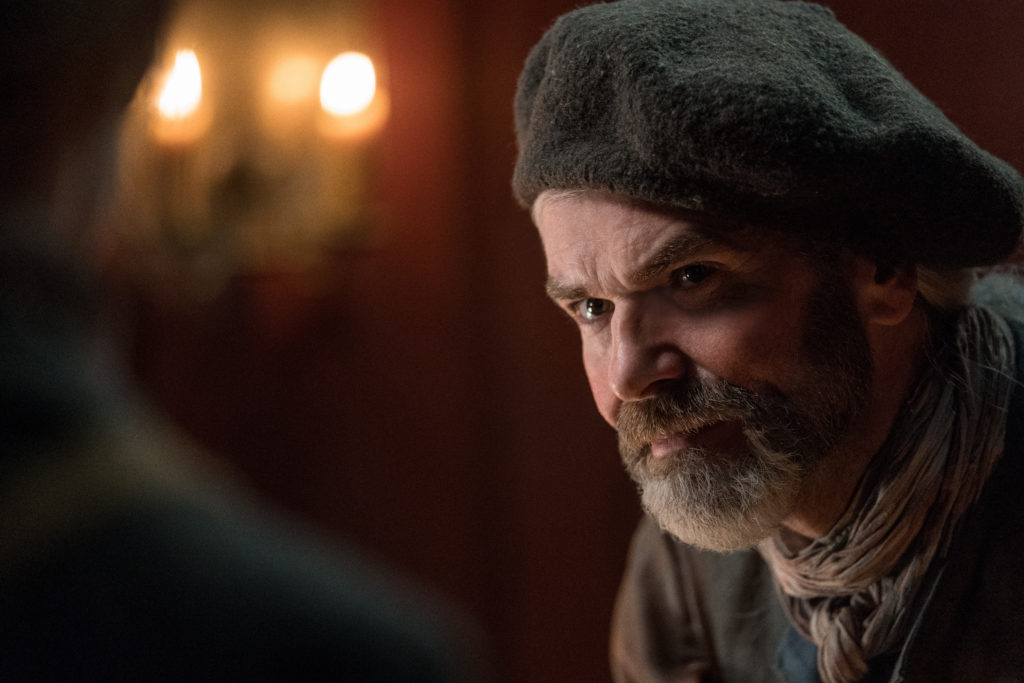 Diana Gabaldon has thrown out hints about the change in Murtagh's status from dead to alive since he survived Culloden in season three.  In this interview with PopSugar, Diana comments on the change and how the writers arrived at what do with Murtagh.
"The circumstances [of Murtagh's return] work out quite well," Gabaldon told us in a preseason interview. "The plot always has to be adjusted and given the particular emphasis that they were using on significant parts of the existing plot, they actually took a couple of my suggestions in how Murtagh could be usefully employed in things that were kept at a distance in the books that were definitely there and historically important. I said, 'Well, you know, he could be involved in [the Regulators] and they did a really good job involving him."

"[Murtagh] died at Culloden for a reason in the book and part of that was to make Claire realize the immense personal sacrifice, the loss of so many men," said Gabaldon. "Death on a large scale is impersonal. Death of someone that we know and who is an intimate part of our life, that's shattering. In the show, we don't know what happened to Murtagh [after Ardsmuir]. He might have died. For all intents and purposes, Jamie thinks he has. He's not seen him again. So the effect on Jamie is one of isolation — he's lost that father along with his wife, so his emotional arc is not changed by the fact that Murtagh is actually alive."
We still don't know what the writers have in store for Murtagh.  Will he still be around in the already announced seasons five and six?
Source: PopSugar