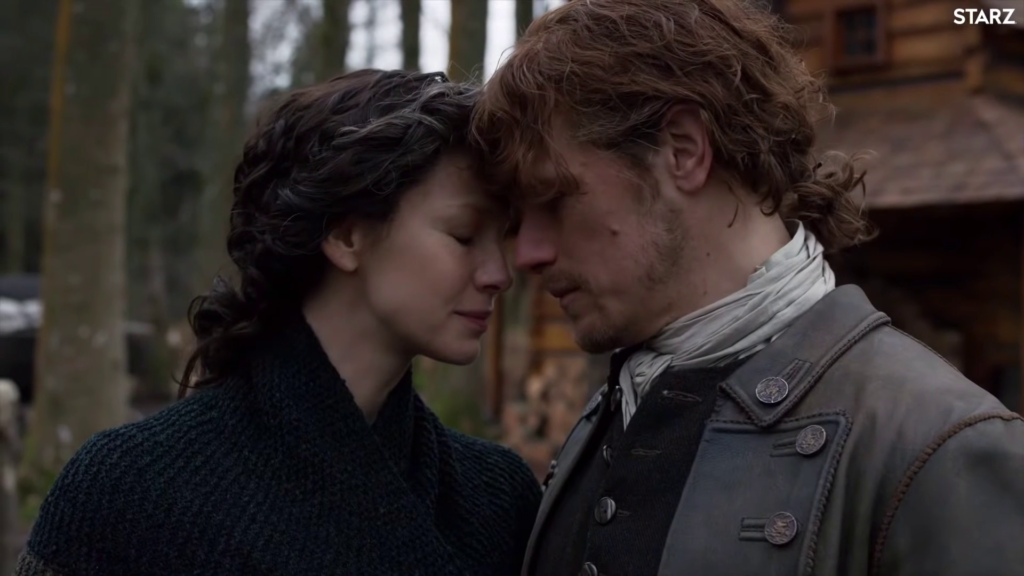 If you have read Drums of Autumn or at least the beginning of it, the first sex scene between Jamie (Sam Heughan) and Claire (Caitriona Balfe) involves a river.  It appears that they did shoot this scene for season four of Outlander, but it did not come out quite like it should considering it was shot in Scotland in the winter and not in a Southern summer.
"There is a nookie scene where, when we were shooting it, it [was] so freaking cold," Heughan says.

"We actually reshot, because there's a scene in Episode 1 that we shot in November, when it was freezing cold," Balfe chimes in, chuckling. "We were fully clothed, and we tried to make it as sexy as possible — and I think they decided it wasn't sexy enough."

So the interaction in question, which you'll see in the premiere, was recreated at the end of the season when Scottish temperatures were a bit more cooperative. "But it's still nighttime, and we were doing it at 3 a.m.," she adds.

"And there were midges," Heughan says. (For the uninitiated, midges are tiny, extremely irritating flies.)

"And there are midges everywhere!" Balfe says. "So you can do something a little bit more nude at that time, but you're always dealing with the elements."
Sam, Caitriona, and executive producer Matthew B. Roberts also discuss the setting for season four and the broadening of storylines.  Head over to TVLine to read all about it.
Source: TVLine