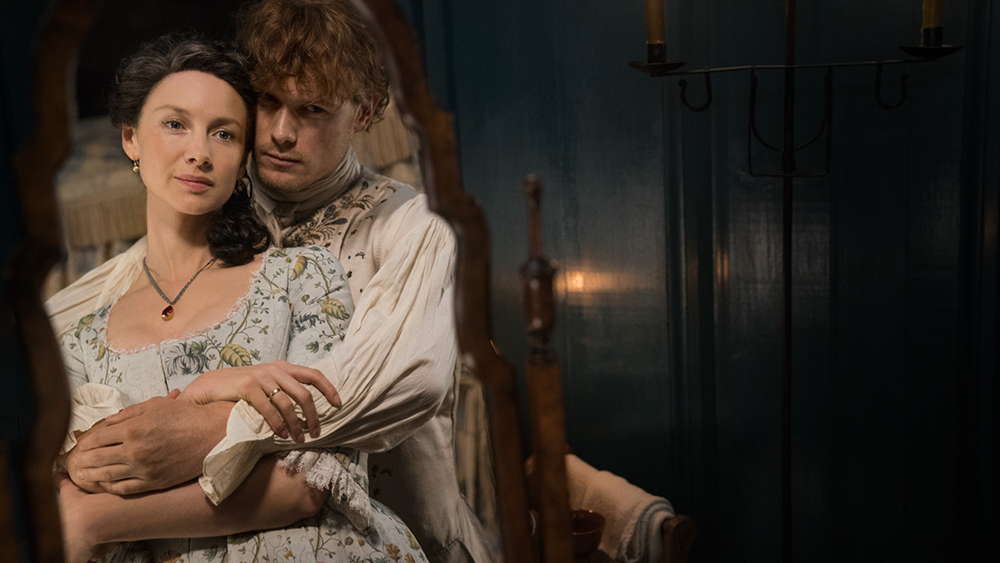 This is the first interview round-up of the season.  Below are excerpts or videos from new interviews with Toni Graphia, Sam Heughan, Caitriona Balfe, Ed Speleers, and Ronald D. Moore.  Be sure to click on the links to read the full interviews. Since these posts/interviews follow the latest episode, beware of spoilers and there may be a discussion about storylines in future episodes.
The Hollywood Reporter: Why the 'Outlander' Season 4 Premiere Revisited a Past Trauma
"We really wanted to have a scene where we showed that Ian is still suffering PTSD from what happened to him, and that one of the only people in the world that could understand it, that he could talk to about it, would be his uncle, because he's been through it too," Graphia says. "Ian has been carrying guilt over it and trying to reconcile it in his head, blaming himself as a lot of victims [of sexual assault] unfortunately do. So when he confides in Jamie, he finds solace in the fact that Jamie has dealt with a similar thing and is able to impart some words of wisdom."

"While we're certainly aware and appreciate the climate of change that's going on in today's world, we don't consciously plan or tailor anything to today's world," she says. "We recognize that we have a responsibility, but we really only endeavor to stay true to our characters and what they've been through. The drama speaks for itself in that the fact that these kinds of things were going on even 200 years ago. Rape and sexual trauma was rampant back then, and things happened to both women and men. This shines a light on it, and I think it does add to today's conversation to show that this has been going on for forever."
SYFY Wire: WATCH: CAITRIONA BALFE AND SAM HEUGHAN REFLECT ON THE OUTLANDER SEASON 4 PREMIERE
IGN: OUTLANDER SEASON 4 PREMIERE: INSIDE THE BRUTAL FINAL SCENE
EW: Outlander premiere: Why the writers changed a key plot point from Diana Gabaldon's book
"Thinking ahead for those of you who know the books," explains Moore, who screened the first episode for fans and then participated in an Oct. 28 panel in Savannah with cast members like Balfe and Sam Heughan. Moore addressed the audience directly. "Are we all friends here? Do we all know the books? The plain gold band wouldn't be noticeable as like, 'Oh that's clearly my mother's ring,' whereas the other one clearly would. So that's kind of why we made that change."
Town & Country: Outlander Actor Ed Speleers Breaks Down Tonight's Shocking Final Scene
Can you break down tonight's final scene, where Stephen ambushes Claire and Jamie's camp on the riverside? What was it like to film?

Due to the nature of the scene, it took quite a long time to shoot, and there's a lot of physicality to it. You've got people who've had their throats slit, or been knocked out or are slumped over a boat. And it boils down to my point of view, which is just Stephen and Claire on a boat.

Jamie's been pinned down outside, and everything sort of slows down. I found it was quite a powerful way to be working. [Caitriona Balfe] is a great actress who brings an enormous level of emotional truth to her role. At times it was quite difficult—[Bonnet] is particularly aggressive and the physical nature of what he does is abhorrent, in any world. And in conversation, Cait and I had to talk about what was the best way to go. But from a purely creative point of view it was an amazing scene to shoot. Julian [Holmes], the director, I'd worked with years ago, so there was a trust and a rapport there.

But I think it's completely effective with the music. I think it's a really clever choice as well. It makes it much more emotive. The great thing is that we've been through that process creatively with the dialogue anyway, and hit all the parts the we wanted to hit, so that music can be more powerful in the final edit.
Sources: All are linked in the post.