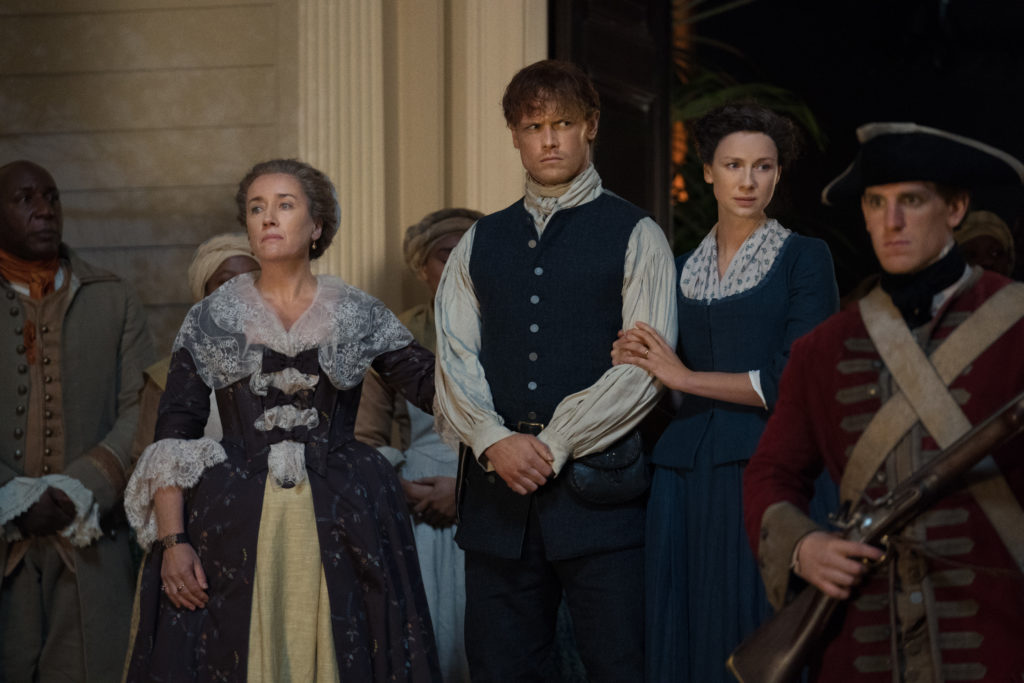 Kristin Dos Santos from E! News sat down with Caitriona Balfe (Claire Fraser) and Sam Heughan (James Fraser) on the set of Aunt Jocasta's (Maria Doyle Kennedy) home in Season 4 of Outlander. Read about her experience on the very impressive set here. And yes, it is in Scotland, not North Carolina (much to my disappointment, as a long time resident of that state).
The first video here is of Kristin, Caitriona, and Sam playing a little drinking game with some fun – and slightly naughty – questions. Don't worry, though, it is all in clean fun (though what they do and do not admit to may break a few hearts). I particularly enjoyed the nice, long drink Caitriona takes when she admits that she has "cracked up" during sex scenes, or the protestation when Jamie admits to sometimes wishing his kissing partner – we assume Caitriona – had a breath mint. I was also intrigued to learn that they were tipsy during some of the scenes they filmed, though NOT during scenes you would expect!
This second video is a more serious interview, with questions about the 4th season of the show, rather than the actors themselves. I thought it was interesting to hear Sam talk about Jamie being the "laird" now, and building this family of sorts around himself in this new place. According to Sam, this is something that Jamie has been wanting for some time now (I can kinda see that with the whole "Mac Dubh" name, carried over from his prison days) and now he can finally see some hope for that. This may be a strange world they are in now, but it is the country where their daughter will grow up, and that matters a great deal to them.
Kristin then asks them about the potential for more children and, as a reader of the books, I just laughed. It is easy not to realize just how old Claire is supposed to be at this point, but Caitriona comments that she is in her early 50's when we see her in Season 4. Time continues to pass for our beloved couple, even since their reunion in Season 3, and it is easy to forget their ages now. There were comments about Jamie and Claire "passing on the mantle" to Brianna and Roger now, but Caitriona makes it pretty clear that they aren't quite old and "washed up" just yet. Don't worry TV fans, there are plenty of steamy moments waiting for us for years to come!
Source: E! News