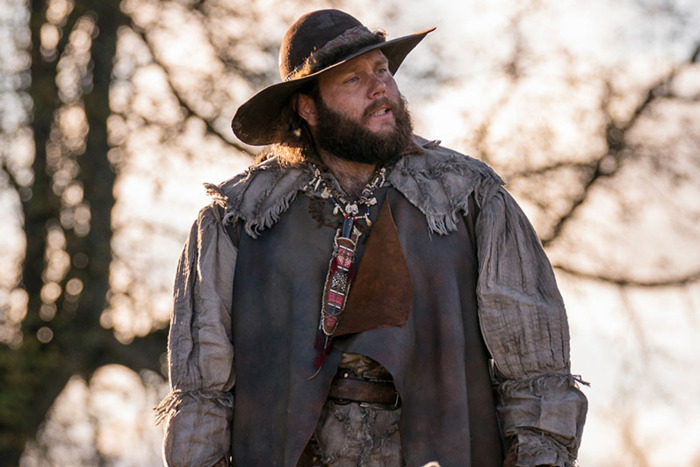 John Quincy Myers in Drums of Autumn is a self-described mountain man, and he becomes friends with the Frasers.  Those that have read the book will remember a certain operation that Claire performs on him that required A LOT of alcohol.
From Outlander Wiki (Spoilers):
Myers meets the Frasers in Wilmington, and upon discovering that Claire Fraser is a wisewoman and a healer, he seeks her medical opinion on what turns out to be an inguinal hernia. Some weeks later, having followed the Frasers to their kinswoman's plantation at River Run, Myers shows up during a dinner party, stinking drunk, and requests that Claire perform the surgery she has previously described, just before he passes out. Claire does perform the surgery – with an avid audience of party guests.
Kyle Rees plays John Quincy Myers in season four of Outlander, and he has already been seen in some promotional videos for the new season.  He is thirty years old and was born in Wales.  Kyle can previously be seen in The Bastard Executioner, Will, Emmerdale, and Hollyoaks.
Welcome to the Outlander clan, Kyle!
You can follow Kyle Rees on Twitter.
Source: IMDb, Starz, Outlander Wiki, Vulture