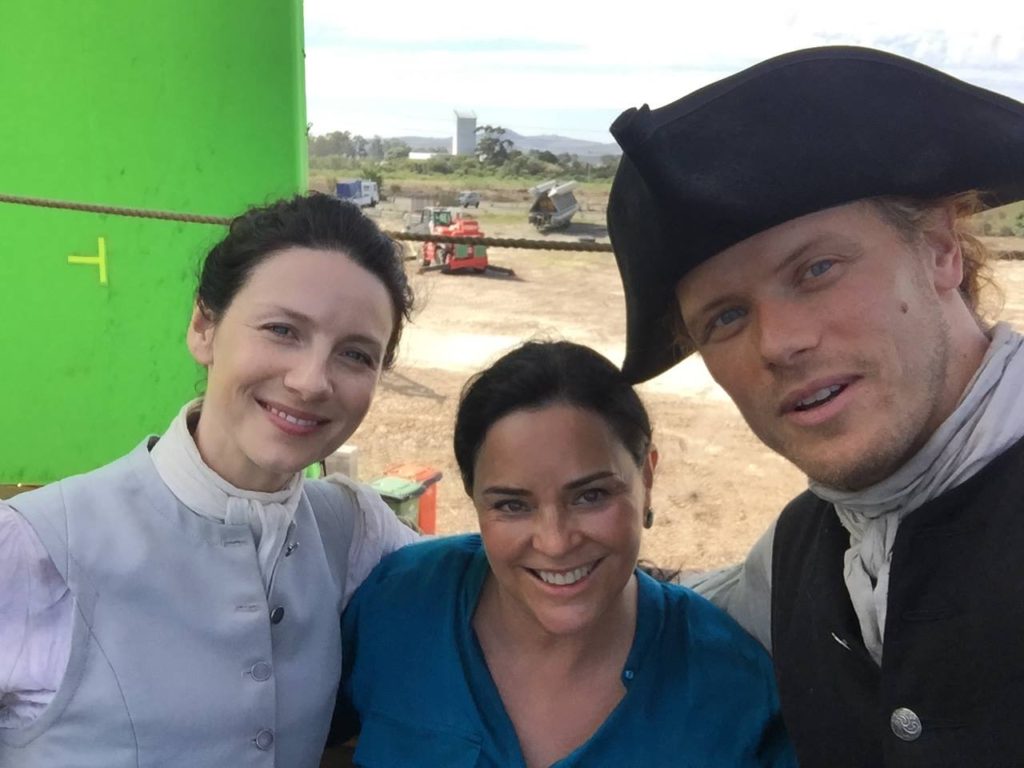 Caroline Hallemann with Town & Country sat down with Diana Gabaldon to ask her some questions about the show and her current project, Go Tell the Bees That I'm Gone. They talked about a number of different topics, but I thought I would highlight a couple of my favorites here.
WHAT SHE THINKS OF OUTLANDER FANS:

"We are extremely proud of our fandom and they of themselves, as well they should be. They are deeply loyal, compassionate, and civil, educated, literate. You know, the first time I had lunch together with Sam Heughan and Caitriona Balfe, the actors from the Outlander show, they were just staggered. They had just met 2,500 Outlander fans and were completely bowled over. They said, 'This is amazing. They're treating us like rock stars.' I said, 'Well don't look now, but you are.'

And then I said, 'Look, I've never had a bad fan experience. Never. Our fans are wonderful people. I attribute this to the fact that people with real mental derangements don't have the attention span to read one of my books. But on the other hand anyone can watch television.'"
It is interesting to think about the differences between fans of the novels and fans of the TV show in that way, but she is absolutely right. There is nothing wrong with being a fan of the TV show without having read the books, but there do seem to be an undeniable correlation there, especially with one of her more recent fan stories from Twitter that I covered in a recent article here for the site.
ON THE RULES OF WRITING A GOOD SEX SCENE:

"First, a good sex scene is about the exchange of emotions, not body fluids. In other words, what's going on physically is not really important. It's what's going on emotionally that's important. You use the physical attributes or setting, only as a means of anchoring the reader in the moment, but it's about what's going on between these two people.

And that leads to the second principle, which is that a good sex scene can only happen between two unique and specific people. If you took one of say, Jamie and Claire's sex scenes, and substituted the names Ana and Christian [the two leads in the Fifty Shades series, for those unfamiliar] for theirs, it would not work. They are very specific, to each kind. And so, if you have a scene that could only be done by these two people, then it's probably a good scene."
As a writer, I am always fascinated to hear about how authors think and create. Diana's words here were very poignant to me, and really made me think twice about how I write my own similar scenes, and how I could make them more emotional and unique to the characters involved. It makes sense, as a scene from something like Fifty Shades of Gray would be completely out of place and jarring to the readers in a work like Outlander. Thank goodness she is able to know her characters well enough to bring them together in such a genuine way.
ON PEOPLE WHO THINK IT'S UNREALISTIC THAT CLAIRE AND JAMIE WOULD CONTINUE TO HAVE PASSIONATE SEX WELL PAST MIDDLE AGE:

"The first time people brought that up to me was my third book, Voyager, where they've been separated for 20 years and come back together again. And someone says to me, 'Do you think anybody wants to read about people who are 40 and having sex?' And I'm about 43 at that point. I looked at her and said, 'I definitely intend to keep on having sex, and so does my husband, if he knows what's good for him.'"
This, I just found hilarious! When I was younger I was appalled to think about my parents in their 40's (or 50's) continuing to fool around and enjoy each other in that way, but the older I get, the more I realize how important this is for a relationship, regardless of the age of those involved. Obviously, at a certain age the body deteriorates to a point where this kind of intimacy is not possible anymore, but hopefully Jamie and Claire are far from that point in the story yet!
ON WHAT THIS BOOK IS ABOUT IN ONE WORD:

Gabaldon has been able to summarize each of her books into one word. Her first book, Outlander, for example, is "love"; Drums of Autumn, which became season four of the television series, is "family."

"I've been able to do it for each of my books, and the fact that I know what this novel's word is, is also an indication of how far we are with it. This one is 'responsibility.'"
Again, as a writer and avid reader, I think it is very cool to see that Diana can summarize her books in this way, and it is definitely intriguing to wonder about what that word for her newest novel might mean for Jamie, Claire, and their family.
Read the entire interview here, on Town & Country.