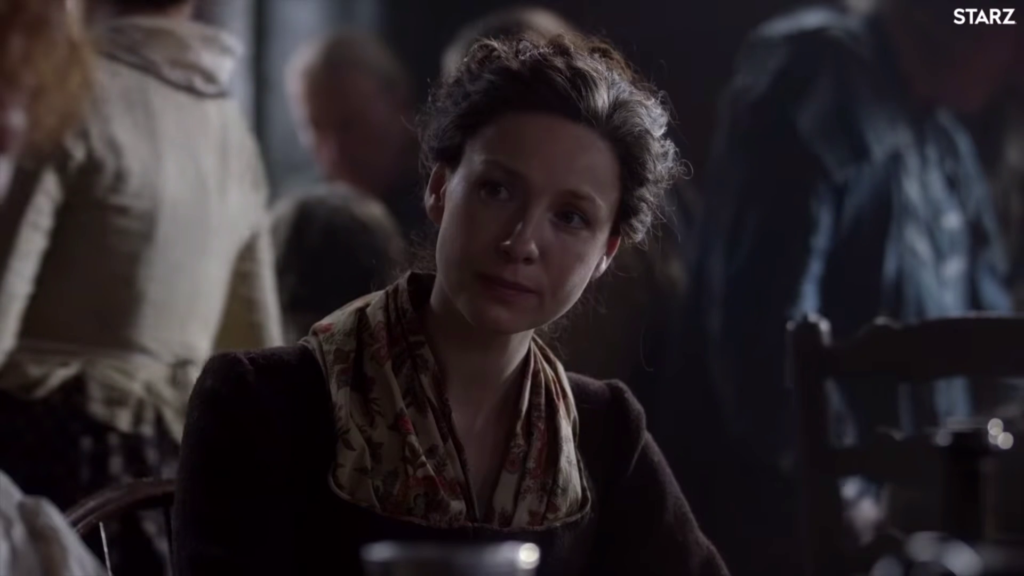 (Katherine is our Show-only Sassenach.  She has not read Drums of Autumn.  She was able to attend New York Comic Con for the screening of the first episode of season four, and below are her spoiler-free thoughts. -Sarah)
I want to look like Claire when I'm in my fifties. Seriously.
Season four of Outlander hits the ground running. We don't pick up right where we left off in season three, but presumably several months after or so. Time has clearly passed, and Jamie (Sam Heughan) and Claire (Caitriona Balfe) seem more comfortable in the colonies, albeit still lacking a proper home. I'll go into more detail in my episode review when the season premieres, but I'm curious to see how faithful this episode was to the fourth book.
This episode gives us an assortment of characters, both familiar and new. I wasn't sure what to make of Stephen Bonnet (Ed Speleers) until I heard the entire audience boo and hiss. Is Bonnet a villain that would make Black Jack Randall proud? (Please come back somehow Tobias Menzies, we miss you. You could act the part of a plant and deliver an Oscar-worthy performance.)
I did like the fact that I had a feeling of unease about Bonnet from his first introduction, and I'm scared to see what trouble his future actions will cause our faves. (Seriously, the audience was cheery the entire episode except for when Bonnet showed his shady face. I'm scared y'all!)
On a brighter note, Rollo (Dui) is everything. If anything happens to Rollo, I will set my hair on fire and forget my pain in the fiery conflagration. Protect Rollo. 
We do not meet Jocasta yet. I'm really excited to see Maria Doyle Kennedy's performance. I loved her in The Tudors, and can't wait to see her in Outlander!
I LOVED what they did with Young Ian in this episode. We also see cute couple 2.0 Fergus (César Domboy) and Marsali (Lauren Lyle).
As usual, the music did not disappoint. As a violinist I always love being nerdy about scores, and as usual Bear McCreary's work never disappoints. I liked the new colonial spin on the iconic opening theme.
There was one musical choice in this episode that was a bit jarring. I thought the disconcerting feeling was intentional and fit well with the overall theme of the episode. It was a risky choice, and I think it truly added to the overall intense feeling of the scene in question. (You will know exactly what I'm talking about when you see it. I swear.)
There's a face Claire makes in the first episode that is so perfect and hilarious following one scene in the first episode. Am I the only one who finds the look on her face funny? The Outlander meme was writing itself!
As if my fellow audience members were listening to my inner monologue, everyone burst out laughing. I even heard a few cheers in the mix.
I challenge everyone to look for this moment in the episode!
And what a pain, Outlander fans. We have to deal with yet another hot and steamy scene between Jamie and Claire. What an absolute bother it is to see this attractive-no-matter-what-age-or-century couple have hot sex.
We have to work so hard to be so dedicated, don't we?
Overall I found this to be a strong beginning to a new season and a new world. Every scene moved the plot forward, and nothing lagged. The cast is clearly comfortable in their roles by now, and I loved the cinematography in this episode. You get a sense of the scope of how vast America is, and the beauty in the nature that surrounds Jamie and Claire.
There are so many details in the episode that I can't wait to discuss, but I don't want to spoil anything for you! Of course, you loyal book readers have a sense of what to expect, but I truly think you'll enjoy the season four opener. 
However.
I will remind you again to have emergency whiskey on hand.
You're going to need it.