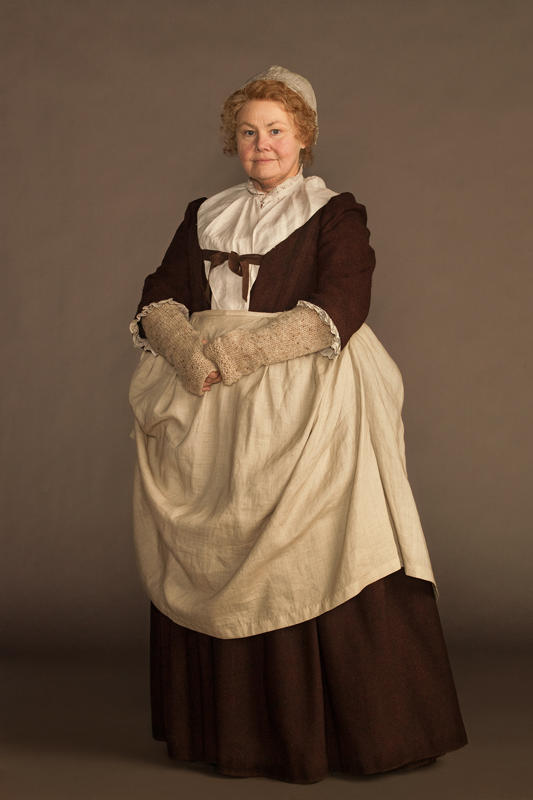 Three actors were the first cast for the series premiere of Outlander. Sam Heughan and Tobias Menzies were two of them.
Annette Badland was the third.
The actress spoke to The Celebrity Cafe her experiences on Outlander as beloved character Mrs. Fitz and her fascinating career.
"Sam and Tobias and I were the first three actors to be cast. So, because they hunted long and hard for Claire, I auditioned and then had to meet Ron. Ron auditioned me.
And I was absolutely bowled over when they wanted me."
Badland had a good laugh recalling the famous scene from the first season where she told Diana Gabaldon herself "Oh, that lovely dress again. You wore it so well to the last Gathering!"
"Nice to be naughty with the writer isn't it, to be cheeky with her?
She [Diana] was terrific. She came on and took it all on board, and to be working in a Scot accent and costume. She was just great. She's great company anyway. I was full of admiration for her to be creative in that way, and it not be a little private moment but to be a huge gathering like that."
The actress recalled being "devastated" that she couldn't return for Outlander's second season due to scheduling conflicts with her role on EastEnders.
"Outlander did want me to go back for some of the second season. And I simply couldn't do it which broke my heart. We tried very hard, but schedules just wouldn't allow it."
When asked by TheCelebrityCafe.com whether the actress would like to return for the upcoming season, Badland replied:
 "Anything is possible, isn't it?" Mrs. Fitz apparently does appear in one of the later books. But whether they'll still be making it, or whether I'll be able to do it, who can say? But I would just love to go back. I was very, very, very happy there."
Fingers crossed for the return of beloved character Mrs. Fitz.
Outlander season four premieres this November.
Source: TheCelebrityCafe.com