[This is not a spoiler-free review of the episode. If you have not seen the episode yet, read it at your own spoiler risk.]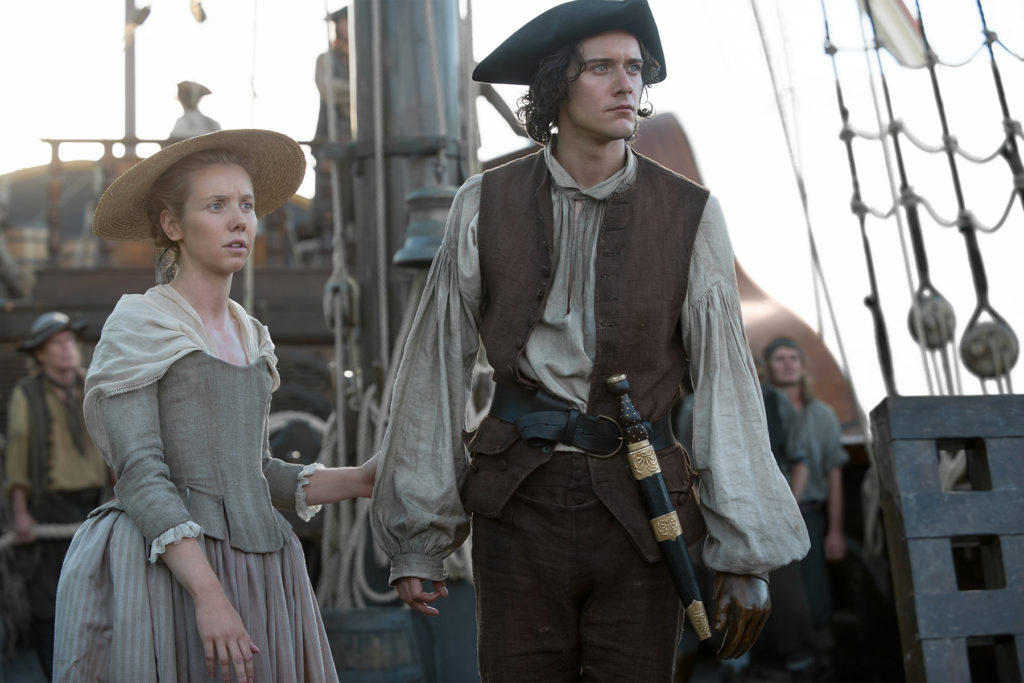 Episode 309:  The Doldrums
Written by Shannon Goss, Directed by David Moore
Firstly, composer Bear McCreary has changed up the Outlander theme song, "Skye Boat Song," again to reflect the change in the story's location.  This change was done in season two with the part of it taking place in France.  This time, there are Caribbean drums at the forefront of the theme song giving us a tropical theme for the last episodes of season three. Along with the theme song, there are new images in the opening credits teasing what is to come for the rest of the season.  I am sure Bear McCreary will be blogging about this new version of the theme song.  It is certainly not something that was expected this late in the season, but as always, Outlander keeps us on our toes.  I can only hope that some flutes make it into the theme song in the later seasons (which we all know is just a foregone conclusion at this point given the ratings and critical praise).
The last episode, "First Wife," kept the important elements of the chapters it covered, much to the delight of book readers everywhere.  This episode, "The Doldrums," keeps the story moving towards the same ending as the books, but elements of the story are omitted and changed.  Honestly, has there been an episode thus far that has been exactly like the book?  No, and I don't ever see that happening.  To take Voyager or any of the novels and transcribe it word for word onto a script would make for tedious television.  What is important for this book reader is that the forward motion of the chapters is there and the characters are true to the book.  There still is an outcry over "Crème de Menthe" unnecessary deviations from the book, and hopefully, we won't see too much more of that anymore.
As much as it would have pleased book fans for Jamie (Sam Heughan) and Claire (Caitriona Balfe) to spend time in Paris, their trip to France never happens in the adaptation.  They set sail from Scotland instead, with Jared Fraser (Robert Cavanah) meeting them there before they leave.  Jared gives Jamie a purpose on the Artemis, aside from getting to the West Indies to save his nephew.
Upon setting sail for the West Indies, there is apparently room on this ship for a person to go unnoticed.  Fergus (César Domboy) and (surprise!) Marsali (Lauren Lyle) appear in front of Claire and Jamie on the deck of the ship.  If you were looking for fireworks and the best scene of the episode, look no further than the confrontation between these four characters.  If only there were more scenes with this kind of spitfire and determination, I might have to watch over and over again.  This fantastic scene is as much due to the script as it is the actors themselves.  This viewer is very much looking forward to future scenes with these four characters.
There are liberties taken with the source material, and it does not have much effect on the outcome of the episode.  Rather than Jamie be the focus of a plot to harm him, this threat is transferred to a crew member after the ship runs into bad luck.  The ship hits a patch of no wind, aka the doldrums, and is stuck in much the same place for a couple of weeks (this never happens in the book).  The superstitions of the crew rank high as ignoring them lead to the demise of the ship's luck, which is what has happened to the Artemis.  One of Jamie's fellow prisoners at Ardsmuir, Hayes (James Allenby-Kirk), becomes the focus of crew's ire calling him a "Jonah."  It is through this threat that Mr. Willoughby (Gary Young) distracts the crew and saves the day by telling his story.  I was a bit worried that Mr. Willoughby would even be on the ship since we never saw any behind-the-scenes photos of Gary Young in South Africa.  It is a relief that he is still present and serves more than one purpose.  This episode has given Mr. Willoughby and Gary Young a nice part to play, along with a beautiful monologue through which he saves the day.  I think book readers can probably agree that so far TV Mr. Willoughby is better than book Mr. Willoughby.
The vehicle through which Jamie Fraser and his legendary seasickness are abated is through Mr. Willoughby's Chinese medicine.  The seasickness is rather severe in the book and afflicts him much longer than is depicted in the episode.  We get a taste of it, but Mr. Willoughby saves the day (or the voyage or Jamie) by using acupuncture to keep his stomach at bay.  It is weirdly hidden from Claire, though I am not sure as to the point of this.  Regardless, all is well with Jamie, and we can proceed with him being more present in the scenes rather than relegated to his bunk, puking.
It is nice to see a couple of familiar faces that have continued along with Jamie through Ardsmuir to Edinburgh and now sailing to the West Indies.  Hayes and Lesley (Keith Fleming) provide a continued link to the past for Jamie as well as being trusted confidants.  They also provide a possible connection to Murtagh as Hayes talks about being transported to the colonies after Ardsmuir, being an indentured servant, and then making his way back to Scotland.  He more than likely knows what happened to Murtagh and where he last lived.  They are supporting characters that may not have the wit of Angus and Rupert, but fill a void left by them.
There is no text on the screen to tell viewers how much time has passed during this episode.  While there is mention of a few weeks during the period with no wind, it is oddly up to one of Claire's physical characteristics to help us out, specifically, her grey hair.  Miss Clairol has not made the trip to the West Indies, and Claire's grey hair slowly comes back.  It seems she is not a victim of the grey roots that so many women deal with (myself included), but the grey grows out nicely with her hair.  Now we only have to come up with some equation for the length of Claire's hair versus the time that has passed, and we have our answer (I kid).  I have to give it to writer Shannon Goss for sliding in the comment that Jamie is the "King of All Men" when he compliments Claire on her grey hair.  Swoon, indeed.
As much as we would love to see Claire and Jamie back together again, things or people continue to keep them apart.  First, it is Marsali's virtue in spite of calling Claire a "hoor."  And secondly, the ending of the episode that has the British Navy kidnapping Claire so she may attend to the sick crew.  Damn your Hippocratic Oath, Claire! The reunited lovebirds can't catch a break, and it now seems they are separated again for hopefully only a small amount of time.
Even with the deviations from the book, this episode is one of the most interesting episodes so far.  Given the complexity of filming almost a whole episode on one ship, the scenes are varied, and the episode did not lag.  There are a few scenes that come quite close to the book, and some lines are identical, hopefully pleasing the book purists.  The episode ends on a mild cliffhanger, making us believe that Claire and Jamie are separated yet again and for who knows how long.  Hopefully, this time it is more temporary.
NEXT WEEK, SUNDAY, NOVEMBER 19TH AT 8 PM ET: EPISODE 310: "HEAVEN & EARTH"
"Claire races to discover the source of an epidemic aboard a disease-stricken ship before hundreds of sailors die. And as Jamie locks horns with Captain Raines, Fergus finds himself torn between loyalty and love."
Clips and Photos courtesy of Starz.