**This is not a spoiler-free review of this episode. This is also a review from a non-reader and any comments revealing spoilers from the books will be deleted.**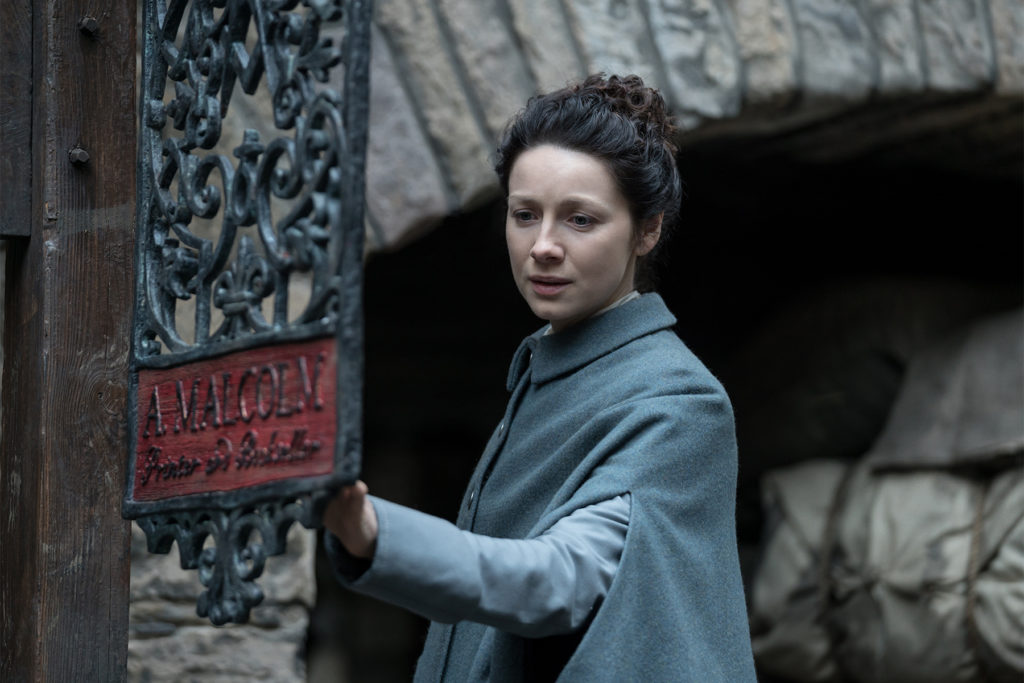 Fuck Fate
Episode 305, "Freedom & Whisky"
Written by Toni Graphia, Directed by Brendan Maher
     I first came face to face with Jamie Fraser at Barnes and Noble. He was stoic and strong and never said a single word. That probably was because it was a cardboard cutout of Sam Heughan, but that's not what mattered. I had tagged along with my mother to a bookstore event promoting the premiere of a book series she had been a fan of since I was born.
Naturally, being the only one at the event completely unfamiliar with Outlander, I was the jerk who ended up winning the raffle prize. I gave my mother the beautiful copy of The Outlandish Companion and started watching the show with her that night.
I have always been grateful to have an incredibly close relationship with my mother. Watching Brianna (Sophie Skelton) be so supportive of Claire's (Caitriona Balfe) happiness in this episode warmed my heart to the core.
"You gave up Jamie for me. It's time for me to give him back to you."
     Remember how I mentioned how I wanted this season to focus more on our dear Claire? Well, I didn't mean in the middle of surgery where she's literally sticking her hands into someone's intestines. Squeamishness aside, damn.
     Doctor Randall is a badass.
     Joe (Wil Johnson) was clearly thinking the same thing in the operating room. Seeing Claire in action was a great opening scene. What was particularly badass was how she kept her cool under pressure and managed to be a healer, albeit in the modern surgical way.
The look on Joe's face as the patient's heart rate went back to normal thanks to Claire says it all. This episode was chock full of wonderful Joe/Claire moments. For the entirety of the season so far, our heroine has been craving respect and Joe gives it to her in spades.
More on Joe later. Brianna is failing her classes at Harvard, and I can't seem to glean if she actually cares or not? And why wasn't her history professor teaching at my university? I loved how he said that Paul Revere had a better publicist. Brianna seems to be at peace with dropping out of Harvard, and I just want to know why.
     The cheeriness of Christmas always seems ironically cruel when you can't celebrate with someone you love. When Brianna softly goes through the old family photos, it's clear she's struggling to deal with the aftermath of the events of the summer and Frank's death. She doesn't seem to be someone that allows herself the luxury of feeling sad.
Like father, like daughter. 
     "You ever going to tell me what really happened there?" Joe has noticed the change in "Lady Jane's" demeanor. Claire does her best to relay losing Jamie in the vaguest terms possible and resigns that it must be fate that she hasn't been able to find him. Joe responds with the greatest line of all time.
"Fuck fate."
Why doesn't this man have a spin-off yet?
     Meanwhile, Roger (Richard Rankin) continues to be awkwardly adorable as he makes his way to the Randall household. Roger really is the perfect foil to Brianna, who instantly softens when she sees him after opening the door in a rage.
Roger probably didn't sign up for a Christmas quarrel, but he soon realizes why Claire was so upset at her daughter. Brianna dropped out of Harvard and announced that she was moving out.
Jamie didn't send Claire back through the stones for this, Brianna!
     But of course, Brianna is eighteen and thinks she has life figured out. She hastily exits, leaving Claire to care for the adorable Scotsman. Roger tries to pass off his visit as wanting to experience an American Christmas, but Claire realizes it's his first Christmas without the Reverend Wakefield.
Roger continues to be amazing by showing Claire a copy of a pamphlet from the correct century that quotes the line, "Freedom and whisky." Claire tries her best to be skeptical, noting how it was a line from a famous poem by Robert Burns.
Brianna's bearded boyfriend reminds her that Robert Burns was only six when the pamphlet was published. I nearly start screaming at Claire to look at the name of the author of the pamphlet. When she finally does, I squeal with delight.
Alexander Malcolm.
     Alive in Edinburgh in 1765.
Claire reacts the way any normal human being would when faced with the prospect that their soulmate they met when they time traveled through mystical stones might still be alive.
"I can't go through that again."
Despite her desire to see Jamie, Claire knows that if she goes back, she may never see Brianna again if she goes back through the stones.
The interlude where Joe is examining the bones of a woman that lived in the Caribbean was intriguing, but I'm wondering what significance it has to the overall plot. I know they wouldn't have introduced this scene for pure filler. I'm curious to see how it'll play into the season later on.
Loved how Joe jumped right from an investigation into bones to Claire's man in Scotland. Claire finally confesses that he's Brianna's birth father and Joe continues to be amazing by telling her that if she has a second chance at love, she should take it.
"Do you still love him?" He asks
"I never stopped." Claire and Jamie's musical theme plays softly as she replies.
Brianna teases Roger about his love for Dark Shadows. I love how he's just as enthusiastic watching the exploits of Barnabas Collins and company as I am when I watch Outlander (how's that for slight meta-ness?) Brianna invites Roger to go along with her to a ceremony at Harvard where the university will be creating a fellowship in Frank's honor.
A girl that invites Roger to a university for a fellowship naming? I could practically see him wanting to ask Claire for her daughter's ring size.
They bond over the stunning historical University architecture while poor Claire finds herself face to face with Professor Sandy-not-Candy Travers (Sarah MacRae) during the fellowship ceremony. Claire isn't able to escape before Sandy rips into her.
"You had twenty years with him. I'd give anything for just one more day."
Again, the viewer can easily sympathize with both women. I'm glad that the show doesn't ever sanctify Claire or Jamie, and allows the narrative to call them out when necessary.
      My heart shattered when Brianna told Claire that she thought Frank must've hated her because she resembled Jamie. Like with poor Geneva in the last episode, we must remember that while Brianna does seem wise beyond her years, she is still a vulnerable teenager. However, I love how she told Claire, "I love you, but I don't need you."
Spoken like a true and feisty Sassenach.
Claire, Joe, and some of the other hospital staff watch as the Apollo II Apollo 8 lands on the moon. Joe ponders how someone could ever return to a normal life after traveling to space. Claire's like, been there, done that.
     It was refreshing to have such a Claire-centric episode. I love how Balfe has transformed Claire from a young woman in love to a wiser and more jaded woman. Even when she dyes her hair with a little help from Miss Clairol, Balfe carries herself with a different weight and bearing.
Older Claire has a quiet strength about her, and I loved how vulnerable she was when she asked both Brianna and Joe if they thought Jamie would still love her and find her appealing.
Joe's reaction when Claire bluntly asked him if she was still sexually attractive was perfect.
"Is that a trick question?" Joe, you are a perfect human being.
     There's a lot of talk in media about the elusive "strong female character," which usually translates into a woman with large breasts, perfect hair that is never frizzy after a battle, and skilled with wielding some large gun. While there's nothing wrong with female characters like that, they're quite hard to relate to, aren't they?
To me, a "strong female character" is a woman who is allowed to be just as flawed and complex as a leading male character.
I loved that Claire needed reassurance about her looks. She is just as strong when she is fiery as when she's vulnerable. She's allowed the luxury of being perfectly human.
Roger, Claire, and Brianna exchange gifts around the Christmas tree. Brianna gives Claire a topaz necklace, and I'm dangerously close to emotional overload because Jesus H. Roosevelt Christ!
     Claire is returning to the past.
     Is she going to get into some trouble though for bringing back penicillin? Seems a tad risky bringing back modern medicine. Clearly, she's going to have to use it, but for who?
    Claire crafts her own 18th-century garb to the Batman theme and I'm too emotional to even laugh at how out of place it sounds on the show. She bids farewell to Roger and Brianna, telling her daughter that she won't let her accompany her to Scotland because she wouldn't be able to go through with it.
Our heroine has a beautiful monologue about being afraid to step in puddles, and I'm waiting to see her go up to the stones but NOPE WE GET A BEAUTIFUL TRANSITION TO HER STEPPING OVER A PUDDLE IN 1765 EDINBURGH.
SHE'S BACK.
OH, MY GOD.
They say a watched pot never boils, no matter how long you wait. Jamie's been hoping for his wife's return for the longest time. Years have passed, and by the time Claire enters his print shop, we hear a man who has finally resigned himself to no longer chasing a ghost.
Of course, that's the moment when he hears…
"It's me, Claire."
Their reunion is beautifully serene. Speechless, Jamie collapses to the floor in a dead faint. Good thing there's a doctor in the house!
Honestly, the only thing better than the actual reunion itself? Waiting to see how my mother reacts to the scene. That'll be a true treasure.
What do you mean we have to wait two weeks for the next episode? Until next time Outlander fans!
IN TWO WEEKS, SUNDAY, OCTOBER 22ND AT 8 PM ET: EPISODE 306: "A. MALCOLM"
"After decades apart, Jamie and Claire finally reunite and rekindle their emotional and physical bonds. But Jamie's new business dealings jeopardize the couples' hopes for a simple life together."
Photos and clips courtesy of Starz.