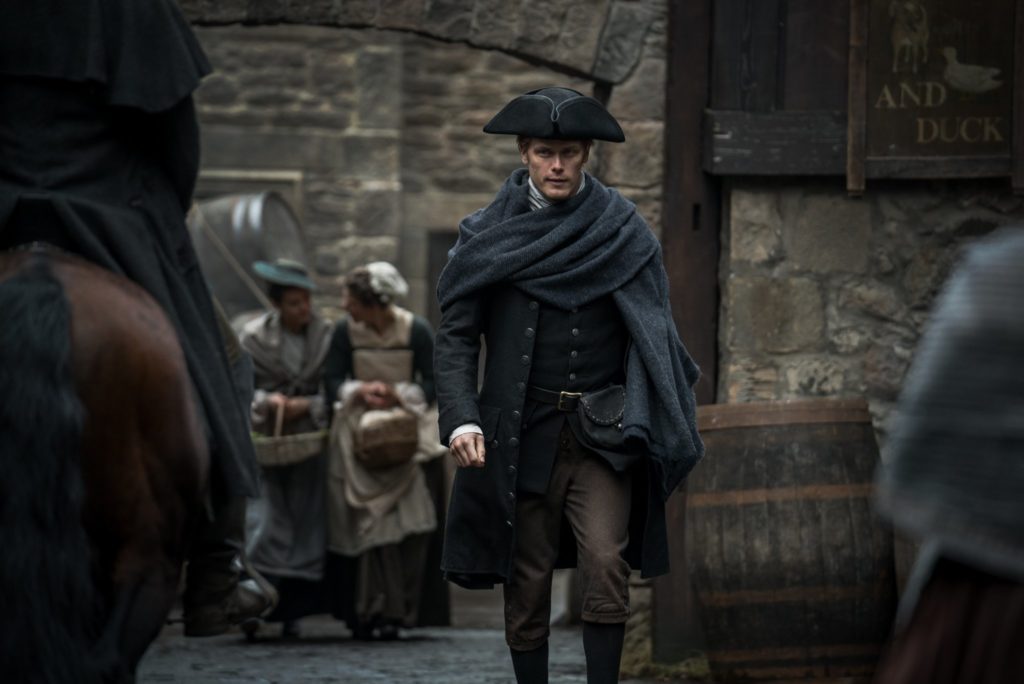 Below are excerpts from new interviews with Caitriona Balfe, Sam Heughan, and executive producers Ron Moore & Matthew B. Roberts. Be sure to click on the links to read the full interviews. Since these posts/interviews follow the latest episode, beware of spoilers for the current and future episodes.
Entertainment Weekly: Outlander: Why Sam Heughan strayed from the book to become four-eyed Jamie
In Sunday night's episode of Outlander, called "A. Malcolm," Jamie (Sam Heughan) sports a pair of Benjamin Franklin-like bifocals while working the press in his print shop. While his need for magnification wasn't specified in Voyager, Diana Gabaldon's best-selling novel on which the show's third season is based, Heughan thought it would be a good idea to incorporate eyeglasses to help change his image.

"It was my idea," Heughan tells EW proudly. "They [the producers] will claim it is theirs. But I sent an email to Ron Moore last year saying, 'How about glasses?' It's not something in the books but I thought it would be a nice surprise. It's a weakness of Jamie's. He doesn't have many. It's nice, and it's something we can play off. It's kind of a disguise as well. He plays so many different characters and I felt when we first see Jamie, it would nice to see him as a completely different character, a gentrified Edinburgh man who has his own business."
Hollywood Reporter: 'Outlander': Inside the Making of the Iconic Print Shop Reunion
Did you actively request to write this episode or was it assigned to you?

I picked it. From when we were in the first season, writers were picking episodes, and I just said, "I'll wait until this one." I used my big pick for this one, because I knew once we officially got the pick up [for season three] that it was going to be the big episode and I wanted to give it a try. I was lucky enough to get, in the first season, the spanking episode and I knew that that was going to be a big one as well. That was assigned to me and I was really happy about it because I like to write the episodes when it's really focused on Jamie and Claire and their dynamics, their relationship. Writing battle scenes and sword fights aren't as exciting to write for this show as the Jamie and Claire scenes. Outlander is literally about Jamie and Claire, so those are the scenes I enjoy.

There have been major deviations from the book already this season, so did you set out to make any intentional changes in this episode?

No, this one, for me, was really the one to stay faithful. The way we planned it within the season, we always knew we were going to take a pause. Most episodes have a lot of plot in them to take you through the story. We have 900 pages of book and only 13 episodes, so you have to keep it plotted out with drive for each episode. This particular one we decided to take a step back, take a breather, so to speak, and let the characters get to know each other again. However long that takes, that's how long it takes. I just let the reunion happen. We rehearsed this episode more than any other, so we did give a lot of time and effort to make this special, especially for the actors, because they hadn't really spent a lot of time together over the first half of this season. They were in separate scenes almost the whole time until now.
IndieWire: 'Outlander': Ronald D. Moore Explains Why He Made Fans Wait to See Jamie and Claire's Reunion
If you thought it was a little excessive, for "Outlander" to wait until nearly halfway through the third season to bring together its star-crossed stars, know that showrunner Ronald D. Moore deemed it necessary.

"I was firm on that," he told IndieWire about denying fans the reunion of Jamie (Sam Heughan) and Claire (Caitriona Balfe). "I was like, 'I want them to want it. I'm happy that they're going a little crazy. Let's make them earn it, getting them back together.'"

His reasons, though, weren't based in sadism — instead, the veteran showrunner wanted to stay loyal to the novels he was adapting for the Starz drama. Thus, following Claire's return to her own time at the end of Season 2, the couple at the center of the Starz drama would spend 20 years living separate lives in their original time periods.

"It felt like there was no scenario where we were just gonna skip over it or just do it in little flashbacks," he said. "It's too big of a change in who these people are, to not really show what they went through. I felt like, 'Well, I want to see some of that story.'"
SYFY Wire: Caitriona Balfe Reveals the Intimacy and Vulnerability Of That 'Outlander' Reunion
The reunion scene was talked about by fans continuously in the downtime between Season 2 and Season 3. How did you all approach the episode creatively?

It was a lot of conversations with [writer] Matt (Roberts). When we were talking about it, we all didn't want it to be the classic romance novel moment. We wanted to play with it like they were two teenagers again and do some mirroring to "The Wedding" episode. Even though they've never forgotten about each other, they don't really know each other, so there's a process of discovery. They aren't quite sure what to do with their bodies or their words. I think that lends a realism to it.

Since this reunion is the middle of the season, what can we expect with the rest of Season 3?

This season, especially, the second half is about transitions. Physically, we leave behind the country that has been at the core of our identity as a show, and we move forward in crossing the Atlantic and arriving in the New World. And in a way, that's also Jamie and Claire who are transitioning from this previous young relationship and having each other on these pedestals for 20 years and into this more mature and deeper version of their relationship as well.
TV Line: Outlander Star Breaks Down Jamie's Confession, AKA 'The Biggest Departure We Made This Season'
"That's probably the biggest departure we made this season," star Caitriona Balfe tells TVLine, explaining that the writers' choice to change the timing of events was because "they felt that maybe it wasn't believable that Jamie wouldn't tell her everything." For what it's worth, she approves of the switch. "I think it fits very well in that scene where Claire is sharing about Brianna, that Jamie would at that point want to share that he has a son," she says. "It ended up working very beautifully in that scene. It becomes about the children, their legachy and what they've created in this world."

She adds that she and co-star Sam Heughan asked the writers early on to amplify the discussion of Brianna and William to include the Frasers' other child. "I was like, 'Can we please put in just even the tiniest thing about Faith?'," she recalls. "Because I think anyone who has lost a child or had a miscarriage or anything like that, it's something they would never forget and that is still part of this family."
Source:
Entertainment Weekly, Hollywood Reporter, IndieWire, SYFY Wire, TV Line