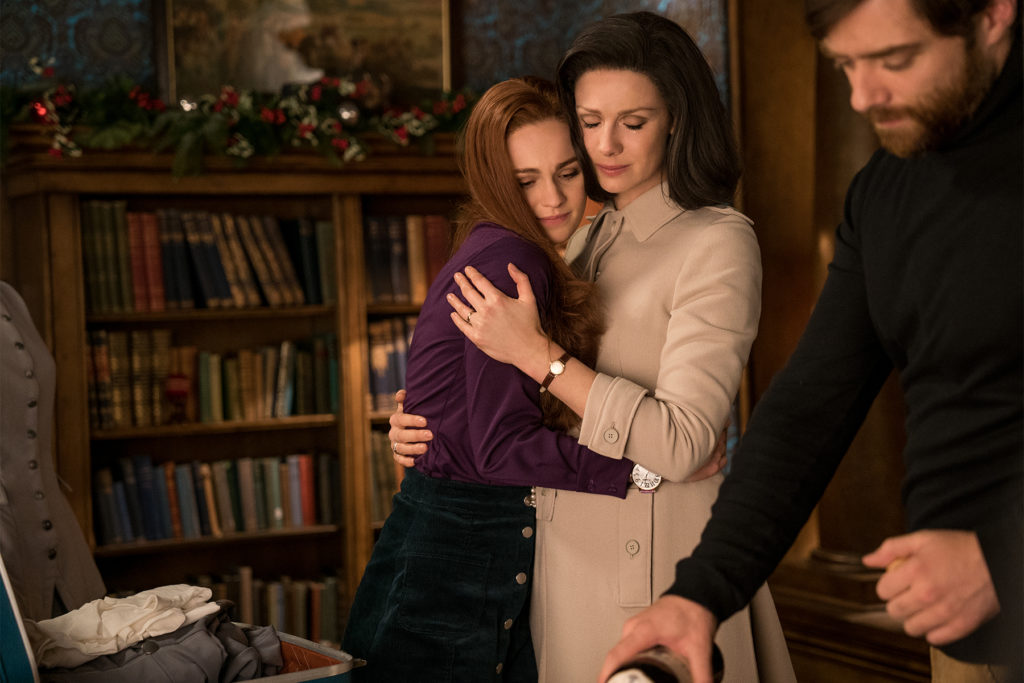 Below are excerpts from new interviews with Caitriona Balfe, costume designer Terry Dresbach, executive producers Ron Moore, Maril Davis, Matthew D. Roberts. Be sure to click on the links to read the full interviews. Since these posts/interviews follow the latest episode, beware of spoilers for the current and future episodes.
Entertainment Weekly: Outlander: Why Claire didn't return through the stones
ENTERTAINMENT WEEKLY: Why didn't you show Claire returning to Craigh na Dun?

MATTHEW D. ROBERTS: We knew we wanted a transition that took her from the 20th century to the 18th century. But if you break down what the scene would be like, she would go through the stones, make her way down the hill and she find her way to Inverness. And then she gets a carriage or a boat and she makes her way to Edinburgh. That's a lot of story. Since the most important part of the story is getting to Jamie, I didn't wanna shortchange the reunion. So we decided we might save [the stones] for another time. We've seen her go through three different times. This was kind of reminiscent of what we did in season 2 where Claire reaches out her hand and then Jamie takes her hand, we spin around and then we're on the docks in France.
Entertainment Weekly: Outlander: The story behind Claire's batsuit
"We wanted Claire to be a woman of the 20th century, who knows she is going back in time, " explains costume designer Terry Dresbach. "I would ask every audience member the eternal question of time travel … if you knew you were going, what would you do? If I put myself in that position, I would make sure what I was wearing was waterproof and make sure it was warm. Claire knows where she is going to, she knows what the conditions are. So she being Claire, being the queen of all women, she figures out practically what she needs."
The Hollywood Reporter: 'Outlander' Team Talks Bringing That Iconic Reunion to Life
Executive producer Maril Davis knew that the initial moment of Jamie and Claire seeing each other again for the first time in 20 years was the most important moment to get right.

"I'm most excited that we chose to do something that most people wouldn't do, which is to spend about 40 minutes in one set with two characters and see them reconnecting," Davis says of the next episode. "Most people would do like 10 minutes and then get out. It's so long to sit with them in there, but to me, it's a luxury and a journey. It's a love letter to the fans to be, like, 'Let's see Jamie and Claire reunite and let's have this bubble fantasy episode before all this stuff comes crashing down on them.' They have to go back to the real world, so it's a real luxurious time to spend with them, and I think the fans will really enjoy it."

Moore and all the Outlander producers knew that the print shop scene is "an iconic scene in the book," so they took their time in bringing it to life the right way.

"Gary Steele, our production designer, spent a lot of time designing the print shop. It was a big set on stage," Moore says. "We just knew it was important so we made sure to give it the time and space and energy. We didn't slavishly follow exactly the moment-by-moment of the book, but it basically did tell the same thread with a lot of the same dialogue and delivered what people wanted to see from that moment."
Variety: How Outlander Cheated Slightly to Bring Its Most Anticipated Scene to Life
Non-book readers may not have known it on sight, but they just witnessed the beginning of what is far and away the most anticipated scene of Outlander's third season. "The first thing everyone talks about is the print shop," series star Caitriona Balfe told Vanity Fair almost a year ago, before either she or Sam Heughan had gotten a chance to film Claire and Jamie's emotional reunion. "'Are you going to do the print shop? You can't change one line of the print shop,'" she continued, lovingly mimicking the show's concerned fans. But you don't need to be an avid reader of Diana Gabaldon's books to know that any scene involving Claire and Jamie back together again would be a popular one.
Source: Entertainment Weekly, Entertainment Weekly, The Hollywood Reporter, Variety