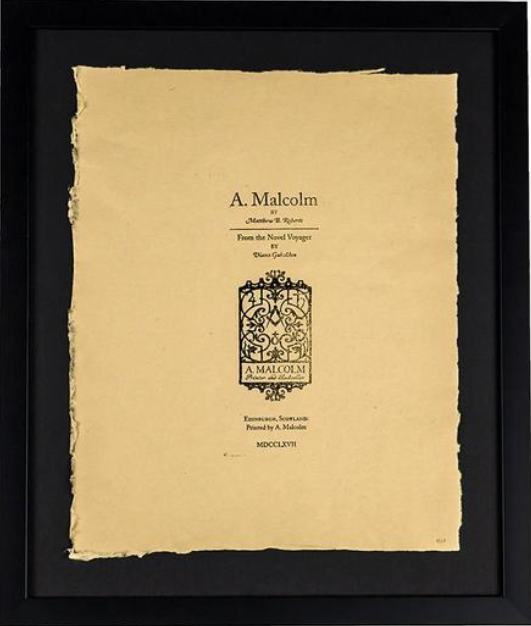 New to the Outlander Store is a "Limited-Edition Framed Print Hand-Typeset on the 1800s Outlander Press."  This is a print made from the printing press used on set during season three.
Here is the description:
Own a piece of the print shop from Outlander with this limited-edition 'A. Malcolm Printer and Bookseller' art print. Hand typeset on the fully-restored 1800's printer from the actual print shop set, as seen in Season 3 of Outlander: The Series, this beautiful framed print recreates the 'A. Malcolm by Matthew B. Roberts' cover page on handmade, archival 80gsm paper (the approximate equivalent of 70 lb. text weight paper). An extremely limited quantity of these unique hand-numbered prints were created during production of Season 3, and twenty of these prints are available now for you to showcase in your Outlander collection. Each print measures approximately 10 inches by 12.5 inches, and the frame measures 13.5 x 16 inches.
Please note that due to the nature of hand typesetting, each print will have variants of the ink that is applied to the paper, which you can see in the product photograph. Additionally, the edges of the paper are purposefully frayed, for added authenticity. Each print has its own variation, making it a truly unique collectible.
The print is available starting 1 PM EST on Friday, October 13th (today) for $225.  Click here to attempt to purchase this item.