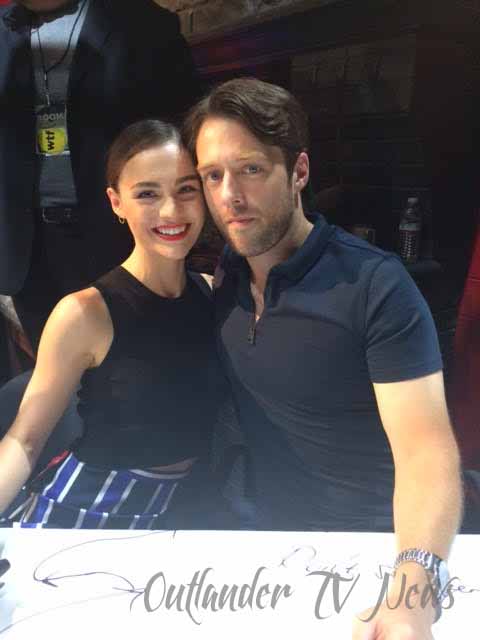 Sophie Skelton and Richard Rankin spoke to Collider about Outlander fans, the expectations of their characters, and what season two means for the characters. Excerpts are below, but head over to Collider to read the entire interview.
Collider:  What's it been like to sign onto Outlander and be a part of this world, knowing how beloved it is? 

RICHARD RANKIN: There's a hashtag that says #OutlanderFansDoEpicShit. That's true! They're so vocal and so passionate. They support the show, like almost no other show with a fan base.

SOPHIE SKELTON: They're amazing! They really are.

RANKIN:  There's actually only six fans, but they're just so passionate and powerful that they carry the fandom. No. They're amazing! Coming onto the show at the end of Season 2, the show was well-established and had a huge fan base. It had a huge fan base before it even started, with something like 23 million book readers. The reception has been amazing. It was quite nerve-wracking, coming onto a show with characters that people have been reading about for years, and carrying that on screen. It's been an interesting and exciting experience.

SKELTON:  You put the pressure on yourself to keep the characters true to what these people have been in love with, for years and years. The first book was written about 20 years ago, so people have been living with Brianna and Roger for longer than we have.

RANKIN:  People have a real sense of what they should look like.

SKELTON:  Neither of us have the correct features of our characters, but nor did Caitriona [Balfe], and the fans were amazing and really accepted her. The fans are absolutely amazing! It's been really great coming onto the show. They've been very welcoming.

What can fans of Brianna and Roger expect to see with them, this season?

SKELTON:  They'll see more of that bumbling awkwardness between Roger and Brianna, which makes their relationship so endearing. Fans like to see Roger and Brianna geeking out together, over the history element.

RANKIN:  It's also a fresh dynamic. We haven't really seen anything like Roger and Brianna on the show yet. Their relationship is very unique. It carries an element of the romance forward, which is very important to Outlander. It starts to branch it out a wee bit more, with this very fresh relationship, set in a completely different time. These characters have completely different ideas that are obviously wildly different from the 18th century characters.

SKELTON:  Their relationship becomes just as strong as Claire and Jamie's is, it's just nice to see that they got there in a very different way. All relationships are different, and it's nice that Brianna and Roger's takes its own route.

RANKIN:  I think they're also opposites. It strikes me that Brianna is a lot like Jamie, and Roger has a lot of the qualities that Claire has.

SKELTON:  For the fans, it's nice to be able to have those moments where you're like, "Just say what you're feeling! Just kiss her!" Jamie and Claire were a slow burn, but you saw them come closer and closer together. With Roger and Brianna, you've got this back and forth, all the time. I think it will be rewardingly infuriating for the fans, but a very nice relationship.
Source: Collider