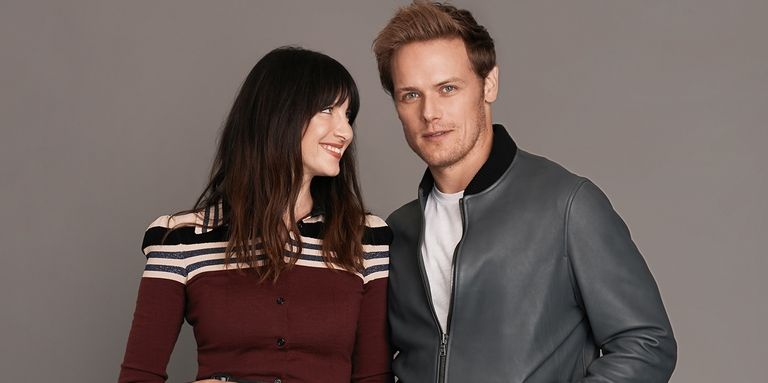 Caitriona Balfe and Sam Heughan spoke to Elle about some of the major details that impact their daily lives when they are working on Outlander.  Sam had to cut his hair for a movie role this summer, and Caitriona gave herself bangs at the end of filming season three.  I wonder how Sam's short hair is going to work with season four.  Will he be donning a wig or will they just have Jamie cut his hair?  Nothing can be as bad as what we are currently seeing in season three.  And does anyone miss Claire's hair in season one?  Excerpts are below, but head over to Elle to read the entire interview.
So, I have to ask about hair: I'm fascinated by your bangs. You cut it right at the end of shooting, right? Did you do it to say, I'm done with Claire?

C: I think it was a really pathetic mini rebellion. I did it in South Africa. We had another two weeks to go. I cut it myself—I robbed the scissors from the hair and makeup department and I took them home and I just was like [chopping motion]. We have a long season. It's 10 months; it's very intense. And sometimes I think you want to own a little bit of your own life, and I think that was my really silly personal rebellion.

S: Everything is controlled. You have great freedom playing the characters, but our lives are so structured, you know, the way you look.

Sam, is this your real hair color? Are you glad to leave the long, red hair behind?

S: It became part of me.

C: Do you miss it?

S: Maybe, I miss it a little bit. But I also enjoy this [shorter hair]. It's great. I did it for the new movie I'm in [The Spy Who Dumped Me]. It's nice to go into makeup [for that] every day and to literally be in there for 5 or 10 minutes. On our show we get so much weathering.

C: A good hour and 45. You're always dirty.

S: Caked in this stuff, and I have small prosthetics up here [above the eyebrows]. So it's nice to put a T-shirt and be done.
Source: Elle