[This is not a spoiler-free review of the episode. If you have not seen the episode yet, read it at your own spoiler risk.]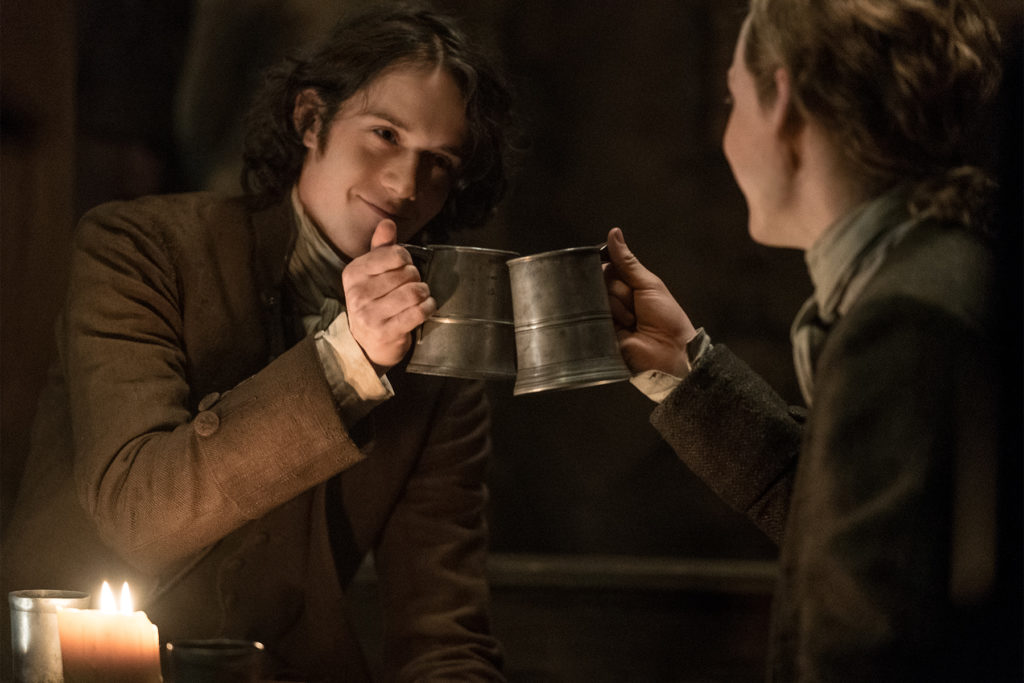 Episode 307:  Crème de Menthe
Written by Karen Campbell, Directed by Norma Bailey
"Stubborn as always"—Jamie Fraser
Full disclosure: I've read through book six A Breath of Snow and Ashes, and though I recall major events from the individual books, the timelines sometimes run together in my head. My review covers how major book events were adapted to screen but don't always address the accuracies/inaccuracies of the Gabaldon timeline.
"He doesn't deserve your mercy" –Jamie Fraser
Last week, Jamie (Sam Heughan) and Claire (Caitriona Balfe) reconnected emotionally, spiritually and good Lord, physically. This week, they're back to wreaking havoc and causing trouble just like they did 20 years ago.
Picking up exactly where we left off, Claire yet again fears for her life as a bald creeper threatens rape. However, an accidental slip results in traumatic head injury and Claire now has her first patient in Edinburgh. We find out shortly after that the man was not a patron of the brothel, but rather one Mr. John Barton (Ian Conningham), a stooge of Sir Percival, the Edinburgh, customs officer.
It's here that my disappointment begins. Don't get me wrong, the pace moves, fast. But it felt like random filler. Granted, the first half of Voyager differs drastically from the back half, so I suppose from a show perspective, we need a firm Not-in-Kansas-Anymore episode. But alas, old habits die hard for our favorite couple, and the responsible pragmatist in me was mildly irritated; here we go again with Claire defying the logic necessary for survival and putting everyone at risk. (I have no idea why this doesn't bother me in the books.) There was just a seemingly large amount of Jamie reminding her that she's in a different time and place.
"But you're not in Boston." –Jamie Fraser
After attempting to relieve the swelling in Barton's skull via scalpel and trephine, much to Claire's chagrin, she loses him. And then immediately sets off to visit a potential new patient, Margaret Campbell (Alison Pargeter). But not before confirming to Jamie that she'll be back this time …
"You will return, after?" –Jamie Fraser
Then, she returns to Jamie and begins fantasizing about hanging her own shingle! She was back in the 18th Century for TWO DAYS at this point. It just felt a bit rushed to me.
"Perhaps I could work from the back of the print shop or open up an establishment of my own." –Claire Fraser
Meanwhile, after hiding the body among the casks of crème de menthe and selling the remainder of Jamie's hooch (including the crème de menthe), Young Ian (John Bell) and Fergus (Cesar Domboy) blow off steam at the tavern. Young Ian eyes the blonde barmaid while Fergus regales him with tails of his first romantic encounter encounters (?). This was some much-needed comic relief.
After taking Fergus' advice, Young Ian finds himself in a whisky-laden haze of romance as he and said maiden get to canoodling at his uncle's print shop. Ian notices a trespasser rifling through Jamie's things and confronts him. The intruder is most likely another one of Percival's goons, but instead of finding proof of additional bootlegging, he accidentally stumbles upon Jamie's other side gig, inciting sedition.
For me, this was the meat of the episode, the next big Voyager event: fire in the print shop! However, I was saddened Jamie was unable to save the printing press. Also, I understand the need for the switch from saving the press to using it to save Young Ian … But really? Jamie is entering the twilight of his years, and I recognize he's the King of Men, but he picks up a practically full-grown man, hoists him over his shoulder, climbs up the print press to the second story and out. I am by no means claiming late 40's is old, (I'm 35) but the life expectancy of the time was 36. And yet, time travel. So what do I know? Perhaps my argument is invalid.
Thankfully Young Ian's dad, Ian Murray (Steven Cree) remains unaware of his son's near-death experience, as Jamie previously feigned ignorance of his whereabouts. It was nice to see Cree again this season. I imagine we'll see plenty more of him and Jenny (Laura Donnelly) in next week's episode.
As much as I wasn't crazy about episode 307, I quite liked certain aspects. The Not-in-Kansas element worked for me by the end. I feel like we're effectively in a new season compared to where we were in episode 301. We're entering a new part of the show. The first half is done, and the back half is its own rollercoaster. We met new characters last week and this week, and now we're establishing the new—and renewed—relationship dynamics:
Jamie and Claire
Jamie and Mr. Willoughby
Willoughby and Claire
Young Ian and Fergus
Jamie and Ian Murray
The Campbells
Though it was paced well, and moved quickly to yet another a major book event "Crème de Menthe" felt like filler. But filler doesn't have to be a bad thing. I'm excited for what's on the horizon for the remainder of Voyager but how in the HELL are we going to get to everything we need to cover in only FIVE. MORE. EPISODES!
 "I've never seen a Scotsman drink Crème de Menthe." –Jamie Fraser
 MANDY'S MUSINGS: For when I can't suppress my inner fangirl.
Poor Caitriona Balfe, always getting pulled by the legs. First by Sam Heughan in the spanking scene from S1 and now this guy in the brothel.
Fergus lost his virginity in a ménage à trois. HA! It may be a tad cliché but I do love scenes in movies/shows when the young suitor seems remarkably surprised that the advice on how to attract women works. Adborbs.
"I am grateful you are here, no matter the cost," Jamie says this to Claire and then continues about her return like the sun in the darkness. I loved how not only the script called back to the S1 wedding episode but so did the musical theme.
A quick note on the Campbells: They're about to take a voyage to the West Indies. I won't say ANYMORE!
I didn't care for Ian's singing. Didn't feel it added anything to the scene other than to show off Bell's pipes.
Young Ian's first tryst was a callback to Jamie and Claire's wedding night (Round 1) when Jamie assumed "you must do it like horses."
Actor Steven Cree is a foul-mouthed cheeky bugger for sure, but I'm crazy about his acting.
"You have no idea what it's like to parent." Says Claire to Jamie. Not cool, Claire! Not cool!
NEXT WEEK, SUNDAY, NOVEMBER 5TH AT 8 PM ET: EPISODE 308: "FIRST WIFE"
"Claire returns to Lallybroch with Jamie, where she does not receive quite the reception she was expecting. Unbeknownst to her, Jamie's made some choices in their time apart which come back to haunt them with a vengeance."
Clips and Photos courtesy of Starz.