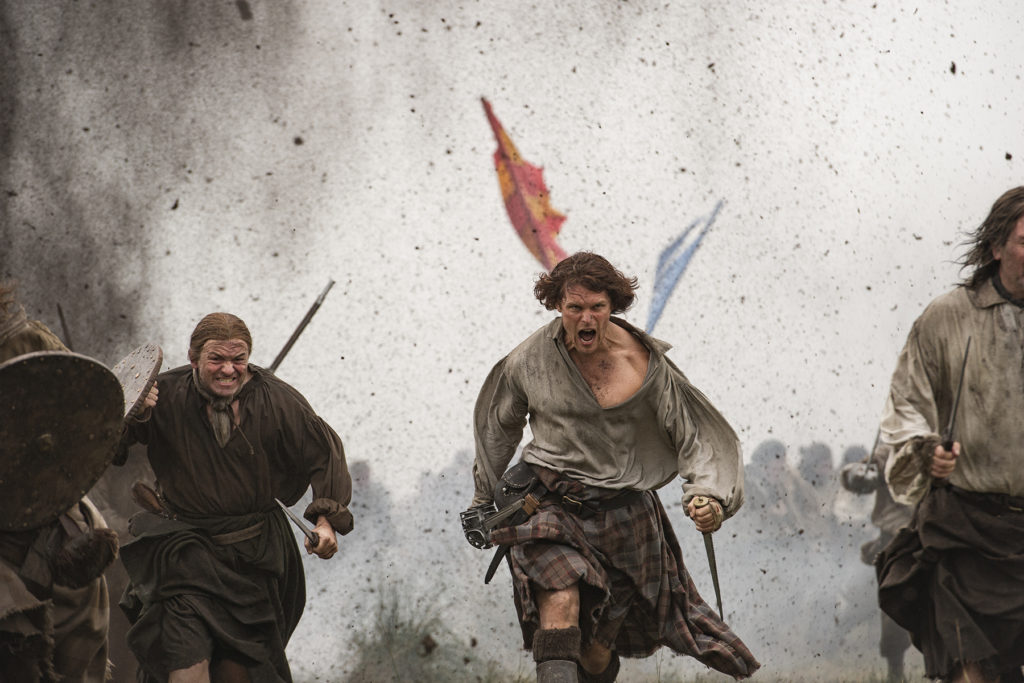 Outlander is back and so are our post episode interview round-ups! Below are a few excerpts from this week's interviews with Caitriona Balfe, Tobias Menzies, producers Ron Moore and Maril Davis, and director Brendan Maher. Be sure to click on the links to read the full interviews. Since these posts/interviews follow the latest episode, beware of spoilers for the current and future episodes.
The Hollywood Reporter: 'Outlander' Cast, Producers Break Down That Shockingly Emotional Premiere Death
The first 10 minutes of the premiere were so powerful, especially considering the fact there was absolutely no dialogue and we only see the Battle of Culloden through jump cut flashbacks of disjointed memories as Jamie lays dying underneath Black Jack's body. Why did you open the season like that?

Ron Moore: At the beginning, I wrote the battle in a linear way, the whole battle from beginning to end at Culloden. I wrote it as the big first quarter of the show. The battle took about 15 minutes so you could play it in real time as it literally happened. And it was just too big. It was too big for our production to really chew off, it was going to take too many days and we weren't going to have time to do really anything else. I made the decision to do it a different way. I wrote it as a more surreal experience with impressions of what happened and using the structure of him hallucinating on the battlefield to tell us what happened along the way. It's like you feel as if you almost did see the whole battle. But it was much easier to sync it like that and shoot little pieces and then construct a story that made you feel like you had seen it all instead of doing it beginning to end. It honestly came out of a production issue but in the end it was a more satisfying and unique way to tell the story than if we had just done the A, B, C, D of it.

Speaking of Brianna, in the scene where Claire gives birth, she's put under anesthesia against her own wishes by the condescending, misogynistic doctor. It was extremely frustrating watching such an accomplished medical professional get her own rights and choices ripped away from her in such an important moment of her life. Is that what really happened back then?

Ron Moore: Yeah, that used to be the way they did it.

Caitriona Balfe: I had done quite a bit of research into all of that because when I read that, I was like, "They can't do that." And then you realize, up until about the late '40s, before that, childbirth was always in the hands of midwifes. It was always a very female-organized thing. It was never really looked at as a medical problem. And then with the dawn of modern medicine and everything that happened in the '40s, it became a medical procedure and the experience, the rights of women, were so completely taken out of the equation. Part of that was a reaction to a lot of childbirth happening at home where maybe it wasn't as clean. There were a lot of social issues that had to be fixed and as with everything, people sometimes do a complete 180 instead of doing the 30 percent of changes they need.
IndieWire: 'Outlander' Season 3: Ronald D. Moore on the Show's Evolution and the Klingon Connection
When "Outlander" Season 3 premieres on Starz Sunday, Sept. 10, it won't be the first time some fans have gotten to see the season premiere, thanks to a surprise sneak peek at San Diego Comic-Con back in July. And in that room, watching along with the crowd, was showrunner Ronald D. Moore.

"It was great. We had them through the whole piece. They laughed at all the right parts. They cried at all the right parts. It was a really gratifying response from the audience," he told IndieWire.
Radio Times: Outlander's Ronald D Moore teases extra long Claire and Jamie reunion episode
"The Claire/Jamie reunion episode is a very special one," Moore told RadioTimes.com. "I think you're going to get an extra-sized reunion episode."

"I feel very good about the season. I think it's a really strong season; in some ways it might be our strongest season," he said.

"The book was a much easier one to adapt than the second one was; in terms of story and structure the second book was really complicated. This one had a cleaner narrative structure to it, but it was also a really unique journey. Covering these 20 years that Jamie and Claire spent apart is fascinating, separating your two main characters for big chunks of the show, then leaving Scotland and going to sea and ending up in the Caribbean – it's a big, epic tale."
SYFY WIRE: Watch: The 'Outlander' Cast Share Their Highlights of the Season 3 Premiere

TV Line: Outlander's Caitriona Balfe Breaks Down Claire's Premiere Heartbreak: 'She's Still in the Depths of Grief'
Even though some time has passed since Claire was ripped away from Jamie and the 1700s, the loss is still very raw for the new mother. "It's a hard thing to imagine how somebody copes with grief and at the same time has to build a new life," Balfe says, referring in part to the episode's big finish: the birth of Claire and Jamie's daughter, Brianna. "There's two very opposite things pulling at Claire. And in a way, she really is going through the motions."
Vanity Fair: Outlander: The Most Stunning Season 3 Premiere Moment Was Entirely Improvised
According to a behind-the-scenes interview with executive producer Matt Roberts that aired after the episode, it was Menzies himself who concocted Randall's last, surprising act. "Tobias, he finds things in the moment, and sometimes you just never know what you're going to get," Roberts said, referring to the yearning reach Randall makes towards Jamie as he dies. "He surprises you with something special or extra, and that's what makes him shine on camera."
Vulture: Tobias Menzies on Outlander Season 3, Claire's Baby, and Rooting for Team Frank
I'm so rooting for Frank. With your portrayal, are you trying to maybe shift fan allegiances? Because I was very Team Frank at the end of this episode.

TM: Aww, that's nice to hear. I mean, to be totally honest with you, we can't really approach it like that. You just have to serve the story the best we can. I think to make Frank as 3D as possible is definitely the best thing for the books and for the story, and makes the story more interesting, makes it more complicated for that weird love triangle at the heart of the story. But listen: Any convert is great to hear, so I'm glad you felt Team Frank.
Vulture: How Outlander Shot the Epic Battle of Culloden in the Season 3 Premiere
Energy conservation became a top priority. For instance, in the shots where the Highlanders are charging at the British, they're actually on a slight incline. "You'd do four, five, six charges for a shot, and everyone gets exhausted very quickly. No one likes to run all day!" said Maher. "The adrenaline is fantastic at first, but then after that it gets really hard." So they would use three, sometimes four cameras — usually handheld — in order to get as many of the shots they could without having to do too many takes.
Yahoo!: 'Outlander' postmortem: EP Maril Davis on Jamie and Black Jack's 'beautiful' showdown
Ending last year with the big fight was never really on the table. "No, we knew we wanted to start Season 3 with the battle. We thought it would be such a strong opener even though it was a huge undertaking," she says. "It took us five days of normal, principal photography and then five days of second-unit work. It's all real, [except] there's a little bit of tiling, which is when they [digitally] put in extra people. There was only so many people we could get out there on location. And nobody died fighting at the reenactment of Culloden. Not even a horse. [Laughs] But the rest is real. The sky and the meeting between our two main characters were all real. It's all very intricately choreographed, down to every movement. It was so rewarding to see it all come together in the end, and I am very proud of what we accomplished with our budget and schedule constraints."
Source: The Hollywood Reporter, IndieWire, Radio Times, SYFY WIRE, TV Line, Vanity Fair, Vulture, Yahoo!