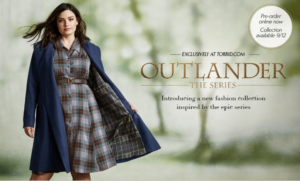 Just in time for the season three premiere, Torrid released yet another line of Outlander inspired garments. And they are fantastic!
From Claire's (Caitriona Balfe) 1940's navy swing coat to her signature season two red gown, the 12-piece collection includes ribbon accents, floral patterns, and what I'm calling the "Sassenach Sass" Sweater. (Be sure to read the garment descriptions. They're delightful.)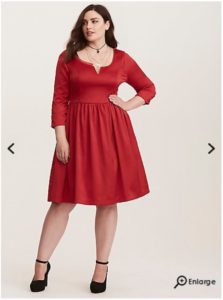 Description from website: It's here; the red dress. Crimson red satin will turn heads at King Louis XV's gatherings, with a fitted bodice and a plunging v wire cutout neckline that'll drop jaws (and provide support). The ruched sleeves play up your proportions while the tulle lined skirt lends volume. Red chiffon trimmed neckline. Pockets.
Items are currently available for pre-order.
Source: Torrid.com