[This is not a spoiler-free review of the episode. If you have not seen the episode yet, read it at your own spoiler risk.]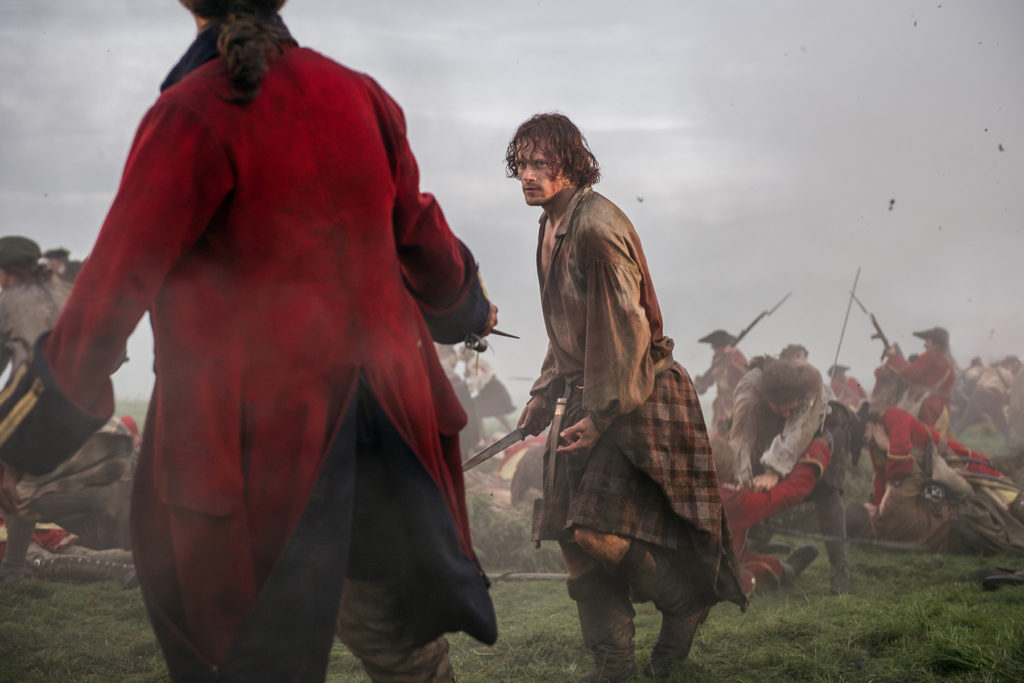 Episode 301, "The Battle Joined"
Written by Ronald D. Moore, Directed by Brendan Maher
Review:
It has been well over a year since a new episode of Outlander graced the screens of its loyal viewers.  The longest "Droughtlander" to date ended this Sunday with the premiere episode of the third season, "The Battle Joined."
Season three is a turning point for the characters and the series.  We are seeing the aftermath of Jamie (Sam Heughan) and Claire's (Caitriona Balfe) departure from each other, with Claire back in her own time and Jamie determined to die on the field of Culloden.  This marks the first episode of the series that the two main characters are not together, and will not be together for a few episodes at least.  This presents a challenge to Outlander the television series.  The characters time apart has to be satisfying and hold the attention of the fans.  If this was a series that you could binge watch, these early episodes have to give both readers and non-readers something to chew on, and not make them want to skip ahead.
"The Battle Joined" is the perfect first episode, as it gives the audience an in-depth look at Jamie and Claire's lives following their separation.  Jamie's storyline only spans a few days, while Claire's story is over a few months.  With the constant back and forth between their stories, it compares their pain, their sorrow.  Nothing rips your heart out more than hearing Jamie say, "No. Let me be. Let me be," while Rupert is pulling him off the field.  While Claire is indeed in a better situation than Jamie, the anguish is the same.  They have to come to terms with the other no longer being there.  We still have not seen Jamie deal fully with his loss, but Claire hits a turning point with the birth of their daughter, Brianna.  Claire is fortunate; she has a piece of Jamie with her always.  Jamie only has his memories.  Brianna will also be a constant reminder of Jamie for Claire, so there is no forgetting (if she ever could) the greatest love of her life.
Culloden has been a major focus over two seasons of Outlander.  With this first episode, we finally see the battle.  Even book readers are in the dark for this part of the episode as it was never described fully by Diana Gabaldon in the third book, Voyager.  There are only the fleeting memories of Jamie, and the show has echoed the book in this way.  We do not see the battle in real-time, but only in the fevered, delirious recollections of a man dying on the field of Culloden.  Some of the memories (scenes) are clearer than others, which gives the impression that not all may be truthful.
If there was ever a death that should be celebrated on Outlander, it would be that of Black Jack Randall (Tobias Menzies).  We knew his demise was coming based on what Claire whispers to him back in season one, and we find out what that was in season two.  The scene of the final battle between Jamie and Black Jack is one of revenge and hatred, but also holds an air of beauty and romance.   This is due to how the scene was shot by director Brendan Maher and his director of photography Alasdair Walker. The beginning of the scene transitions to a cinematic quality, the speed slows, and the lighting changes.  It is a fitting finale, and beautiful at that, to a man that has caused so much pain for Jamie and for the brilliant actor that played this role better than anyone ever could.
The domestic life in Boston does not suit Claire.  She is used to taking charge and living a certain way.  Now she is relegated to being the housewife and learning how to readapt to the twentieth century.  She is essentially on her own, filling her time with chores that do not fulfill her life.  She is still in shock, and the way she behaves around Frank (Tobias Menzies) does not engender him to feel sorry for her.  He does give her space and as much support as he feels he is able, but the wall between Claire and him is too much.  It all blows up in an argument of epic proportions, and I am sure that will not be the last one we will see.  To add insult to injury, Claire must deal with men putting her in her place and not seeing her as her equal.  This carries over to the birth of her daughter where her wishes are ignored in favor of what is thought is best for her.  While Claire is not a modern woman, she was one back with Jamie; however, she is a forward-thinking woman, eager to break the rules and speak her mind, much to the dismay of the men around her, including Frank.
There is an art to "The Battle Joined."  The way scenes are shot and lit is not standard.  The segues between a few scenes elevate them, even if at least one may confuse the viewer.  The battle of Culloden is not shot in a standard sequence given Jamie's recollections.  There is no score for the battle scenes or when Jamie is lying on the field, instead clinging to the sounds of battle and Jamie's heavy, labored breathing.  It is only in the final faceoff between Jamie and Black Jack that music starts (by composer Bear McCreary), and it continues as Jamie thinks he sees Claire.
There is a foreshadowing of future episodes as well as throwbacks to earlier seasons.  The most apparent is the dragonfly in amber piece that has made appearances in both seasons one and two, and its focus leads to the transition of the beginning of Claire's story.  Due to the framing of at least one scene, it may hint at the future for Jamie.  Claire's cries after giving birth are exactly those of the season two episode, "Faith."
The episode is a goodbye to a few favorite (Rupert, Murtagh) and hated (BJR) characters, ones that may never be seen again.  The supposed death of Murtagh (Duncan Lacroix) on the battlefield begs the question of whether he will return.  It's like a soap opera death; we did not see his body.  For those that have read the book, we do not see Murtagh again, but this adaptation has not always followed the book to the letter.  We can always have hope of him returning in some capacity (this is discussed in depth in our SDCC Fan Panel video).
The first episode of season three of Outlander does not play around.  It throws you back into the action of Jamie's fight, even showing the moments right after Claire left.  Claire's life continues to where we left off in the first episode of season two.  The back and forth between the Jamie and Claire keeps the episode engaging and does not spend any time with frivolous nods to book readers.  Both Jamie and Claire end the episode at a new beginning.  "The Battle Joined" is a fantastic episode to re-engage the viewers and a jumping off point in what will be (and has to be) the most epic season of the show.
NEXT WEEK, SUNDAY, SEPTEMBER 17TH AT 8 PM ET: EPISODE 302: "SURRENDER"
"Hiding in an isolated cave, Jamie leads a lonely life until Lallybroch is threatened by redcoats pursuing the elusive Jacobite traitor known as "Red Jamie." Back in Boston, Claire and Frank struggle to coexist in a marriage haunted by the ghost of Jamie's love."
Clips and Photos courtesy of Starz.