It is hard to believe that it has already been two weeks since San Diego Comic Con.  The summer is going by in a flash and September 10th will be here before we know it. Even though a lot of 'Outlander' cast autograph signing pictures have been posted everywhere I thought I would add mine in for good measure.
The autograph session was held at 2 pm on Saturday, July 22nd, the day after the 'Outlander' panel and viewing of the first episode of season three. On that Thursday and Friday, the Starz booth had a draw for a prize bag and most of the goodies were the tee shirts, totes, leather wrapped flasks, and gold foil tattoos, but between 150-200 of the thousands of tickets were "golden tickets" in that they said it was a pass to the autograph signing on Saturday.
As Saturday rolled around the crowd started to form a little before 1 pm. As previous con attendees know, SDCC has a long standing policy that you are not to just stand in the walkways or hover around the various booth signings, or other special events that may be happening on the floor at any given moment.  You are instructed to "keep moving, keep moving." You know to snap your picture and move on down the hall, a bit like cattle. Well, when I arrived at about 1:30, the Starz booth wasn't even visible.  The crowd was so large and thick it was overwhelming, there were women upon women pushing and shoving, all yelling at each other to move, and vying for a position at the window area of the print shop.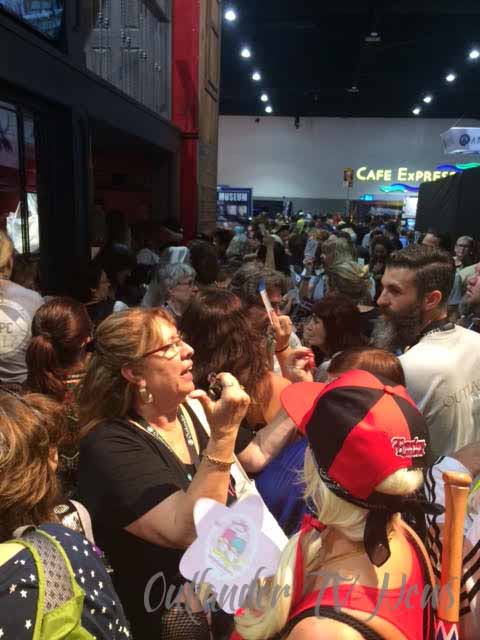 The Starz marketing team was attempting to contain the masses by having the ticket holders line up against the windows of the booth to form the start of the signing line and were trying to tell everyone else they had to move on because the fire marshal would be coming by and wouldn't allow the chaos that was currently there. Bless these men, (Jordan, you are a saint) and their attempts at organization because they were SCREAMED at. I stood in horror as I watched grown women scream at these organizers and each other. I took my place in line with a friend and we started discussing a panel we had just watched before lining up and our disappointment that it was shorter than the allotted time and didn't have any real surprises. A woman that was one of the non-ticket holders started yelling at us first asking "DO YOU HAVE A SIGNING TICKET?"  When we held them up, she went on to scold us that we should be grateful that we have signing tickets and shouldn't be complaining about ANYTHING with the way the 'Outlander' panel was handled and that if we "didn't want our tickets there were plenty that would happily take them off our hands". We both held our composure so as to not to add to the insanity and let her know that we were not complaining about anything 'Outlander' related that it was another panel from earlier that morning. There were a few more encounters with disgruntled attendees.  I don't know why so many there were so angry and felt the need to yell at whoever they encountered, but it was terrifying. Frustrated with the hateful behavior around the booth, I followed the staff and went to a separate area of the line further back with much friendlier fans, (shout out to the back wall fans, you all were the nicest and most composed fans ever).
Soon the bagpipers led by Dark Isle Piper Tress Maksimuk announced the arrival of the cast and crew.  They paraded down the aisle to the take their seats at the booth. As usual, they were gracious and kind to all fans that came through the booth, taking their time to interact with everyone. When it was my turn to enter the booth I hadn't realized there was a hearing impaired person in front of me because she had a translator with her.  This meant that I spent a bit of time standing in front of all the cast having a chance to "chat". I spoke briefly to Diana and Ron over my enjoyment of the season three opening episode, Maril and I discussed the commissioned print the lady behind me had comissioned at the convention.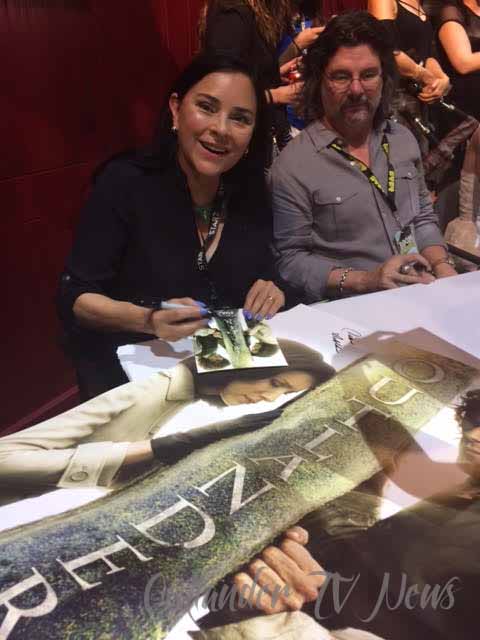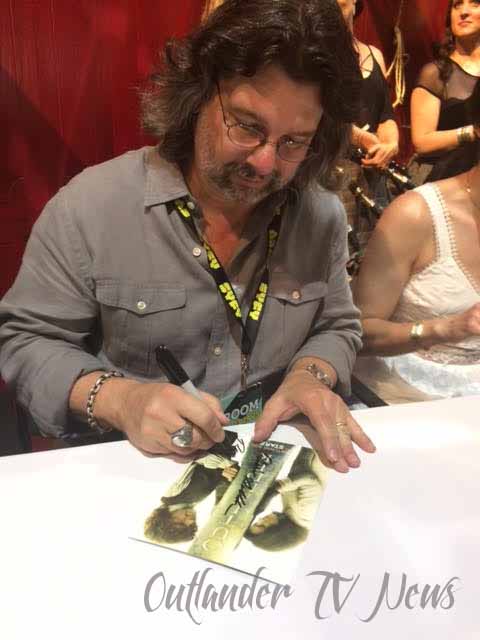 Commissioned print the lady behind me had purchased.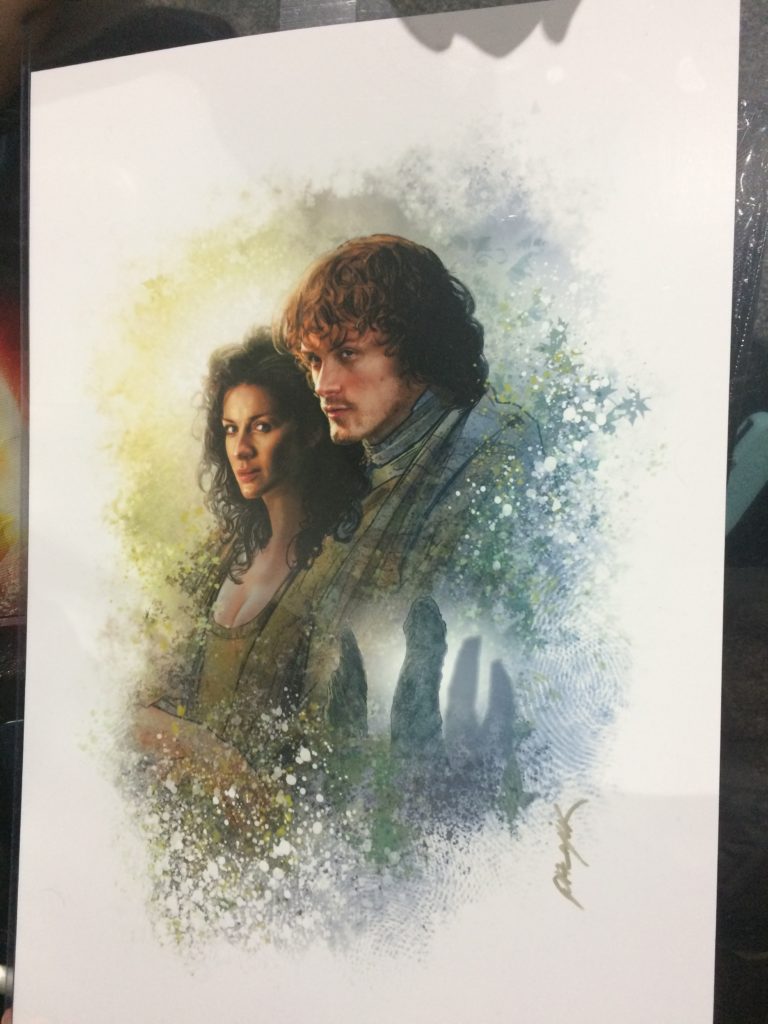 I watched Caitriona let the lady in front of me know that she only knew her name in ASL, and proceed to sign it.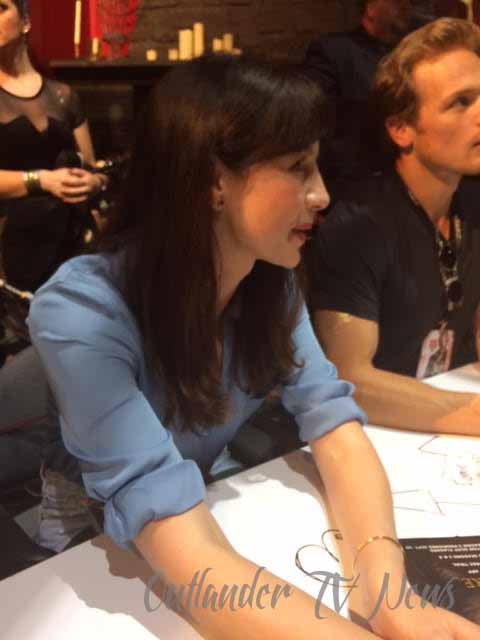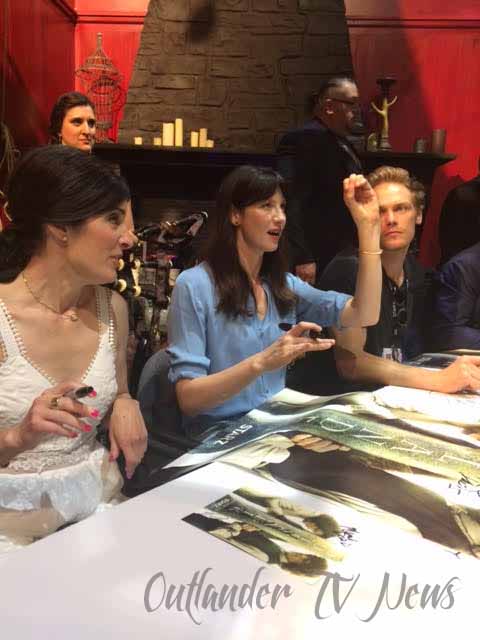 I spoke with Sam for a moment on Stranger Things (the panel I was going directly back to as soon as I left the booth), earning a high five and groan of slight envy, and then it was to Tobias. I have never had the chance to meet Tobias and have always joked that I thought I would be too intimidated to have a coherent conversation, there is something about his poise and grace that I have always thought would unnerve me. I am happy to say I held my own, we spoke about the season three premiere and how much improved the pacing was, over season two episodes. At one point Sam started listening to our thoughts on pacing, the time allotted to each "time period" in Episode 301, and Tobias' thoughts on the difficulties of adapting "Dragonfly In Amber" (season two) from book to screen. Once the season has aired a few episodes I can go into a bit more detail of the conversation with both leading men, but right now it may be to "spoilery" for some.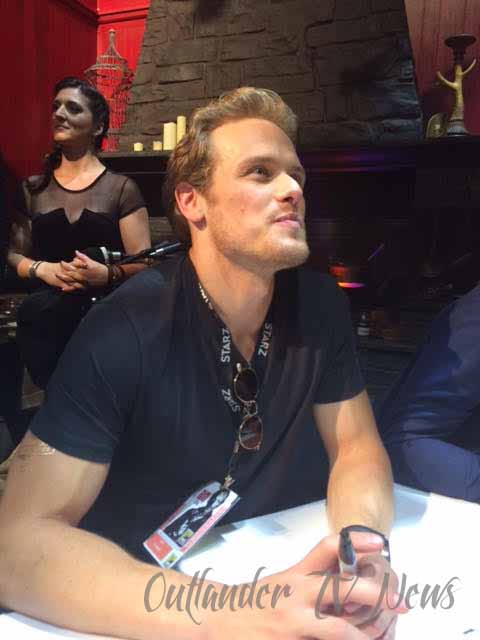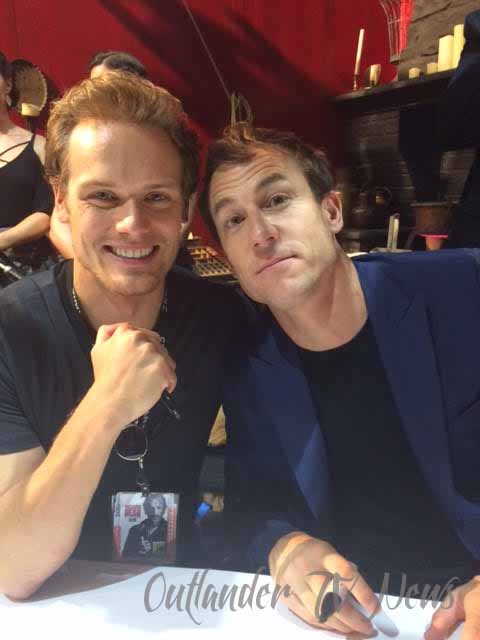 The final cast members at the table were Sophie and Richard, they were both very sweet and exuberant after what had to have been a whirlwind and slightly overwhelming weekend. Richard was as hilarious as in panel sessions, he really seems to thrive in the fandom atmosphere. As soon as the session was over the cast was immediately escorted (again by bagpipes) off of the convention floor. It was a quick and hectic autograph session but done the best it could have been in such an intimate location.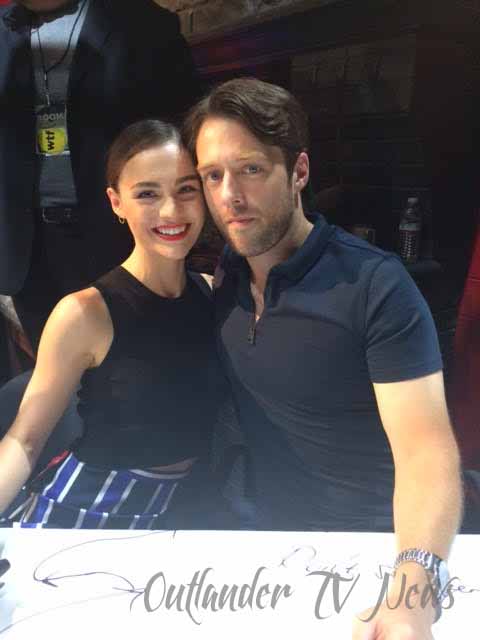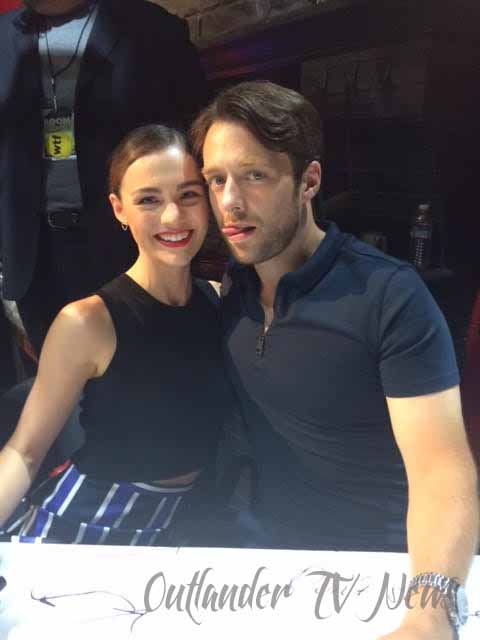 Source: Outlander TV News