** Spoiler Alert:  If you have not read Voyager or would rather not be spoiled on a certain important scene in season three, skip this post for now.**
While putting up a new website, it looks like Starz forgot about a pivotal moment in Outlander season three and placed it on their new Outlander Community website.  From tweets, I gathered that it was the background for one of the quiz questions or the results page.  As soon as it was found, it made its way online via social media.  Even Sam Heughan (Jamie) thought it was legit and posted it to his Instagram account.  He apologized later for posting it, but it was actually a legit photo directly from a Starz site.  The photo in question shows the pivotal moment when Claire (Caitriona Balfe) and Jamie meet in the print shop after many, many years apart.  So, don't scroll down to the photo if you would rather not be spoiled.
As of an hour ago, the photo is still hosted on the website, but you won't find it by just scrolling and searching through the site.  You have to examine the elements of the site to find the photo.
So, without further ado, here is the photo: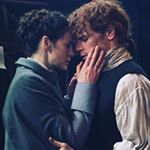 Larger versions of the photo that used to exist on the site still do in social media:
https://twitter.com/MovistarSeries/status/894841315745288192
https://twitter.com/DarkPreider/status/894711727094349824
https://twitter.com/OutlanderLSBR/status/894704904148799488
Source: Starz/Outlander Community