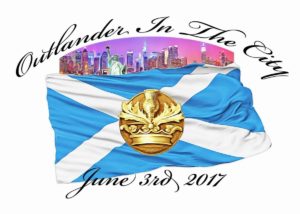 In our final 'Outlander' In The City interviews we met with Duncan LaCroix and Stephen Walters who were both there sponsoring World Child Cancer.
At World Child Cancer, we believe that no child, no matter where they are born should be left to die of a painful illness, when they could be cured with relatively simple and affordable treatments.
World Child Cancer was established in 2007 in the United Kingdom after founder Geoff Thaxter and his wife witnessed what little was being done for children on cancer wards in Bangladesh even though treatments available were relatively low cost. This really hit home as their daughter Lisa had lost her battle with cancer a few years prior. Today World Child Cancer supports projects worldwide and aim to provide all children with access to treatment and care. Many in the 'Outlander' fandom know of World Child Cancer through Caitriona Balfe, she is a patron of the organization and both Duncan and Stephen mentioned their support of Caitriona. Duncan was even wearing an 'Unusual Lady' tee shirt that Caitriona had promoted to help raise funds for World Child Cancer.
Stephen Walters also mentioned his local charity that he supports when he is home in Liverpool. Local Solutions Homeground helps those ages 16-21 who are facing homelessness and need assistance, while supporting skills that work towards eventual independent living. Stephen has a strong passion for Homeground as well Alex's Journey, a home grown fund supporting a young man and his travel and treatment for bone cancer from the UK to the US.
When asked why World Child Cancer, Duncan had a personal story about a friend and her battle with cancer and how he supports those organizations that can provide assistance and any relief to those suffering with cancer.
Please check out the interviews and listen to how Stephen masters his wonderful accents, what Duncan had to say about his future project, and see Wil Johnson (Joe Abernathy) meeting Duncan for the first time and having that moment all fans of 'Outlander' understand. It is always a joy to see when those that bring this series to life are also fans at heart.
Thanks again to both Stephen and Duncan for taking the time to speak with me.
Source: Outlander TV News, World Child Cancer, Local Solutions, and Alex's Journey