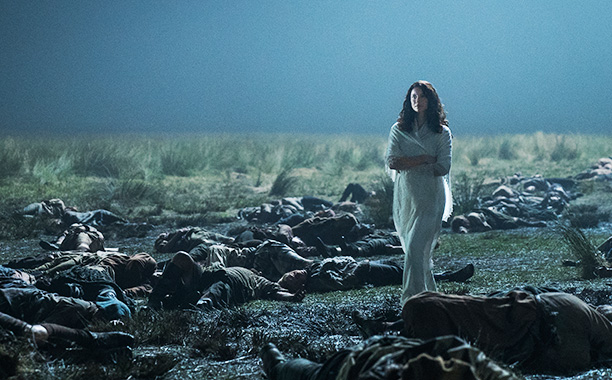 Update (8/31/2017): Synopses past episode 301 were removed by the request of Starz.  Episode titles beyond episode 303 are removed at the request of Starz.
Update (8/30/2017): New episode titles, synopses, writers, and directors are added.  **If you would rather not know the synopsis of each episode, please don't read the paragraphs between the episode titles.**  You will notice that there is a small break in October.  The season ends on December 10, 2017.
2017: the year of Outlander season three.  And that's about all we know right now.  There is no month or day announced thus far by Starz, Sony, or anyone else.  Certain details about season three are coming out, but not from official sources.
Three episode titles have appeared on IMDb, but that source can also not be very trustworthy.  Anyone can submit an edit to a film or TV's page on IMDb, and I also find it curious that the first and second episodes of season three do not have a title, but three through five do.  So take what you see below with a grain of salt right now.  Thanks to Outlander Italy for finding this.
(And for those curious, that official photo of Claire above is from episode 301, the premiere.)
This post will be updated as episode titles are announced (or discovered).
Episode 301 (September 10, 2017) – "The Battle Joined," written by Ronald D. Moore, directed by Brendan Maher
"After living through the Battle of Culloden, Jamie finds himself at the mercy of unforgiving British victors, until a connection from his past provides his only hope of survival. Meanwhile, a pregnant Claire attempts to adjust to life in the modern world of 1940s Boston – and life with Frank."
Episode 302 (September 17, 2017) – "Surrender," written by Anne Kenney, directed by Jennifer Getzinger
Episode 303 (September 24, 2017) – "All Debts Paid," written by Matthew B. Roberts, directed by Brendan Maher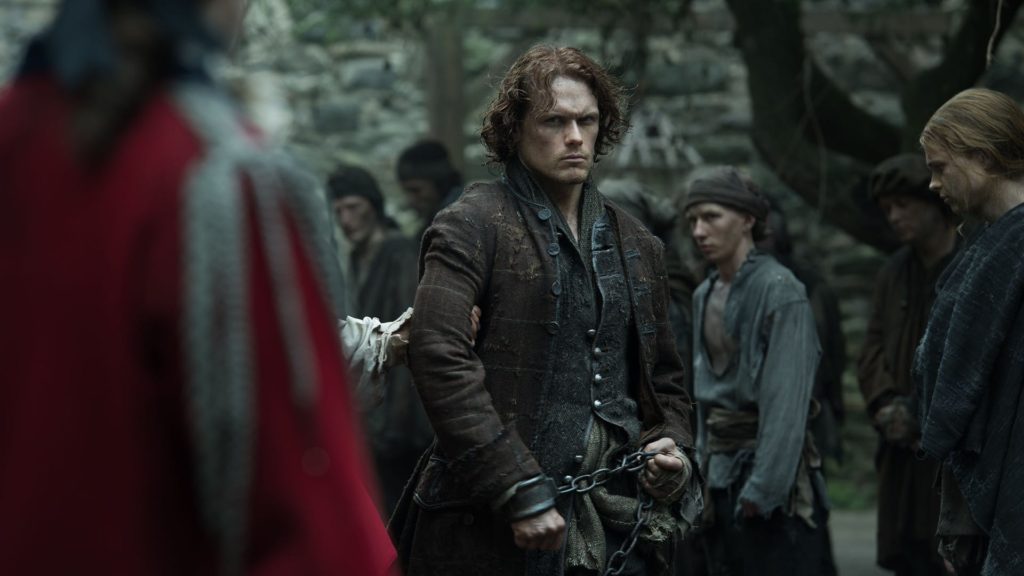 Episode 304 (October 1, 2017) – written by Toni Graphia, directed by Brendan Maher
Episode 305 (October 8, 2017) –  directed by Brendan Maher
Episode 306 (October 22, 2017) – written by Matthew B. Roberts, directed by Norma Bailey
Episode 307 (October 29, 2017) – directed by Norma Bailey
Episode 308 (November 5, 2017) – written by Joy Blake, directed by Jennifer Getzinger
Episode 309 (November 12, 2017) –  written by Shannon Goss, directed by David Moore
Episode 310 (November 19, 2017) –  written by Luke Schelhaas, directed by David Moore
Episode 311 (November 26, 2017) –  written by Karen Campbell and Shannon Goss, directed by Charlotte Brandstorm
Episode 312 (December 3, 2017) – written by Luke Schelhaas, directed by Charlotte Brandstorm
Episode 313 (December 10, 2017)
Source: Starz