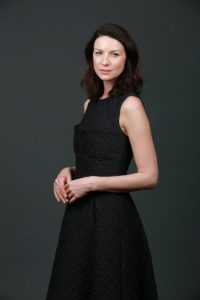 The 2017 Golden Globes are roughly 24 hours away. And our Caitriona Balfe (Claire) is nominated yet again (year two) for her work on Outlander. In her recent interview with Vogue, she talks more than just dress plans. Here are the excerpts specifically about Outlander, but head over to Vogue for the full interview.
EXCERPTS:
So then, a role here and a role there and then, Outlander?
Exactly. I don't think I even knew how lucky I was to get that part—I mean, I loved Claire, and we'd gotten a full season order for the show, so obviously it was a great gig, but it wasn't until we were four or five episodes into shooting and I flew to L.A. to do some press, that I realized what a built-in following the shows had. We did this fan event, and all these people who loved the books came out, and they were just clamoring for the show to exist. It was like, ohhhh. This is going to be big.
I've never read the books, and honestly, when I first heard about the show, it sounded pretty silly to me. Time-traveling bodice ripper? Eh. But then when I finally watched it, I was really impressed by how meaty the themes are. I mean, there's a lot of fun in the series, but it's also unflinching in its exploration of feminist themes like patriarchy and sexual violence and women's need to control their own reproductive choices.
Yes, yes, yes. I think there have been a lot of skeptics, like you, who have been turned around by actually watching the show—we wouldn't have had such success, if that weren't true. Basically, everyone who works on Outlander tries really hard, all the time, to stay focused on the human dimension of the stories we're telling, and if you're telling a story about a woman living in a time when women's rights were severely constricted, those themes are bound to emerge, and you have to take them seriously.
Speaking of things that are silly: When you're on the red carpet, do you ever get sick of answering the question "what are you wearing?"? I've been privy to that experience, and it seems like you ladies get asked that like, a zillion times.
Oh my gosh. It's surreal. Here you are, at a celebration of your craft, and all people want to know is what you're wearing. Again and again. And not just that, but even down to—talk about your nail polish! You don't want to be rude, but. . . . [sighs] I mean, I do appreciate, it's a great marriage between entertainment and fashion, and I love that I get to borrow these incredible dresses, and designers—especially lesser-known ones, who I do like to support—get great PR out of it. But I do wish I had more opportunity to talk about that work. And not just that. I mean, one of the things that's inspiring about playing Claire is that she's this strong woman, standing up against chauvinism, and that's really made me consider my own responsibilities, as someone who has a platform. I realize some people object to the idea of actors expressing their political opinions, but we're human beings living in this world, responding to what's going on, and why shouldn't we be able to take a stand on what we see as injustice?
Source: Vogue