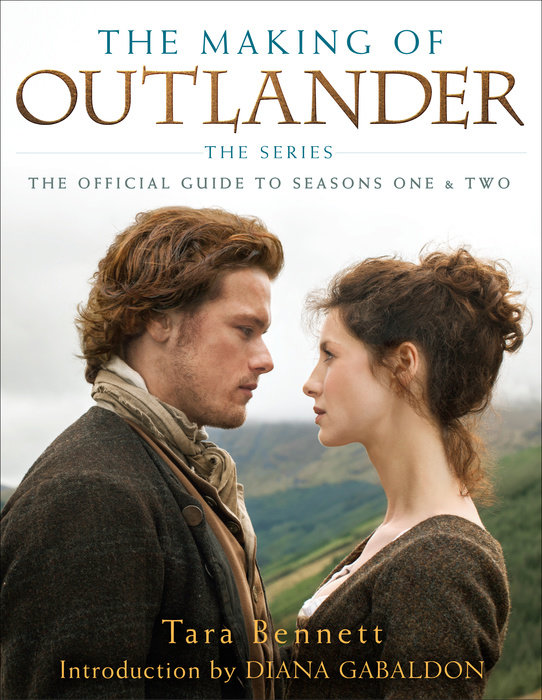 Tara Bennett is the author of The Making of Outlander: The Official Guide to Seasons 1 & 2.  The companion guide to the Outlander television series came out in October, and I know many Outlander fans already have the book or may be getting a copy for the holidays.  We had the chance to interview Tara about her book, the show, and being a writer.  Thank you, Tara, for taking the time out of your day to answer our questions.
Outlander TV News: When did Outlander the novels or TV series first come onto your radar? You say Voyager sparked your love for Outlander. Did you read the books out of sequence?
Tara Bennett: My cousin Denise gave me a signed copy of Voyager in 1994 as a gift and told me to go start with Outlander. As I had just graduated college, I was poor so I got the first two books from the library and devoured them. I was hooked. I then waited for The Drums of Autumn with the rest of the fandom.
OTVN: What was surprising to you about the production of Outlander that differed from other shows you've chronicled? To you, what makes the show special?
TB: Not really surprised, but more fascinated by learning the intricacies of how they operate a true transatlantic production. The writers/producers and edit team are based in SoCal, while the rest of the show is made in Scotland. The demands of that kind of distance are incredibly impactful on a creative team that depends on instant answers to important questions so it's been illuminating to understand how Ron, Maril and the whole team have sacrificed to keep the show operating like a well-oiled machine.  It's really amazing the level of production value they achieve in a relatively rural, hard climate locale where the film production is based. That they make it look so easy and lush is a testament to every single person who works on the show.
OTVN: What is your favorite episode of season one and season two?
TB: For season one, I would say "The Wedding" really hit all of the romantic and character progression buttons I was hoping for.  Writer Anne Kenney and director Anna Foerster created a very unique episode told from a predominantly female gaze that is frankly not often seen in TV or film. The entire creative team from Ron down figured out how to make that happen in a very organic way that I appreciated and allowed us to bond with Jamie and Claire as we did in the books.
For season two, "Faith" was my emotional wrecker. I sat in the Sony offices in a conference room alone bawling by myself over that one. (I had to watch the episodes on their premises to keep the episodes in lockdown). Toni Graphia really created a showpiece for Cat to portray that tore my heart out. But it also had that amazing scene where Jamie and Claire reunited and just laid everything bare and that is one of their finest moments on the show in my estimation.
OTVN: How open was the cast/crew to your research?
TB: They were all extremely gracious and helpful making time to talk to me. There's an eight hour time difference so I often talked to cast and crew at the end of their long days which is when most people would least like to do a lengthy interview but they were all generous and had wonderful stories that make the book even better than I could have hoped.
OTVN: Who was your most intriguing interview? What was the most humorous thing you heard/read during the production of the book?
TB: I conducted about 70 interviews (some multiple talks with specific people) so it's hard to say most intriguing. Everyone has a story (which is why I love doing what I do!) so I was fascinated by everyone's perspective. The director's all have a distinct approach to how they do what they do and sometimes what they would have wanted in the final cut didn't make it, but it was still interesting hearing why they did what they did. Sam was really honest about the stress of shooting the Wentworth material. Ron and Maril were wonderful in explaining how they balance the creative and the pragmatic with a show of this scope. All of it fed my nerd attention to detail.
Honestly, Matt Roberts is a hoot to talk to because of how fun and frank he is with his answers. You get a nice taste of it in the book. He was dog-tired when we did our phone interview but you wouldn't know it because of how he sees the world and how he expresses himself. So I laughed with him, but I did that with a lot of the interview subjects like Grant O'Rourke, Gary Lewis, Richard Rankin and many more.
OTVN: There are some really lovely details and quotes about episodes.  One of my questions for Ronald D. Moore after "The Garrison Commander" aired was if the slip by Tobias Menzies/Black Jack Randall on the flogging platform was improvised.  He replied that he could not remember.  Director Brian Kelly answered the question in your book, to my delight.  How did you decide what details to explore and include?
TB: I'm so glad I was able to feature an answer you were seeking!  I'm a fan like everyone else is so I read a lot of the same interviews, post mortems and features that go out after episodes. But I'm gratefully in the position of getting to craft books that (hopefully!) provide another level of insight into making a thing people love. So with Outlander, I went back and watched the DVD features, bookmarked a mess of interviews and then made notes on what else I would have asked, or how I could ask those same people something different. Not everyone has different answers but some did when prompted or nudged a different way, and that's always my goal. It was also why I asked of my editor (the wonderful Anne Speyer) to eschew doing a standard recap and episode guide inside the book. Instead, I wanted to use less featured voices like the writers and directors as the primary voices in regards to the episodes. I felt like that would give fans a new view into the creative process and make the book of value to fans who already know a lot about the show. It meant a lot more interviews on my part, but I think it makes the book unique and not just a rehash of already much-covered ground.
OTVN: What is your number one piece of advice for aspiring TV writers?
TB: Write! It's cliché but I teach a writing for TV class at the university level and I tell them that you literally only get better at writing by doing it a lot. There are many drafts and changes that teach you how to be better in the doing of it, so create deadlines where you force yourself to produce pages in a timely manner until the finished product is done. No TV writer gets months to write a script. If they're lucky they might get six weeks. It can be as little as a weekend. So you have to learn how to write under pressure and you have to be able to take notes and adjust to the needs of the person you are writing under.
OTVN: Would you be on board for another Making of Outlander for seasons three and four?
TB: In a heartbeat. I was so honored to be allowed to do this one. If I don't get to do more, I am very, very proud that I got to do this one and tell some of the stories of these talented and wonderful people who make this show come to life.  I'm a huge fan of Diana's world, but also the people who are adapting it to screen. Shedding some light on the prodigious talents that make Outlander so beautiful and impactful has been a career highlight.
Questions by Sarah Ksiazek and Amanda Cain
Source: Outlander TV News