Huzzah! It's finally that time of year! Snow is falling, work schedules are winding down, and official Outlander Season Three promos are starting to pop up!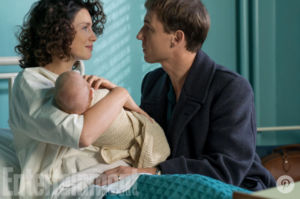 Entertainment Weekly (EW) just released the first official photo of Claire (Caitriona Balfe) starting her new family in the 20th Century with Frank (Tobias Menzies) and Baby Bree.
The article is brief but Balfe speaks to Claire's frame of mind at this point. "'This is right after Claire gives birth to Brianna,' Balfe tells EW exclusively. 'Those scenes are wonderful because it's a new beginning, but it's so fraught with so many other things. Obviously, this is Jamie's child, but Claire's in a new time and believes that Jamie is dead. So she's really trying to look forward and give her daughter a new life, a stable family.'"
Pop over to EW.com for the full story. 
Source: Entertainment Weekly