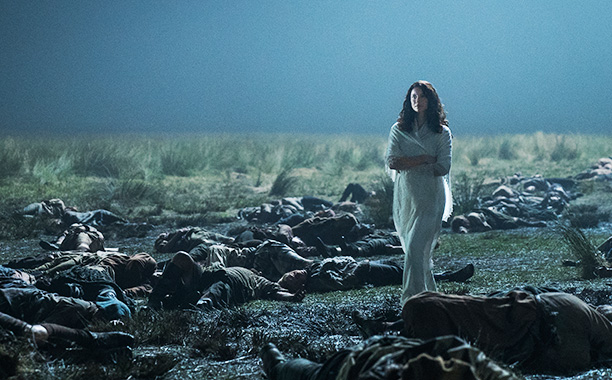 Caitriona Balfe (Claire Fraser/Randall) spoke with Entertainment Weekly recently for an interview.  It is pretty much the most revealing interview of late about the progress of Outlander season three filming.  The most exciting part?  Caitriona and Sam Heughan (Jamie Fraser) are filming together again.  Check out the excerpts below and head to EW to read the entire interview.  The interview can also be listened to on EW Live (see below).
ENTERTAINMENT WEEKLY: What are you doing right now?
CAITRIONA BALFE: I have been filming a lot of Boston with Brianna [played by Sophie Skelton].

Can you say what episode you're on now?
We're gonna film six and seven. We've already shot eight. We're almost halfway through.

Are you shooting in order this season? Have you still not done anything with Sam Heughan [who plays Jamie Fraser]?
We've shot a little out of order, so Sam and I have shot one episode together. So [this week] Jamie and Claire will be together from now on. So Sam and I will be on set together as we go forward. We've mostly shot the first stuff up front, but we had to pull one episode forward because of different actors' schedules, so yeah. We've done a little bit together.

Earlier this year, we ran a first look shot of you walking on the battlefield. Was that from a dream sequence, with Jamie imagining his life without you?
I don't think he's imagining his life without Claire. It's an image that Jamie has conjured up in his head. That's the best way of saying it.

What is Claire's look these days?
Well, it's different. Obviously, we go through 20 years, so you'll see some '40s, some '50s, some '60s. The '60s sort of look we've seen already from last season. And then, when Claire goes back [through the stones] — I suppose it's something like the things that she's worn in France, I guess, but it's quite subdued. It's not nearly as flamboyant, I guess, as some of the Parisian faire that I wore last season.

Are you going to be working up to Christmas this month? What's the production plan?
Yes. I think we stop two, three days before Christmas. So yeah, we're gonna be shooting right up until the 22nd, I think.

Has Starz let you know when they'll announce when the show returns?
I'm quite happily ignorant to all of that. I don't have to lie. I don't have to pretend I don't know. I have no idea.

Do you think you're gonna be working straight through for much of 2017? Do you know when your next big hiatus is?
I know when we finish season 3, if we don't take some sort of a break, we might have a few main actors in hospitals. I think they have to give us something. This show is just so big, and it's such a beast that it just wouldn't be feasible to go straight from one season to the other. I don't know how long that will be.
Listen to her interview below: